1000kg Aluminium Lifting Gantry
This 1000kg capacity aluminium gantry is lightweight in design and available to purchase from Lifting Gear Direct today. With height adjusting capabilities this is a great crane for site or factory work.
Call 01384 76961 for price.
1000kg Aluminium Gantry Crane Vital Statistics
This standard aluminium gantry is height adjustable in 100mm increments from 500mm below the maximum height.
You can erect it and take it down again in 3 simple steps. It is supplied with 2 securing straps to hold the parts together for easier transportation. In terms of practicality and ease of use, there are few more convenient lifting setups available at the moment. So, if you are sick of having to lug a heavy steel gantry around with you, or need a model which offers more configurability, you have come to the right place.
1000kg Aluminium Lifting Gantry Advantages
Because aluminium is a safe, stable, non-reactive material, this gantry can be used in clean environments. It will not be a cause for contamination in its own right, and will equally be able to withstand coming in contact with a number of potentially disruptive substances that might leave other assemblies suffering from rust and other types of corrosion quite quickly.
Since it is corrosion resistant, you can take this crane almost anywhere with you and trust that it will operate reliably, without suffering wear and tear, day after day.
Add-Ons & Safety Features
There are a number of optional components to add to your aluminium gantry crane order with Lifting Gear Direct, whether you pick this model with a one tonne load capacity, or select one of the many other units we sell.
For example, you might want to improve the height adjustability, which is where the winch kit comes in handy. Rather than having to mess around with locking pins, you can simply spin the mechanism to raise or lower the lifting beam manually.
Also available are feet which double up as parking jacks, which enables you to boost safety and stableness when the gantry is being used on an incline, or on irregular surfaces where lumps and bumps would throw it off-kilter. Whether you plan to use this gantry across different parts of the same work site, or intend to take it out on the road with you and visit different locations, it will be a reliable companion that boosts productivity and lessens the likelihood of injuries occurring due to lifting.
Call us with your Gantry Crane Questions
Are you tempted to invest in an aluminium lifting gantry? We can give you a quote for any of our outstanding products, or answer additional queries you might have. Just call 01384 76961 or fire off an email using the form on our site. Our team is standing by to reply in a flash.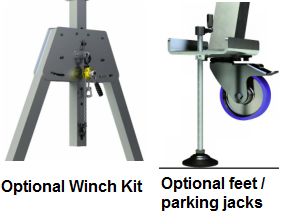 SWL

Model Number

Beam Length

Clear Span

Trolley Travel

Max Width

Load Pin Height Min

Load Pin Height Max

Overall Height Min

Overall Height Max

Tread

KG






C

B

A






D

D

E

1000KG

LGD200608M

2000

1840

1209

2211

1904

2404

2180

2683

1381

LGD200610M

2404

2904

2680

3183

LGD200612M

2904

3404

3180

3683

LGD200808M

2500

2340

1708

2711

1904

2404

2180

2683

LGD200810M

2404

2904

2680

3183

LGD200812M

2904

3404

3180

3683

LGD201008M

3000

2840

2208

3211

1904

2404

2180

2683

LGD201010M

2404

2904

2680

3183

LGD201012M

2904

3404

3180

3683

LGD201208M

3500

3340

2708

3711

1904

2404

2180

2683

LGD201210M

2404

2904

2680

3183

LGD201212M

2904

3404

3180

3683

LGD201508M

4500

4340

3708

4711

1904

2404

2180

2683

LGD201510M

2404

2904

2680

3183

LGD201512M

2904

3404

3180

3683

LGD201808M

5500

5340

4708

5711

1904

2404

2180

2683

LGD201810M

2404

2904

2680

3183

LGD201812M

2904

3404

3180

3683

LGD202008M

6000

5840

5208

6211

1904

2404

2180

2683

LGD202010M

2404

2904

2680

3183

LGD202012M

2904

3404

3180

3683