Stainless Steel High Tensile D Shackles
With our high tensile d shackles, you get this benefit along with the perks of full load bearing capabilities across a range of weight categories. They sit alongside our stainless steel high tensile bow shackles, providing reliable inline lifting capabilities in an attractive, easy to maintain package.
Benefits of High Tensile D Shackles
This high tensile Stainless Steel D shackle comes with a standard screw type pin, and is suitable for lifting applications.
This shackle is also available with a longer screw pin which incorporates a hole for a cotter pin / split pin this provides extra safety by helping to prevent the screw pin from winding itself out, which can happen when there is friction / rubbing against the pin.
Load Limits & Conformity
There are 10 sizes to choose from with working load limits ranging from 1 tonne up to 18 tonne, these all have varying sizes and diameters depending upon the model, so please refer to the table below for the specific information.
These stainless steel shackles are fully tested and certified and come with and EC declaration of conformity, so you can be assured of quality and safety in these shackles.
They have an excellent safety factor with a minimum breaking load which equals 6 x the working load limit.
Materials & Design Advantages
Made from 17/4 precipitation hardening martensitic stainless steel with a polished finish. This finish is at the core of the appeal of these shackles, since it helps them to stand out and look like a very high quality item, making them great for public appearances.
Another advantage afforded by the stainless steel is that it can be wiped clean in a jiffy, with dirt and grime not able to get a foothold on the surface. This helps keep corrosion at bay, while also adding to the good looks and ease of use that these shackles bring to the table.
Bear in mind that the dee shackle design is best suited to inline lifting and load bearing. Loads that are applied at an angle will require a bow shackle to take the weight safely and with minimum wear and tear.
Extra Shackle Options
Lifting shackles are available in abundance here at Lifting Gear Direct. Aside from the dee shackles and bow shackles on offer, you can find special shackles aimed at industries with their own unique challenges to overcome. Our piling shackles, with longer shanks, suit construction firms down to the ground. Our sling saver shackles help spread the load that is applied to lifting slings, helping them last longer before they need to be replaced.
Elsewhere in our lifting equipment family, fully customisable crane and gantry assemblies are available. These systems are made to measure and configured to your exact specifications. We even offer material handling kit, including forklift attachments and load moving products.
Looking for Shackle advice?
Get the best guidance in the business by calling Lifting Gear Direct on 01384 76961 or getting in touch with our sales team via email. We can respond quickly to any query, provide quotes for our products and give you additional information if you cannot find what you are looking for on our site.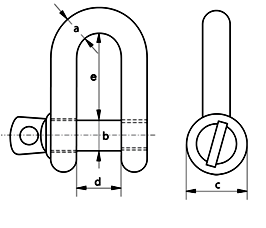 | | | | | | | |
| --- | --- | --- | --- | --- | --- | --- |
| Working Load Limit | Diameter Bow | Diameter Pin | Diameter Eye | Width Inside | Length Inside | Weight per 100 Pieces |
| tonnes | a mm | b mm | c mm | d mm | e mm | kg |
| 1 | 8 | 10 | 20 | 16 | 32 | 8.5 |
| 2 | 10 | 12.7 | 25 | 20 | 40 | 15 |
| 3 | 12.7 | 16 | 32 | 25 | 50 | 35 |
| 5 | 16 | 19 | 38 | 32 | 64 | 55 |
| 7 | 19 | 22.2 | 45 | 38 | 76 | 100 |
| 9 | 22.2 | 25.4 | 50 | 44 | 88 | 190 |
| 11 | 25.4 | 28.6 | 56 | 51 | 102 | 290 |
| 13 | 28.6 | 31.8 | 64 | 57 | 114 | 310 |
| 15 | 31.8 | 34.9 | 70 | 64 | 128 | 435 |
| 18 | 34.9 | 38 | 76 | 70 | 140 | 530 |