Grade 8 Eyebolts - Metric
Across our full family of
eye bolts
and other
lifting accessories
, few products can match the grade 8 eye bolt line up in terms of simple strength and resilience. In spite of this, there are also many similarities, such as the quality, conformity and
safety factor
.
Call 01384 76961 for price.
When you take a look at the technical data on these units, you will see why they sit in our special eye bolt category. Alternatively you can just let us tell you a bit more about them and learn key info to make an informed decision.
What are the Benefits of the Grade 8 Eyebolts - Metric Thread?
These grade 8 eye bolts are not just endowed with the widely used metric thread form; they also take advantage of perennially sturdy alloy steel, which has been tempered to provide as much strength as possible. This means that even the dinkiest of the units, which tips the scales at just 50 grams, is capable of delivering a 200kg working load limit.
At the summit of scale there is a 9.75kg grade 8 eye bolt which has a 36 tonne WLL. Furthermore the minimum breaking load is always five times greater than the WLL, ensuring accidental overloading will not result in disasters.
To cap off the reliability and durability of this range, a red finish is painted onto the eye of the bolt itself. This should withstand wear and tear while also looking good in situ.
What are the Alternatives?
Such a high quality of eye bolt might not be necessary or within reach of your budget, in which case we have hundreds of other lifting equipment options from which you can easily select the perfect product. Our stainless steel eye bolts can survive whatever the weather and are even available without load testing so that they can be decorative add-ons rather than practical lifting accessories.
If you need the industrial load capacities of these grade 8 eye bolts but want to take on angular loads, not just along the vertical, then our swivel eye bolt line up should have something to offer.
What are your Contact Details?
Good question! You can call Lifting Gear Direct on 01384 76961 and one of our experienced staff members will help you with friendly advice and competitive quotes. Use our site to send an email to the LGD team for a fast and convenient way to get in touch.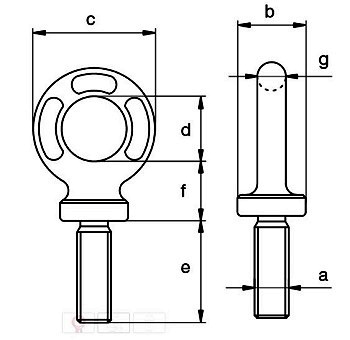 | | | | | | | | | | |
| --- | --- | --- | --- | --- | --- | --- | --- | --- | --- |
| WLL | Diameter Thread | Diameter Base | Outer Eye Diameter | Inner Eye Diameter | Length | Base | Diameter | MBL | Weight Each |
| tonnes | a mm | b mm | c mm | d mm | e mm | f mm | g mm | tonnes | kg |
| 0.2 | M6 x 1.0 | 20 | 34 | 20 | 20 | 17 | 7 | 1 | 0.05 |
| 0.4 | M8 x 1.25 | 20 | 34 | 20 | 24 | 17 | 7 | 2 | 0.05 |
| 0.7 | M10 x 1.5 | 20 | 38 | 22 | 30 | 19 | 8 | 3.5 | 0.07 |
| 1 | M12 x 1.75 | 25 | 47 | 26 | 36 | 23 | 10 | 5 | 0.13 |
| 1.2 | M14 x 2.0 | 30 | 57 | 29 | 40 | 28 | 14 | 6 | 0.24 |
| 1.5 | M16 x 2.0 | 36 | 65 | 35 | 55 | 30 | 14 | 7.5 | 0.36 |
| 2 | M18 x 2.5 | 36 | 65 | 35 | 54 | 30 | 14 | 10 | 0.38 |
| 2.5 | M20 x 2.5 | 40 | 73 | 39 | 59 | 34 | 16 | 12.5 | 0.55 |
| 3 | M22 x 2.5 | 42 | 82 | 44 | 64 | 38 | 19 | 15 | 0.73 |
| 4 | M24 x 3.0 | 55 | 95 | 54 | 84 | 40 | 20 | 20 | 1.08 |
| 5 | M27 x 3.0 | 55 | 95 | 54 | 84 | 40 | 20 | 25 | 1.18 |
| 6 | M30 x 3.5 | 60 | 108 | 59 | 100 | 49 | 24 | 30 | 1.87 |
| 7 | M33 x 3.5 | 60 | 108 | 59 | 100 | 49 | 24 | 35 | 1.99 |
| 8 | M36 x 4.0 | 65 | 118 | 67 | 118 | 45 | 25 | 40 | 2.44 |
| 9 | M39 x 4.0 | 65 | 118 | 67 | 118 | 45 | 25 | 45 | 2.58 |
| 10 | M42 x 4.5 | 70 | 139 | 79 | 135 | 56 | 31 | 50 | 3.97 |
| 15 | M45 x 4.5 | 70 | 139 | 79 | 135 | 56 | 31 | 75 | 4.23 |
| 18 | M48 x 5.0 | 95 | 181 | 97 | 150 | 68 | 43 | 90 | 8.33 |
| 20 | M52 x 5.0 | 95 | 181 | 97 | 150 | 68 | 43 | 100 | 8.8 |
| 25 | M56 x 5.5 | 95 | 181 | 97 | 150 | 68 | 43 | 125 | 9 |
| 30 | M60 x 5.5 | 95 | 181 | 97 | 150 | 68 | 43 | 150 | 9.5 |
| 36 | M64 x 6.0 | 95 | 181 | 97 | 150 | 68 | 43 | 180 | 9.75 |