Stainless Steel Bow Shackles
Part of our wide range of
stainless steel shackles
, these bow examples offer a moderate level of load-bearing potential but are unrated, meaning the limits are for guidance and no testing has been carried out.
They come in several sizes and can be ordered according to your needs from Lifting Gear Direct. Contact us for pricing and more information using the details below.
Design Basics of Stainless Steel Bow Shackles
This stainless steel bow shackle is fitted with a standard type screw pin and both the shank and the pin are made from AISI 316 stainless steel. This type of material is good at brushing off the effects of corrosion when compared with untreated steel. It should also be fairly resilient in the face of regular use.
The polished finish on these shackles gives them a great look and make great connectors for more decorative tasks or for use in clean environments. Shackles like this that look good as well as being functional can be a sensible investment, even if there are a few things to consider before you snap any up for yourself.
Safety & uses
It should be noted that these stainless steel bow shackles are not authorised for lifting or load bearing applications due to the fact that they have not undergone any load testing. Therefore the working load limits (WLL) you can see below are issued by the manufacturer for guidance purposes only, it is preferable to go by the sizes / dimensions when choosing your shackle.
Another point to take into account is that the stainless steel used to make these shackles will remain in a good condition for longer if it is used in conjunction with other stainless steel attachments. If it is not, then it may corrode more quickly. Of course when used to anchor non-metallic materials, such as fibre ropes or polymer webbing, this will not be an issue.
Shackle Alternatives
For lifting purposes you should choose a high tensile variety, we can supply you with stainless steel high tensile bow shackles at affordable prices which have been thoroughly tested and come certified for lifting operations.
We stock a number of other certified and tested shackle types right here at LGD. Our full shackle range is bristling with brilliant options that might be right for you. The green pin dee shackles we sell are a good example, since they provide load limits of between 0.33 tonnes and 55 tonnes. They also come with excellent safety standards and declarations of conformity for added peace of mind.
Often the look of a shackle is less relevant than its sturdiness and reliability. Our ROV shackles are a highly specialised option, resisting corrosion through galvanisation and also providing consistence and reliability across a wide range of temperatures.
Contact LGD for help with shackles
After you have taken a look at our stainless steel bow shackles, you will probably be ready to ask more questions or place an order with us. Doing so is simple; just call 01384 76961 and our sales team will guide you through the process. If you would rather send us an email, you can use our site's contact form.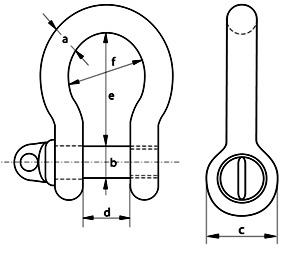 | | | | | | | | |
| --- | --- | --- | --- | --- | --- | --- | --- |
| Working Load Limit | Diameter Bow | Diameter Pin | Diameter Eye | Width Inside | Length Inside | Width Bow | Weight per 100 Pieces |
| tons | a mm | b mm | c mm | d mm | e mm | f mm | kg |
|   | 4 | 4 | 8 | 8 | 16 | 12 | 1.2 |
| 0.12 | 5 | 5 | 10 | 10 | 20 | 15 | 1.8 |
| 0.15 | 6 | 6 | 12 | 12 | 24 | 18 | 2.8 |
| 0.3 | 8 | 8 | 16 | 16 | 32 | 24 | 6.4 |
| 0.4 | 10 | 10 | 20 | 20 | 40 | 30 | 15 |
| 0.6 | 12 | 12 | 24 | 24 | 48 | 36 | 22 |
| 1 | 16 | 16 | 32 | 32 | 64 | 48 | 55 |
| 1.5 | 20 | 20 | 40 | 40 | 80 | 60 | 97 |
| 2 | 22 | 22 | 44 | 44 | 88 | 66 | 146 |
| 3 | 25 | 25 | 50 | 50 | 100 | 75 | 211 |
| 3.5 | 28 | 28 | 54 | 56 | 112 | 86 | 285 |
| 4.5 | 32 | 32 | 64 | 64 | 128 | 112 | 326 |