Bow Nuts High Tensile - Metric Thread
Handle heavy duty loads quickly and efficiently with our metric thread bow nuts made using high tensile steel. These lifting accessories are exceedingly safe and secure, with a minimum breaking load that is five times greater than the safe working load limit to which they comply.

We can supply eye nuts and bow nuts of many different types, so if you read up on the specifications of this particular range below and are still not satisfied, we can probably still help.
Important Bow Nut Info
A quick look at the data sheet covering these high tensile bow nuts will reveal that there are actually a number of different load capacities on offer here, rather than just one or two. Weighing in at just 150 grams, the most compact nut of the bunch has a 230kg SWL. Above it its siblings get progressively sturdier, until the 2.2kg range-topper provides a full 5.34 tonnes of capacity to play with.
Another thing to take into account is the finish of the fatigue-resistant high tensile steel itself. By default these bow nuts are supplied as self colour units, although if you need them to be electro galvanised, this is also an option. It is worth contacting Lifting Gear Direct using the details below to get the most comprehensive overview of our product specifications, as well as pricing information.
Quick Accessory Roundup
Bow nuts like this metric thread high tensile model are best for inline application of load, while those customers looking for angular load bearing capabilities should consider our swivel eye bolts for safe and convenient lifting operations. Our collared eye bolt complete with reevable egg link is another option to take into account if you want load-rated anchor points that are flexible and convenient to use.
Should you be on the lookout for a full lifting assembly, then you can either choose the various lifting equipment components from throughout our site, or simply let our experts put one together for you. Our custom lifting gantries and Jib cranes are a top choice for complete convenience.
Placing an order
You can make yourself known to the LGD sales team by calling 01384 76961 or emailing us. Regardless of how you choose to get in touch, we will give you all the information and advice you need. You can place an order and get a quote just by asking.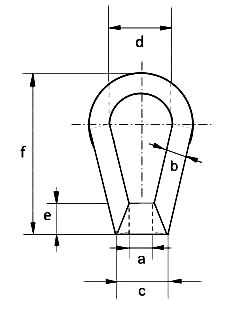 | | | | | | | | |
| --- | --- | --- | --- | --- | --- | --- | --- |
| Safe Working Load | Diameter Thread | Diameter Eye | Diameter Base | Diameter Eye Inside | Base Height | Height Overall | Weight Each |
| tonnes | a mm | b mm | c mm | d mm | e mm | f mm | kg |
| 0.23 | 8 | 10 | 32 | 25 | 16 | 64 | 0.15 |
| 0.36 | 10 | 10 | 32 | 25 | 16 | 64 | 0.15 |
| 0.53 | 12 | 12 | 38 | 30 | 17 | 73 | 0.27 |
| 1.01 | 16 | 12 | 38 | 30 | 17 | 73 | 0.29 |
| 1.58 | 20 | 14 | 45 | 40 | 25 | 102 | 0.5 |
| 2.28 | 24 | 17 | 50 | 50 | 29 | 124 | 0.9 |
| 3.65 | 30 | 26 | 70 | 75 | 29 | 149 | 2.2 |
| 5.34 | 36 | 26 | 70 | 75 | 29 | 149 | 2.2 |