Bow Nuts - High Tensile - Whitworth
With an excellent safety factor, a range of working load limits and an impressive ability to withstand repeated use, our high tensile steel bow nuts are available with a Whitworth-compatible thread form. Sitting alongside their metric siblings, these lifting accessories form the backbone of many handling operations.

Call 01384 76961 for price.
Vital Statistics of the Bow nut high tensile - whitworth thread
Although the Whitworth standards to which the thread form of these high tensile bow nuts are made dates back to the 19th century, it is still commonly used today, even in the metric era. Thankfully you can still get metric measurements for dimensions of each nut in this range, along with safe working loads expressed in metric tonnes. These start at 0.25 tonne and reach 4.75 tonnes, so for light to mid-duty lifting tasks these bow nuts are suitable.
The steel used to produce these bow nuts is very tough, taking more punishment and providing improved safety when compared with cheaper alternatives. It is not completely immune to breakages, but the minimum breaking load is five times greater than the rated SWL, which should alleviate any concerns, so long as you pick the right unit.
Durability & Alternatives
The sturdiness of these high tensile steel BSW bow nuts is impressive on its own, so if you want to add to the lifespan then you might consider specifying the addition of zinc plating for these anchor points. Alternatively you could choose our corrosion-resistant stainless steel eye nuts or check out our full eye bolt family for a multitude of impactful options.
These attachments might be the final thing you need to buy for your lifting assembly, but what if you are starting from scratch? In that case a made to measure crane or gantry system might be worth selecting from our extensive lifting equipment range. We also supply hoists and hosting equipment from internationally respected brands. Search our site and see just how many different products we can supply.
Give us a call
Now that you know all about our high tensile BSW bow nuts, you might be ready to get a quote or place an order. To do so, just call Lifting Gear Direct on 01384 76961 or make use of the contact form found on our site. Our team are experts in helping customers to connect with the best lifting products.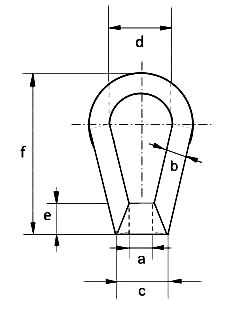 | | | | | | | | |
| --- | --- | --- | --- | --- | --- | --- | --- |
| Safe Working Load | Diameter Thread | Diameter Eye | Diameter Base | Diameter Eye Inside | Base Height | Height Overall | Weight Each |
| tonnes | a inch | b mm | c mm | d mm | e mm | f mm | kg |
| 0.25 | 3/8 | 10 | 32 | 25 | 16 | 64 | 0.15 |
| 0.5 | 1/2 | 12 | 38 | 30 | 17 | 73 | 0.27 |
| 0.8 | 5/8 | 12 | 38 | 30 | 17 | 73 | 0.27 |
| 1.2 | 3/4 | 14 | 45 | 40 | 25 | 102 | 0.58 |
| 1.6 | 7/8 | 14 | 45 | 40 | 25 | 102 | 0.58 |
| 2.2 | 1 | 17 | 50 | 50 | 29 | 124 | 0.9 |
| 3.5 | 1.1/4 | 26 | 70 | 75 | 29 | 149 | 2.2 |
| 4.75 | 1.1/2 | 26 | 70 | 75 | 29 | 149 | 2.2 |