Cast Iron Winch
This particular wire rope winch is made from cast iron for long lasting performance. It can be wall mounted virtually anywhere and comes in SWL up to 750kg. We have a vast range of hand winch types available at Lifting Gear Direct.
Call 01384 76961 for price.
About the Cast Iron Winch
Robust in nature this cast iron winch is ideal in industrial applications, theatres & sports halls alike. If you need a winch that will last a long time this is the one for you.
There are three models in this range with lifting capacities of 250kg, 500kg and 750kg, each winch is designed with a construction which is enclosed to protect the inner components. The winch is operated by a worm gear with a hardened shaft for increased durability. The gears have been placed in an oil bath which will ensure optimum operation.
Manually operated via the adjustable crank handle the cast iron winch is easy to use and its adjustability makes it great for tight spaces with restricted room for turning the crank.
For load and operational safety the winch incorporates an automatic friction brake system for your peace of mind.
Key Features at a Glance:
capacities up to 750kg

cast iron enclosed construction

hardened worm shaft for longevity

oil bath enclosed gears (oil not supplied) for smooth operation

automatic friction brake for load & operational safety

adjustable crank handle radius, ideal in confined spaces
Also available with multi-compartment drums and/or grooved drums.
We have many other wire rope winches available.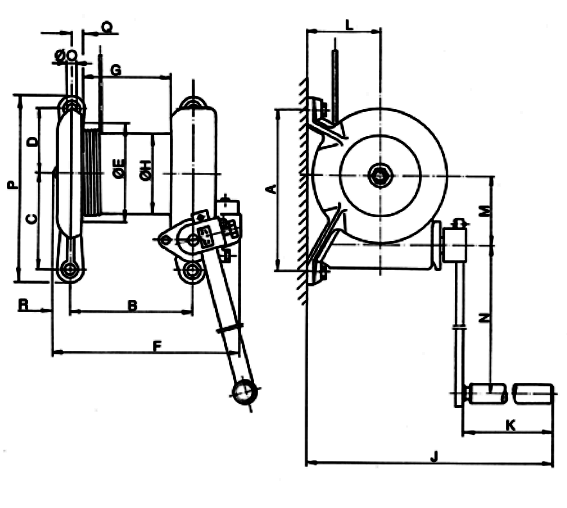 | | | | | |
| --- | --- | --- | --- | --- |
| Model |   | SGG250 | SGG500 | SGG750 |
| A, | mm | 205 | 250 | 330 |
| B, | mm | 137 | 190 | 243 |
| C, | mm | 120 | 150 | 205 |
| D, | mm | 85 | 100 | 125 |
| E Ø | mm | 135 | 182 | 240 |
| F, | mm | 219 | 282 | 350 |
| G, | mm | 94 | 138 | 182 |
| H Ø | mm | 96 | 125 | 150 |
| J, | mm | 310 | 476 | 576 |
| K, | mm | 108 | 238 | 238 |
| L, | mm | 96 | 112 | 160 |
| M, | mm | 79 | 101 | 146 |
| N, | mm | 295 | 430 | 440 |
| O Ø | mm | 12 | 14 | 20 |
| P, | mm | 237 | 290 | 390 |
| Q, | mm | 13 | 18 | 20 |
| R, | mm | 21 | 25 | 32 |
MODEL

 

 

SW-W-SGG 250

SW-W-SGG 500

SW-W-SGG 750

Lifting Capacity

1st layer

kg

250

500

750

upper layer

kg

210

425

624

Wire Rope Ø*

 

mm

5

6

8

Wire rope capacity

1st layer

m

4.8

7.9

9.2

upper layer

m

11.3

29.1

49

Lift per crank rotation

 

mm

20

26

20

Required crank pressure

 

kg

9.2

14.5

16

Weight

 

kg

12.5

21

42