Collared Eye Bolt UNC Thread
Built according to imperial standards set out in North America, the UNC thread collared eye bolts we stock are a classic counterpoint to the metric alternatives that are also on offer.

They fall within the wider Unified Thread Standard and are defined as coarse, which refers to the density of the thread itself. Available alongside our BSW eyebolts they come in a good range of sizes, with varied load limits to boot.
Talking Points
Looking at the load limit of any lifting gear is the first thing that any prospective buyer should do before they go ahead with an order. In the case of our UNC thread collared eye bolts, the safe working load changes according to the dimensions of the unit itself.
Kicking off the range is a compact product with a thread diameter of a quarter of an inch and the ability to shoulder 100kg before it moves outside of its comfort zone. Jumping to the other end of the scale in terms of size, the largest example with a two inch thread diameter can manage happily when combined with loads of up to 12 tonnes. So long as you stick to safe lifting guidelines, choosing an eyebolt should be a breeze.
Potential Alternatives to the Collared Eye Bolt UNC Thread
We have already covered a couple of our other lifting accessories of the eyebolt variety, but this is just barely scratching the surface of the complete range you will encounter here at Lifting Gear Direct.
Take our swivel eye bolts, for example. We stock products from big brands like Gunnebo and Yoke, with different thread standards available on many families of anchor points.
If you need wire rope to go with your bolts and fixtures, we can also supply high quality assemblies that are customised to be compatible with your requested specifications.
Engaging with our team
We appreciate how tough it can be to seek out the perfect eyebolt, shackle or other bit of kit. That is why we are more than happy to give you a helping hand when you call 01384 76961. We have an experienced sales team and a willingness to give you great advice and excellent value. Our email form is also a simple, speedy way to contact LGD.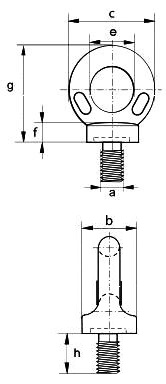 | | | | | | | | | |
| --- | --- | --- | --- | --- | --- | --- | --- | --- |
| Safe Working Load | Diameter Thread | Diameter Base | Diameter Eye Outside | Diameter Eye Inside | Thickness Collar | Height | Thread Length | Weight Each |
| tonnes | a inch | b mm | c mm | e mm | f mm | g mm | h mm | kg |
| 0.10* | 1/4 | 22 | 33 | 15 | 7 | 36 | 18 | 0.06 |
| 0.15* | 5/16 | 22 | 33 | 15 | 7 | 36 | 18 | 0.06 |
| 0.25 | 3/8 | 22 | 33 | 15 | 7 | 36 | 18 | 0.06 |
| 0.5 | 1/2 | 29 | 44 | 20 | 10 | 48 | 23 | 0.15 |
| 0.9 | 5/8 | 36 | 52 | 24 | 12 | 58 | 28 | 0.27 |
| 1.4 | 3/4 | 45 | 66 | 30 | 14 | 73 | 35 | 0.54 |
| 2 | 7/8 | 52 | 77 | 35 | 17 | 84 | 40 | 0.85 |
| 2.75 | 1 | 58 | 85 | 39 | 20 | 94 | 46 | 1.13 |
| 3.5 | 1.1/8 | 65 | 96 | 44 | 22 | 106 | 51 | 1.62 |
| 4.5 | 1.1/4 | 72 | 106 | 48 | 24 | 117 | 56 | 2.37 |
| 6.50* | 1.1/2 | 81 | 118 | 54 | 27 | 131 | 63 | 3.12 |
| 9 | 1.3/4 | 101 | 148 | 68 | 34 | 164 | 79 | 6.27 |
| 12 | 2 | 115 | 168 | 76 | 38 | 186 | 89 | 9.58 |