Collared Eye Bolt Whitworth Thread
Also known as British Standard Whitworth, or BSW for short, this thread type is available as an option as part of our collared eyebolt range.

The name harks back almost two centuries to a time when this particular imperial standard was introduced in an attempt to unify thread designs and allow for consistent mass production of screw fixtures. Encompassing various thread diameters and safe working load limits, this eyebolt is a worth option for many LGD customers.
Design & Specifications
Aside from the thread, the configuration of this unit is essentially the same as its associates. It has an eye which acts as a suitable anchor point for various tasks and is made using sturdy steel which should meet expectations in terms of quality and durability.
The lightest of the Whitworth thread collared eye bolts tips the scales at just 60 grams, but still manages to achieve a SWL of 100kg. Each of its stable mates gets progressively larger, until the biggest of the bunch brings a 12 tonne load limit to bear, along with an inner eye diameter of 76mm.
Suitable Alternatives
We have already hinted at some of the competing eyebolt options that are on offer here on our site, so if the BSW thread is not what you are looking for then you may prefer our metric thread units. These can make light work of loads of up to 20 tonnes, which eclipses the capabilities of the Whitworth thread range. Meanwhile our long shank collared eyebolts are also worth considering, with other thread options including UNC standards available.
Our lifting accessory line-up is one of the most comprehensive you will find anywhere and is not limited to collared eyebolts. From lifting shackles and pulleys to snatch blocks and beyond, you can bump into all sorts of useful kit on our site.
How to order
Taking advantage of our contact form is a quick and convenient way to get in touch, whether you are ready to order eyebolts or if you need a bit of advice about the products on our site. A more immediate option for communicating with the LGD sales team is to call 01384 76961. Whatever your needs or budget, do not hesitate to talk to us today.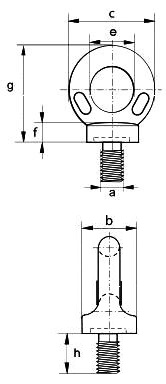 | | | | | | | | | |
| --- | --- | --- | --- | --- | --- | --- | --- | --- |
| Safe Working Load | Diameter Thread | Diameter Base | Diameter Eye Outside | Diameter Eye Inside | Thickness Collar | Height | Thread Length | Weight Each |
| tonnes | a inch | b mm | c mm | e mm | f mm | g mm | h mm | kg |
| 0.1 | 1/4 | 22 | 33 | 15 | 7 | 36 | 18 | 0.06 |
| 0.15* | 5/16 | 22 | 33 | 15 | 7 | 36 | 18 | 0.06 |
| 0.25* | 3/8 | 22 | 33 | 15 | 7 | 36 | 18 | 0.06 |
| 0.5 | 1/2 | 29 | 44 | 20 | 10 | 48 | 23 | 0.15 |
| 0.9 | 5/8 | 36 | 52 | 24 | 12 | 58 | 28 | 0.27 |
| 1.4 | 3/4 | 45 | 66 | 30 | 14 | 73 | 35 | 0.54 |
| 2 | 7/8 | 52 | 77 | 35 | 17 | 84 | 40 | 0.85 |
| 2.75 | 1 | 58 | 85 | 39 | 20 | 94 | 46 | 1.13 |
| 3.5 | 1.1/8 | 65 | 96 | 44 | 22 | 106 | 51 | 1.62 |
| 4.5 | 1.1/4 | 72 | 106 | 48 | 24 | 117 | 56 | 2.37 |
| 6.5 | 1.1/2 | 81 | 118 | 54 | 27 | 131 | 63 | 3.12 |
| 9.00* | 1.3/4 | 101 | 148 | 68 | 34 | 164 | 79 | 6.27 |
| 12 | 2 | 115 | 168 | 76 | 38 | 186 | 89 | 9.58 |