Collared Eye Bolt with Oval Link - Metric Thread
With metric thread on the shank, this eye bolt is broadly compatible and undeniably tough. If you are looking for an equivalent model without any kind of link onboard, check out our standalone range.
What to Expect from the Collared Eye Bolt with Oval Link – Metric Thread
This eye bolt and link combo is an alternative to our standard eyebolt. Collared eyebolts are naturally more adept when it comes to receiving angular loads, but the addition of a link takes this a step further. It also means you can add attachments more easily or even connect it to an existing chain if you wish.
A reevable egg link is also offered in conjunction with this type of eyebolt, with a multitude of different thread types available. This gives you plenty of choice, whatever the nature of the project that you have on your plate.
Fine Tune your Product Search
You might not know which of our eye bolts is a suitable fit for your needs at first glance, which is why our product pages come complete with any relevant technical data, laid out in a table to avoid confusion.
Lifting safety is an essential issue to keep in mind, so always note the load limit of a part or piece of equipment before you order. That way you can buy products that are not only capable of keeping up with your stringent requirements, but that are also made to last and cost-effective. Our eye bolts are load tested and thus definitely fit this description.
Message us today
Take stock of our lifting gear line up and then talk to our sales team when you are ready to move forwards with your order, or if you need to clear up a question about our high quality products. The simplest way to get in touch is via a phone call, so dial 01384 76961 and have a chat with a specialist. Email us if calling is not the best option for you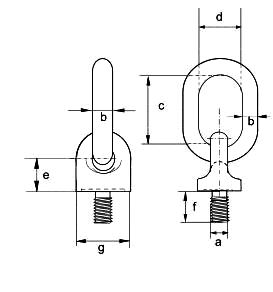 | | | | | | | | | |
| --- | --- | --- | --- | --- | --- | --- | --- | --- |
| Safe Working Load | Diameter Thread | Diameter Link | Length Link Inside | Width Link Inside | Height Base to Centre | Thread Length | Diameter Base | Weight Each |
| tonnes | a mm | b mm | c mm | d mm | e mm | f mm | g mm | kg |
| 0.10* | 8 | 13 | 53 | 24 | 20 | 27 | 39 | 0.33 |
| 0.15* | 10 | 13 | 53 | 24 | 20 | 27 | 39 | 0.35 |
| 0.20* | 12 | 13 | 53 | 24 | 20 | 27 | 39 | 0.36 |
| 0.30* | 14 | 13 | 53 | 24 | 20 | 27 | 39 | 0.37 |
| 0.40* | 16 | 13 | 53 | 24 | 20 | 27 | 39 | 0.38 |
| 0.70* | 18 | 13 | 53 | 24 | 20 | 27 | 39 | 0.39 |
| 1 | 20 | 13 | 53 | 24 | 20 | 27 | 39 | 0.4 |
| 1.30* | 22 | 15 | 63 | 29 | 23 | 32 | 47 | 0.65 |
| 1.6 | 24 | 15 | 63 | 29 | 23 | 32 | 47 | 0.66 |
| 2.5 | 30 | 19 | 80 | 37 | 30 | 41 | 60 | 1.31 |
| 4 | 36 | 24 | 102 | 46 | 38 | 52 | 75 | 2.69 |
| 4.50* | 42 | 30 | 126 | 58 | 47 | 65 | 94 | 5.31 |
| 5.00* | 45 | 30 | 126 | 58 | 47 | 65 | 94 | 5.35 |
| 6.3 | 48 | 30 | 126 | 58 | 47 | 65 | 94 | 5.5 |