Commercial Bow Shackles
These commercial Bow shackle have a screw pin as standard they are produced from mild steel and have an electro-galvanised finish. These are untested so not to be used for lifting tasks.
They are inexpensive, moderately durable and offered in a number of different diameters, so you are sure to find a basic bow shackle to suit here at Lifting Gear Direct.
Commercial Bow Shackle Safety Considerations
Due to the fact that these commercial shackles have not been tested they are not certified for use in any lifting or load bearing operations.
We offer sturdier shackles which are put through rigorous testing to ensure that they are up to the task of handling heavy loads and surviving significant force being exerted upon them. Check out our large bow shackle range, which includes a safety bolt in order to comply with British Standards.
If you are ever in any doubt about whether or not you are choosing the right shackle for a particular task, keep the lifting equipment regulations in mind and make sure you stick on the right side of the line when it comes to safety. It is far better to overcompensate than take a risk, as the consequences could be serious.
Benefits of Cost-Effective Shackles
These are the cheapest of our shackles and come in a range of sizes and make good connectors. In spite of their uncertified nature, their affordability and acceptable resilience means that they can be impactful in a number of tasks. Just keep their limitations in mind so that you are not being complacent about safety.
The largest size available has an internal bow width/diameter of 96mm and a 32mm pin diameter.
If you require a shackle for lifting purposes take a look at our economy yellow pin alloy bow shackle or our highest quality green pin shackle.
Call or Email for help with Shackles
Remember when browsing our range of lifting shackles that you do not have to make a decision on your own. We can point you in the right direction when you call us on 01384 76961 or email us today. There is no need to be shy, as our team is friendly, helpful and experienced in all lifting equipment matters.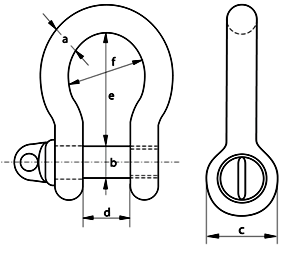 | | | | | | | |
| --- | --- | --- | --- | --- | --- | --- |
| Diameter Bow | Diameter Pin | Diameter Eye | Width Inside | Length Inside | Width Bow | Weight per 100 Pieces |
| a mm | b mm | c mm | d mm | e mm | f mm | kg |
| 5 | 5 | 10 | 10 | 20 | 15 | 1.54 |
| 6 | 6 | 12 | 12 | 24 | 18 | 2.66 |
| 8 | 8 | 16 | 16 | 32 | 24 | 6.29 |
| 10 | 10 | 20 | 20 | 40 | 30 | 12.3 |
| 11 | 11 | 22 | 22 | 44 | 33 | 16.4 |
| 12 | 12 | 24 | 24 | 48 | 36 | 21.2 |
| 14 | 14 | 28 | 28 | 56 | 42 | 33.7 |
| 16 | 16 | 32 | 32 | 64 | 48 | 50.3 |
| 19 | 19 | 40 | 38 | 80 | 57 | 98.3 |
| 22 | 22 | 44 | 44 | 88 | 66 | 131 |
| 25 | 25 | 50 | 50 | 100 | 75 | 192 |
| 28 | 28 | 56 | 56 | 112 | 84 | 270 |
| 32 | 32 | 64 | 64 | 128 | 96 | 403 |