Gunnebo RLP Swivel Eye Bolt
Lifting Gear Direct can supply the RLP swivel eye bolt and many other Gunnebo products all at great prices.
Brand::

Gunnebo

Product Code:

Gunnebo-RLP-Swivel-Eye-Bolt

Availability:

In Stock
Call 01384 76961 for price.
About the Gunnebo RLP Swivel Eye Bolt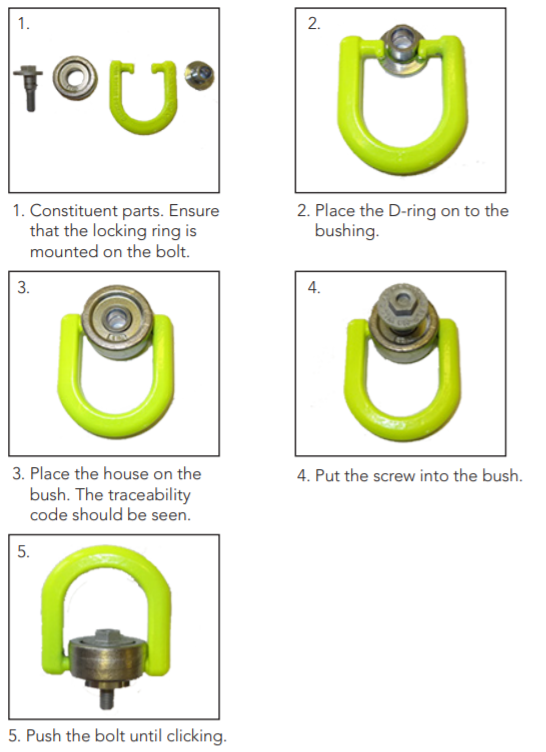 The Gunnebo RLP Swivel Eye Bolt incorporates a dismountable D-ring to allow easy assembly of other lifting equipment such as masterlinks and slings.
East to fit with the hexagonal screw. This eye bolt incorporates a bolt with locking ring, housing, bush and D ring. Attachment must be to a clean surface of adequate strength.
The bolt length can be adjusted in a cold saw or lathe. Care must be taken to keep temperature low as the bolts are made from heat treated and hardened steel.
Only the original nut and washer should be used.
These swivel lifting points have minimum thread depth requirements and are as follows ; (d = bolt diameter)
1 x d for steel (ield limit > 200MPa)
1.25 x d for cast iron (yield limit >200MPa)
2.4 x d for aluminium alloy
Consult manufacturer for other base materials
The tapped hole depth should take into account length of thread and internal thread run out in accordance to SS 1403.
The RLP can be used in a range of temperatures; from -40 to +200 degrees with no reduction to the working load limit. From +200 to +300 degrees there is a 10% reduction required and for +300 to +400 degrees a 25% reduction. Other temperatures are not allowed.
More Lifting Points and Swivel Eye Bolts
If you don't necessarily need a swivelling eye bolt then take a look at our vast collection of standard / non-swivel lifting points. We have collared eye bolts, dynamo eye bolts, stainless eyebolts , long shank eye bolts and some special models for special tasks. Remember we can also supply you with other lifting equipment such as lifting slings and shackles, hoists and cranes should you have need for those too. Give us a call on 01384 76961 if you need any more help.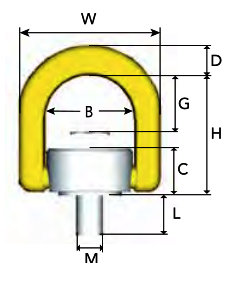 | | | | | | | | | | |
| --- | --- | --- | --- | --- | --- | --- | --- | --- | --- |
| METRIC Code | L | M | B | D | G | C | H | W | Weight KG |
| RLP-M8-10 | 15 | M8 | Ø42 | 12 | 35 | 17.5 | 60 | 64 | 0.3 |
| RLP-M10-10 | 20 | M10 | Ø42 | 12 | 34 | 17.5 | 60 | 64 | 0.3 |
| RLP-M12-10 | 19 | M12 | Ø57 | 19 | 46.5 | 28 | 85 | 91 | 1 |
| RLP-M16-10 | 24 | M16 | Ø57 | 19 | 44 | 28 | 85 | 91 | 1 |
| RLP-M20-10 | 32 | M20 | Ø83 | 28 | 56 | 39.3 | 111 | 133 | 2.8 |
| RLP-M24-10 | 37 | M24 | Ø83 | 28 | 53 | 39.3 | 111 | 133 | 3 |
| RLP-M30-10 | 49.5 | M30 | Ø114 | 34 | 69.5 | 56 | 144 | 182 | 7 |
| RLP-M36-10 | 61 | M36 | Ø114 | 34 | 65.5 | 56 | 144 | 182 | 7.3 |
| RLP-M42-10 | 65.5 | M42 | Ø149 | 40.4 | 90 | 70 | 185 | 229 | 14 |
| RLP-M48-10 | 75.5 | M48 | Ø149 | 40.4 | 86 | 70 | 185 | 229 | 14.5 |
UNC Code

L

M

B

D

G

C

H

W

Weight KG

 

RLP-UNC-5/6-10

21

M8

Ø42

12

35

17.5

60

64

0.3

RLP-UNC-3/8-10

27

M10

Ø42

12

34

17.5

60

64

0.3

RLP-UNC-7/16-10

23

M12

Ø57

19

47

28

85

91

1

RLP-UNC-5/8-10

29

M16

Ø57

19

44

28

85

91

1

RLP-UNC-3/4-10

37

M20

Ø83

28

56

39.3

111

133

2.8
| | | |
| --- | --- | --- |
| Extra Long Bolt | L (mm) | Weight (KG) |
| M8 x 120 | 101 | 0.44 |
| M10 x 120 | 101 | 0.73 |
| M12 x 120 | 80 | 1.05 |
| M16 x 200 | 80 | 2.92 |
| M20 x 200 | 86 | 4.84 |
| M24 x 200 | 86 | 7.22 |
| M30 x 200 | 300 | 1.21 |
| M36 x 200 | 300 | 1.81 |
No. Of legs

 

1

1

2

2

2 symmetric

3 & 4 symmetric 

 

 
 
 
 
  
  

β Load factor

 

0

°

90

°

                1

0

°

90

°

               2

  0-45

°

              1.4

45-60

°

             1

0-45

°

               2.1

45-60

°

                    1.5

RLP-M8-10

0.60

0.30

1.20

0.60

0.42

0.30

0.63

0.45

RLP-M10-10

1.00

0.50

2.00

1.00

0.70

0.50

1.05

0.75

RLP-M12-10

1.50

0.75

3.00

1.50

1.00

0.75

1.60

1.13

RLP-M16-10

3.00

1.50

6.00

3.00

2.10

1.50

3.15

2.25

RLP-M20-10

5.00

2.50

10.00

5.00

3.50

2.50

5.25

3.75

RLP-M24-10

7.00

3.50

14.00

7.00

4.90

3.50

7.35

5.25

RLP-M30-10

12.00

6.00

24.00

12.00

8.40

6.00

12.60

9.00

RLP-M36-10

14.00

8.00

28.00

16.00

11.20

8.00

16.80

12.00

RLP-M42-10

16.00

14.00

32.00

28.00

19.60

14.00

29.40

21.00

RLP-M48-10

20.00

16.00

40.00

32.00

22.40

16.00

33.60

24.00