Kito CB Block and Tackle
The Kito CB block and tackle hoist is extremely durable and lightweight. Like the rest of the
Kito chain block range
, there are many different models available within the CB line up, each of which has a different upper load limit.
Brand::

KITO

Product Code:

kito cb

Availability:

In Stock
From the stellar specifications to the eye-catching design, it is a compelling option for any business to select when slick, consistent lifting abilities are required.
Kito CB Block and Tackle Capacity Options
This range of manual chain hoists is definitely not short on variety. The Kito CB offers lifting capacities ranging from 500kg up to 50 tonnes. There are plenty of models squeezed in between the 0.5 and 10 tonne bracket, then examples at 15, 20, 30, 40 tonnes before the flagship unit comes into the picture.
With so much choice, almost every conceivable lifting application should be covered by the Kito CB chain block. If you do not need even as much as 500kg of lifting capacity, then the smaller Kito CX is a good alternative thanks to its 250kg SWL.
Kito CB Chain Block Safety & Durability
Sturdiness and reliability go hand in hand when it comes to the CB range from Kito. It features a steel construction and comes with a gear case enclosure and hand wheel cover for optimum safety. This means you can keep regulators happy and boost productivity in one fell swoop. There are lots of things to think about when planning out procedures for lifting, but if you have invested in a quality chain block like this Kito model, it will be one less aspect to concern you.
The safe configuration of this hoist also lends itself to a general level of hardiness. It can be maintained with comparative ease and will work well even if it is used intensively, as such considerations are baked into the underlying design.
Further Chain Blocks to Check Out
If the Kito CB has caught your attention, why not consider it in conjunction with competing models, like the Gunnebo LiftiQ, the Tiger TCB or the Tractel Tralift?
Contact LGD for Kito Chain Block Tips
Our team will help unpick whatever lifting gear problem you are facing, and there are lots of ways to get in touch with us. We can talk you through the Kito CB chain block in depth when you call 01384 76961. We can also communicate via email to provide an in-depth written answer to your query, so visit the contact page to get started.
Rated load (WLL) (t)

Headroom :C

 

A

B

D

E

F

G

S

T

U

V

W

X

0.5

285

158

161

2500

69

99

27

35.5

12.1

17

77

35

89

1

295

162

161

2500

71

99

29

42.5

16

21.8

93

41

101

1.5

350

171

182

2500

78

112

34

47.5

19.5

26.5

106

47

119

2

375

182

202

3000

87

125

36

50

21.8

30

116

49

124

2.5

420

192

233

3000

91

143

40

53

24.3

33.5

126

53

136

3

510

171

235

3100

78

162

42.5

56

27.2

37.5

138

57

148

5

600

192

282

3600

91

194

46.5

63

34.5

47.5

161

67.5

172

7.5

770

192

373

4200

91

253

72.5

85

47.5

63

231

97.5

275

10

760

192

438

4200

111

308

72.5

85

47.5

63

231

97.5

295

15

1020

268

492

4700

119

337

80

100

60

80

275

110

320

20

1180

374

746

4800

187

373

81

110

67

90

301

125

351

30

1300

404

746

4800

202

373

103

125

85

112

367

143

400

40

1480

502

760

4900

251

380

96

145

123

133

412.5

182.5

445

50

1560

544

796

4900

272

398

100

165

135

155

447.5

202.5

467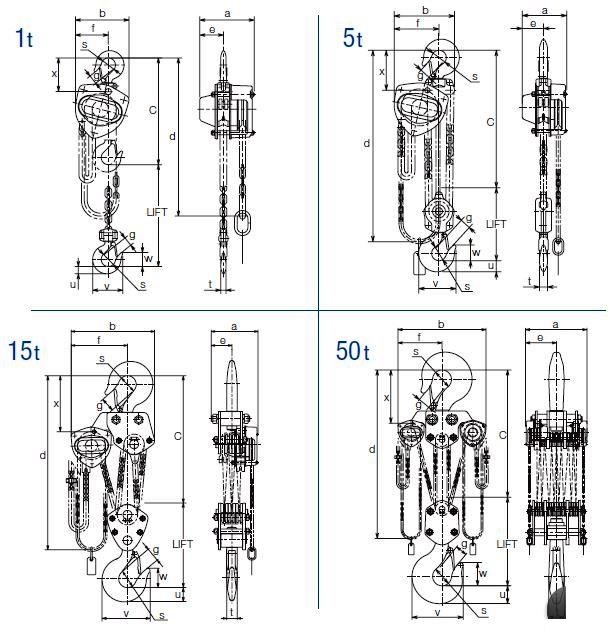 Rated Load (WLL) (T)

Code

Std. Lift (m)

Hand chain folded length (m)

Chain pull to lift full load (N) [kgf]

Chain o'hauled to lift load one meter (m)

 

Load chain dia x chain fall (mm)

Test load (t)

Mass [Net weight] (KG)

Shipping mass weight approx (KG)

Mass weight in KG for additional one meter of lift (KG)

0.5

CB005

2.5

2.5

235 [24]

25

5 x 1

0.75

10

10.5

1.5

1

CB010

2.5

2.5

284 [29]

43

6.3 x 1

1.5

11.5

12

1.8

1.5

CB015

2.5

2.5

343 [35]*

57

7.1 x 1

2.4

14.5

15

2.1

2

CB020

3

3

353 [36]*

70

8 x 1

3

20

21

2.3

2.5

CB025

3

3

323 [33]*

99

9 x 1

3.8

27

28

2.7

3

CB030

3

3

353 [36]*

114

7.1 x 2

4.8

24

26

3.2

5

CB050

3

3.5

333 [34]*

198

9 x 2

7.5

41

43

4.4

7.5

CB075

3.5

4

343 [35]*

297

9 x 3

9.5

63

66

6.2

10

CB100

3.5

4

353 [36]*

396

9 x 4

12.5

83

91

7.9

15

CB150

3.5

4.5

363 [37]*

594

9 x 6

20

155

165

11.4

20

CB200

3.5

4.5

353 [36] X2*

396x2

9 x 8

25

235

305

15.8

30

CB300

3.5

4.5

421 [43] X2*

495x2

9 x 10

40

310

400

19.2

40

CB400

3.5

4.5

421 [43] X2*

693x2

9 x 14

50

480

630

26.2

50

CB500

3.5

4.5

480 [49] X2*

792x2

9 x 16

62.5

640

790

29.7

• Other capacities are available upon request

    
                    

• Any lift of chain is available upon request

• As Kito chains are heat treated, splicing of the load chain is prohibited

• When ordering, specify lifting height