Yale ATEX YLLHP/G Low Headroom Chain Block
The Yale YLLHP/G is
ATEX rated
and provides protection against sparks which may cause explosions in hazardous areas.
Brand::

YALE

Product Code:

Yale-ATEX-YLLHP/G-Low-Headroom-Chain-Block

Availability:

In Stock
Call 01384 76961 for price.
This is a major benefit in a number of industries, giving this chain block the ability to be operated safely and effectively without putting workers or property at risk. In addition to the specialised elements of its design, it offers all of the same benefits as standard chain blocks from Yale, such as a high level of durability, straightforward maintenance and cost-effective operation.
Key Design Points of Yale ATEX YLLHP/G Low Headroom Chain Block
ATEX rated; ll 2 GD c llC T5 (zone 1/21 & 2/22)
Specially coated unit and trolley.
Copper plated top and load hooks.
Bronze plain roller.
Trolley buffers.
Stainless steel hand and load chains.
Cooling element in brake.
Safety Benefits of Yale ATEX Chain Blocks
There are lots of commercial atmospheres in which a standard chain block will not be able to operate safety because of the likelihood that sparks will be created during use. For that reason, an ATEX rated hoist is an essential investment if you want to steer clear of danger. From flammable gasses and vapours to powders and dusts which are combustible by nature, the YLLHP/G hoists will provide the ability to work alongside them without threatening injury, death or property damage.
It is not just the block itself that is coated with a material that limits the likelihood of sparks being generated. The safety features also extend to the brakes, which are cooled to prevent them interacting with the environment in a hazardous way. Even the trolley on which the hoist is mounted is coated, so the block can be manoeuvred smoothly and safely.
Practicality of YLLHP/G Low Headroom Chain Block
Aside from its ATEX-compliant features, the obvious selling point of this Yale chain block is its compact design which makes it possible to use in places where headroom is limited. It will sit comfortably on a beam and move freely, with safe working loads up of to 10 tonnes available.
You may not have need of such a specialised chain block, in which case the models we sell from Tractel, Gunnebo and GT may be of interest.
Looking for Advice on YLLHP/G Chain Blocks?
For all the info you need on any of Yale's products, you have come to the right place. Fill out the contact form on our site or call 01384 76961 to chat with our experts about any of the chain blocks, cranes, clamps, accessories and other lifting gear we sell. We can even give you a quote for the inspection services we offer, so get in touch today!
Model

YLLH ATEX 500

YLLH ATEX 1000

YLLH ATEX 2000

YLLH ATEX 3000

YLLH ATEX 5000

YLLH ATEX 10000

A min,mm

188

211

264

316

425

565

A1,mm

223

250

289

346

345

365

A2,mm

381

427

511

614

612

665

B,mm

17

22

30

38

45

68

C,mm

24

29

35

40

47

68

D,mm

14

19

22

30

37

50

F (geared), mm

92

92

91

107

150

150

H1,mm

24

24

24

32

31

45

I (pushed),mm

72

72

96

131

143

170

I (geared), mm

77

77

98

133

149

170

L,mm

270

310

360

445

525

485

L1,mm

130

130

150

180

209

225

L2,mm

444

488

582

690

720

805

L3,mm

124

135

172

203

175

215

L4,mm

184

201

230

265

283

348

M,mm

M18

M22

M27

M30

M42

M48

O,mm

60

60

80

112

125

150

P (geared),mm

108

110

112

112

117

165

T (area A),mm

280

290

305

320

364

440

T (area B),mm

 

400

410

425

440

484

540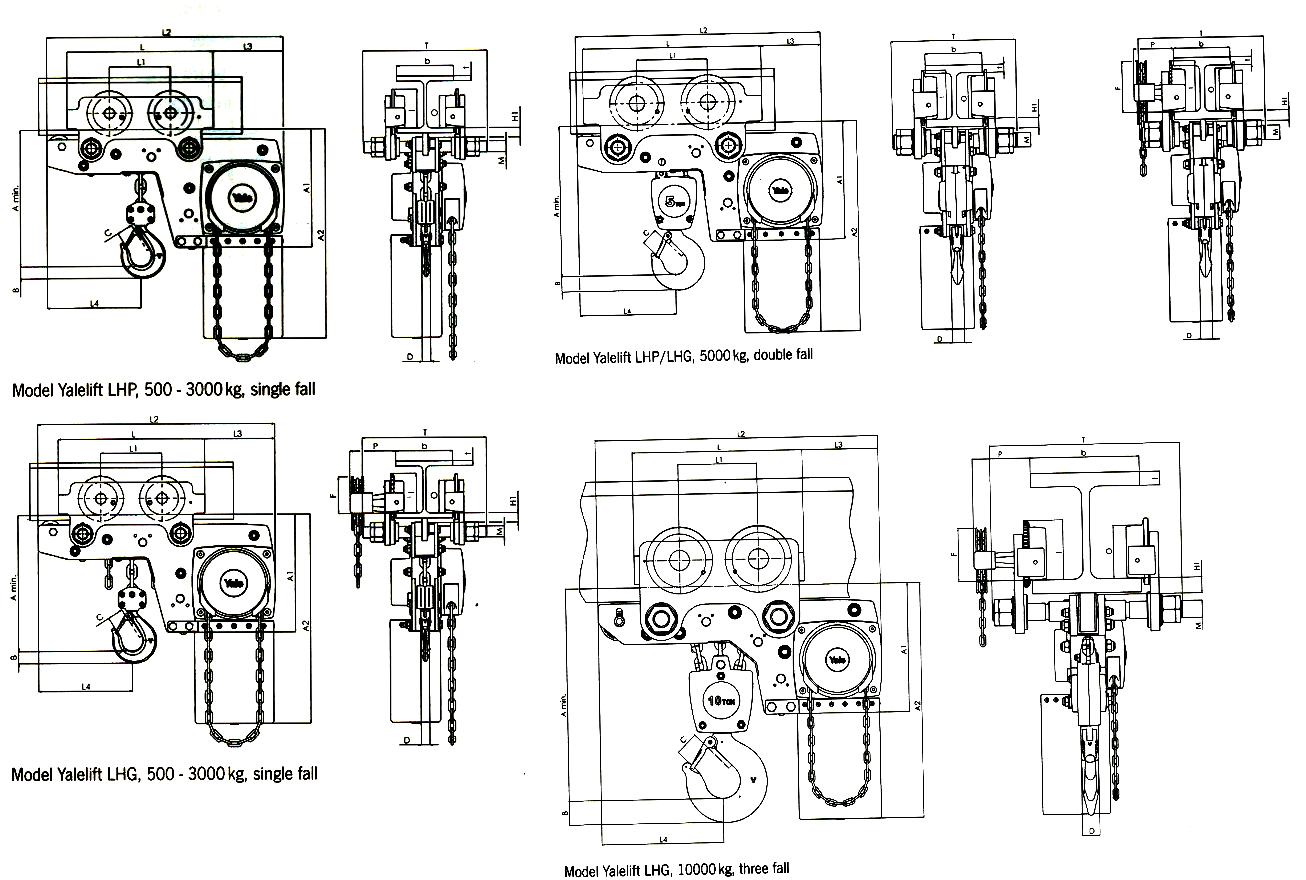 | | | | | | | | |
| --- | --- | --- | --- | --- | --- | --- | --- |
| Model | Capacity in kg/number of chain falls | Size | Beam flange width b mm | Beam flange thickness t max. | Min. Curve radius | Weight* at standard lift (3m)-P KG | Weight* at standard lift (3m) with beam brake-P KG |
| YLLH ATEX 500 | 500/1 | A | 60-180 | 19 | 0.9 | 27 | 33 |
| YLLH ATEX 500 | 500/1 | B | 180-300 | 19 | 0.9 | 27 | 34 |
| YLLH ATEX 1000 | 1000/1 | A | 70-180 | 19 | 0.9 | 35 | 43 |
| YLLH ATEX 1000 | 1000/1 | B | 180-300 | 19 | 0.9 | 36 | 44 |
| YLLH ATEX 2000 | 2000/1 | A | 82-180 | 19 | 1.15 | 61 | 69 |
| YLLH ATEX 2000 | 2000/1 | B | 180-300 | 19 | 1.15 | 62 | 70 |
| YLLH ATEX 3000 | 3000/1 | A | 100-180 | 19 | 1.5 | 107 | 116 |
| YLLH ATEX 3000 | 3000/1 | B | 180-300 | 19 | 1.4 | 109 | 118 |
| YLLH ATEX 5000 | 5000/2 | A | 110-180 | 27 | 2 | 152 | 162 |
| YLLH ATEX 5000 | 5000/2 | B | 180-300 | 27 | 1.8 | 156 | 166 |
| YLLH ATEX 10000 | 10000/3 | A | 125-180 | 40 | 1.8 | On request | On request |
| YLLH ATEX 10000 | 10000/3 | B | 180-310 | 40 | 1.8 | On request | On request |