Yale CPE/F Electric Hoist with Integrated Trolley
Combining the benefits of the CPE/F range with added manoeuvrability, this Yale trolley hoist is a convenient, well equipped package for all your lifting needs.
DELIVERY CURRENTLY 4 WEEKS DUE TO COVID AND BREXIT DELAYS.

Brand::

YALE

Product Code:

Yale CPE/F Electric Hoist with Integrated Trolley

Availability:

In Stock
Built with quality components and durable enough to take on heavy duty jobs, it is a safe and productive product from a recognised brand.
The CPE/F comes with its own integral trolley system.
Key Benefits of the CPE/F Trolley Hoist
· The hoist specifications and optional extras are the same as for the stand alone CPE/F models for which you can find all the information on here.
· Push travel and electrically powered travel trolley's are available.
· 3 electric travel trolley models are available to suit various capacities up to 10000kg and beam flange widths (see table below)
· Single or dual speed available
· trolley travel speeds = single speed at 11m/min; dual speed at 11/2.8 m/min at 50Hz
· chain containers available
· All requirements, standards and regulations are met.
Incorporating a trolley with your electric hoist can speed up operations greatly and allow the safe moving of heavy loads across a beam.
Yale CPE/F Electric Hoist Features Explained
At the heart of the Yale hoist range is a cutting-edge motor that is rated to meet IP54 standards for protection against dust and liquid splashes. This means that using a CPE/F model in an environment where dirt, debris and water are likely to be encountered is not going to compromise the operation of integral components. Furthermore the engine's failsafe braking system means that in the event of a power outage, the load will still be held firmly.
The gearbox, which is included as standard, is lubricated in an oil bath. This allows for slick, uninterrupted performance throughout the life of the hoist. It is one of the reasons that these hoists are so easy to maintain and affordable to run, like many of our other hoisting products.
Another standard inclusion is the zinc-plated link chain, but buyers have the option to specify a stainless steel load chain. This not only looks good and performs well, but is also resistant to corrosion and will be easy to replace when the time comes.
Finally with an IP65-compliant pendant control included, it is simple to manage the CPE/F hoist models at the touch of a button.
Yale Trolley Hoist Options
The trolley system is straightforward to use, whether you choose a manual push travel model or an electric unit.
The push travel trolleys are light and efficient, even if they require a bit of physical force to use. Meanwhile the electric travel trolleys take a lot of the effort out of handling larger payloads. The hoist is directly integrated with the beam, which allows it to operate smoothly and also boost safety levels. The second electric motor which drives this system is just as capable as the one controlling the chain.
Yale Electric Trolley Hoist Assistance
If you need any help in choosing the best electric hoist and trolley system to suit your needs please give our team a call, they have much knowledge and can advise you on the best lifting equipment for your lifting requirements. Our contact number is 01384 76961, or you can email us today to find out more about the products we sell.
Model

CPE/CPEF 16-8

CPE/CPEF 20-8

CPE/CPEF 25-5

CPE/CPEF 30-5

 

CPE/CPEF 32-4

CPE/CPEF 40-4

CPE/CPEF 50-2

CPE/CPEF75-1.6

CPE/CPEF 100-2

A, mm

516

516

516

516

681

681

681

950

1068

A1, mm

286

286

286

286

428

428

428

479

651

A2 (13m), mm

430

430

430

430

430

430

430

 

 

A2 (21m), mm

 

530

530

530

530

530

530

530

530

555

B, mm

35

35

35

35

45

45

45

60

60

C, mm

37

37

37

37

46

46

46

52

52

D, mm

24

24

24

24

30

30

30

40/45

40/45

E, mm

24

24

24

24

24

24

24

 

 

F1, mm

160

160

160

160

160

160

160

160

160

F2, mm

178

178

178

178

178

178

178

178

178

G, mm

220

220

220

220

220

220

220

220

 

G1, mm

180

180

180

180

140

140

140

268

315

G2 (13m), mm

257

257

257

257

218

218

218

 

 

G2 (21m), mm

277

277

277

277

238

238

238

345

408

H1, mm

110

110

110

110

110

110

110

110

135

H2, mm

135

135

135

135

135

135

135

307

256

K1, mm

100

100

100

100

100

100

100

92

92

K2, mm

51

51

51

51

51

51

51

62

62

M, mm

50

50

50

50

10

10

10

138

 

N, mm

84

84

84

84

124

124

124

136

390

Q1, mm

280

280

280

280

280

280

280

280

280

Q2 (CPE), mm

362

362

362

362

362

362

362

362

362

Q2 (CPEF), mm

417

417

417

417

417

417

417

417

417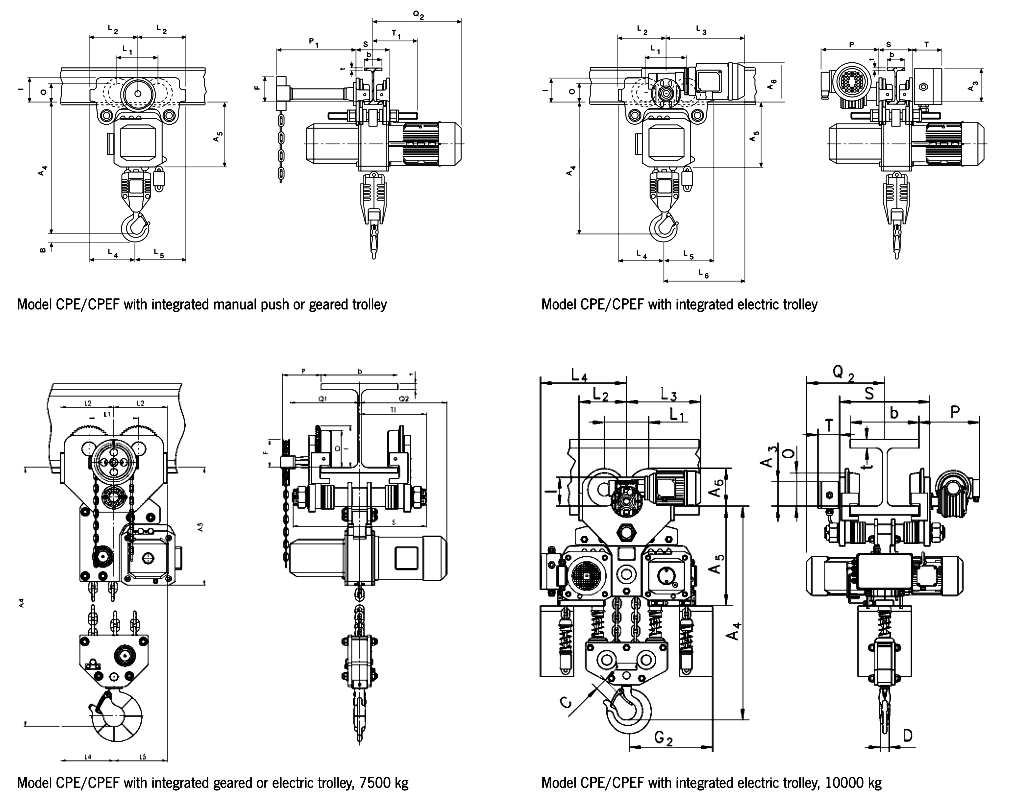 Model

Capacity in kg/number of chain falls

Chain dimensions d x p (mm)

Classification FEM/ISO

Lifting speed

       main lift m/min

Lifting speed fine lift m/min

Hoist Motor (kW)

Motor Rating ED%

CPE 16-8

1600/1

11 x 31

1Am/M4

8

 

2.3

40

CPE/F 16-8

1600/1

11 x 31

1Am/M4

8

2

2.3/0.58

40/20

CPE 20-8

2000/1

11 x 31

1Bm/M3

8

 

2.8

25

CPE/F 20-8

2000/1

11 x 31

1Bm/M3

8

2

2.8/0.7

25/15

CPE 25-5

2500/1

11 x 31

1Am/M4

5

 

2.3

40

CPE/F 25-5

2500/1

11 x 31

1Am/M4

5

1.25

2.3/0.58

40/20

CPE 30-5

3000/1

11 x 31

1Bm/M3

5

 

2.8

25

CPE/F 30-5

3000/1

11 x 31

1Bm/M3

5

1.25

2.8/0.7

25/15

CPE 32-4

3200/2

11 x 31

1Am/M4

4

 

2.3

40

CPE/F 32-4

3200/2

11 x 31

1Am/M4

4

1

2.3/0.58

40/20

CPE 40-4

4000/2

11 x 31

1Bm/M3

4

 

2.8

25

CPE/F 40-4

4000/2

11 x 31

1Bm/M3

4

1

2.8/0.7

25/15

CPE 50-2

5000/2

11 x 31

1Am/M4

2.5

 

2.3

40

CPE/F 50-2

5000/2

11 x 31

1Am/M4

2.5

0.6

2.3/0.58

40/20

CPE 75-1.6

7500/3

11 x 31

1Am/M4

1.6

 

2.8

40

CPE/F 75-1.6

7500/3

11 x 31

1Am/M4

1.6

0.4

2.8/0.58

40/20

CPE 100-2

10000/4

11 x 31

1Am/M4

2.5

 

2x2.3

40

CPE/F 100-2

10000/4

11 x 31

1Am/M4

2.5

0.6

2x2.3/0.58

40/20
TROLLEY SPECIFICATIONS
Capacity (KG)

Size

Beam flange width b (mm)

Beam flange thickness t max. (mm)

Curve radius min. (m)

Electric trolley travel speed m/min at 50 Hz

Electric trolley motor kW at 50 Hz

 

1600-5000

A

98-180

27

2

11 or 11/2.8

0.37 or 0.3/0.09

1600-5000

B

180-300

27

1.8

11 or 11/2.8

0.37 or 0.3/0.09

7500-10000

B

125-310

40

1.8

5 or 5/1.25

0.55 or 0.55/0.12