Yale UNOplus A-Series Lever Hoist
The Yale UNOplus-A series lever hoist is a new, further development of the standard Uno plus. More versatility can be found thanks to the reduced weight which makes it much easier to use and handle. This is a ratchet lever hoist ideal for lifting and pulling purposes and can also be used for lashing loads on trucks.
Brand::

YALE

Product Code:

Yale UNOplus A-Series Lever Hoist

Availability:

In Stock
Key Features of the Yale UNOplus-A Series Lever Hoist
The UNO plus A series ratchet lever hoist is compact in design and pretty lightweight for a hoist that is capable of lifting rather heavy loads. There are four models in this range of ratchet lever hoists from Yale it can lift and pull up to 6000 kg in weight for the top model but also comes in 750kg, 1500kg and 3000kg versions so there is a model to suit many scenarios.
The stamped steel framework and also the gear cover are impact resistant meaning it can be used rigorously without harm.
Corrosion protection is added to the chain guide, chain stripper and parts of the brake system to ensure longevity in tough conditions. The stamped steel construction incorporated improved bearings and optimized gearing to ensure smooth operation with minimum effort.
This lever hoist incorporates a closed chain guide where the chain runs through a load sheave, this helps to protect against unintentional chain slipping. The hoist has some rugged chain rollers which removes the risk of chain jamming on the sheave. The rubber handle provides a comfortable, non-slip grip whilst operating the hoist.
The brake uses a traditional load pressure system and will hold the load in place until it is lowered and/or removed. Also if a load is removed whilst still in the lift position the brake will remain on until the hoist is placed in to lowering mode. The load brake on these models is of the screw & disc type; this is automatic and has corrosion protected components. There is a robust steel hand wheel as standard too.
There is a free chaining mechanism to enable free and smooth chain movement when unloaded. This is ideal for positioning the chain and load hook quickly and also for taking up any unwanted slack chain. Its design prevents accidental free chaining whilst under load for extra safety. End stops prevent the chain from entering the hoist too far and jamming up.
Both top and bottom forged swivel hooks come with safety catches for optimum safety, these are bolted on with nyloc nuts to simplify inspections.
Incorrect Operation
There are some operational procedures that must not be allowed when using this lever hoist, here we list some key points but you should refer to the manufacturers documentation for full details.
You should never exceed the stated working load limit of the device.
Do not use for pulling free a fixed load. Loads should not swing when in motion.
Do not use for transporting people.
Do not use for side pulling tasks, inline pulling operations only! The load chain must not be used as a chain sling.
Never load on the hooks tip, always seat the load into the bowl of the hook.
Always check the hoist is working correctly prior to each use and perform a test lift to check brake function.

Yale UNO Plus Ratchet Lever Hoist at a Glance

Pull, lift and tie down loads with this versatile UNO plus lever hoist.

· Compact and lightweight in design, yet robust.

· Stamped steel construction.

· Free chaining mechanism as standard.

· Available in 4 models with working load limits from 750 kg up to 6000kg.

· Atex version also available.




Other Lever Hoists and Hoisting Equipment

Lifting Gear Direct has a great choice of Lever hoists from the Yale brand at great prices, however you can also find ratchet lever hoists and pull winches from other manufacturers to compare with. We also have a selection of cable pullers and Tirfor winches which operate in a similar way but use wire rope not chain. Chain blocks are another manual hoisting option you may wish to consider but if you need a hoisting device with minimal manual labour required then check out our powered devices such as electric hoists or air hoists.

Buy a Ratchet Lever Hoist today

Purchasing this or any other lever hoist couldn't be easier, you can either call us on 01384 76961; email us via our contact us page; add your chosen model to your shopping cart and complete the checkout process OR if you need other lifting equipment or hoisting devices then you can add this to a quote along with other products and submit it to us; then you will receive a full quotation a.s.a.p. when a member of our team has looked at the enquiry.



| | | | | |
| --- | --- | --- | --- | --- |
| Model | UNOplus-A 750 | UNOplus-A 1500 | UNOplus-A 3000 | UNOplus-A 6000 |
| A min. mm | 312 | 375 | 445 | 563 |
| B, mm | 20 | 26 | 37 | 45 |
| C, mm | 27 | 31 | 40 | 47 |
| D, mm | 18 | 21 | 28 | 35 |
| E, mm | 267 | 267 | 376 | 376 |
| F, mm | 121 | 146 | 180 | 232 |
| G, mm | 40 | 51 | 57 | 71 |
| H, mm | 81 | 95 | 123 | 161 |
| J, mm | 144 | 164 | 193 | 193 |
| K, mm | 53 | 68 | 83 | 83 |
| L, mm | 91 | 96 | 110 | 110 |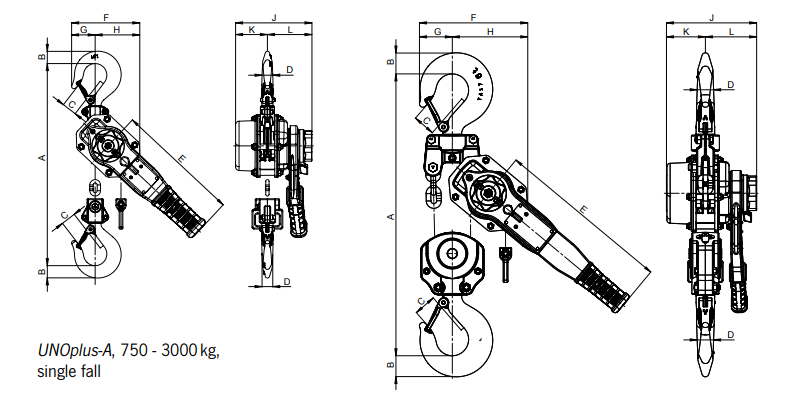 | | | | | | | |
| --- | --- | --- | --- | --- | --- | --- |
| Model | Capacity | No. of chain Falls | Chain Dimensions d x p (9mm) | Lift with 1 full lever turn (mm) | Handle Pull at Wll (daN) | Weight at standard lift (1.5m) kg |
| UNOplus-A 750 | 750 | 1 | 5.6x17.1 | 27 | 22 | 6.3 |
| UNOplus-A 1500 | 1500 | 1 | 7.1x21 | 22 | 35 | 9.2 |
| UNOplus-A 3000 | 3000 | 1 | 10x28 | 20 | 40 | 16.9 |
| UNOplus-A 6000 | 6000 | 2 | 10x28 | 10 | 43 | 28.6 |