JDN Profi 025TI - 2TI Air Hoists
If you have air power then you can lift up to 2 tonnes with the JDN Profi 025TI - 2TI Air Hoists
Brand::

J-D-NEUHAUS

Product Code:

JDN-Profi-025TI-2TI-Air-Hoists

Availability:

In Stock
Call 01384 76961 for price.
About the JDN Profi 025TI - 2TI Air Hoist
This is the smallest range of JDN Profi air hoists with lifting capacities from 160kg (0.16t) up to 2000kg (2tonne). 4 bar or 6 bar air pressure is required to run this hoist.
These Profi air hoists can be used in hazardous areas as they have explosion protection as standard. They are also insensitive to temperatures from -20 to +70 degrees, humidity and dust.

Other Key Features
Easy to operate

can be operated lube-free

low maintenance

extended duty cycles and frequent switching

Precise and variable speed control
Overload protection (from 1 tonne up)
Maintenance free ball bearings operate in the mid section chain sprocket and the planetary gear has long life grease lubrication for oil free operation.
These hoists have a high level of safety with fail safe starting and a patented motor brake system.
More Air Hoists and other hoist options
There are other models in the Profi series of air hoists by JD.Neuhaus which you can find on the main air hoist page. You will also find the M series and the JDN mini air hoist. There are hoists from other brands such as Red Rooster and Yale should you wish to compare them.
Electric hoists offer another powered hoisting option although these obviously need electricity to run rather than compressed air. So depending on your needs, take a look at the full range, you may find an alternative to better suit your specific lifting task.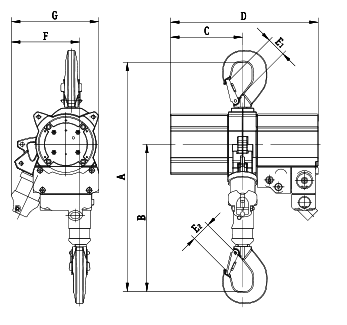 025 TI

05 TI

1 TI

1,5 TI

2 TI

A smallest headroom

1

mm

450

480

498

B

mm

288

293

336

C

mm

145

200

145

D

mm

297

412

297

E1

mm

28

28

28

E2

mm

28

26

28

F up to hook center

mm

137

170

137

G biggest width

mm

176

215

183
Type

 

025 TI

05 TI

1 TI

1,5 TI

2 TI

Air pressure

bar

4

6

4

6

4

6

4-6

4

6

Carrying capacity

t

0,16

0,25

0,32

0,5

0,63

1

1,6

1,25

2

Number of chain strands

 

1

2

Engine output

kW

0,6

1,0

0,6

1,0

0,6

1,0

1,3-2

0,6

1,0

Lifting speed at full load

m/min

20

10

11

5

5,5

4-6

2,5

2,7

Lifting speed without load

m/min

37,5

42

16

19

10

11

8,4-10

5

5,5

Lowering speed at full load

m/min

38

17

10

11

42715

5

5,5

Air consumption at full load - lifting

m³/min

0,7

1,2

0,7

1,2

0,7

1,2

1,5-2,6

0,7

1,2

Air consumption at full load - lowering

m³/min

0,8

1,5

0,8

1,5

0,8

1,5

2,2-3,6

0,8

1,5

Air connection

 

G ½

G ¾

G ½

Hose dimension (Ø inside)

mm

13

19

13

Weight at standard, rope control

kg

27

27,5

282

56

342

Chain dimension

mm

7 x 21

9 x 27

7 x 21

Weight of 1 m chain

kg

1,0

1,8

1,0

Standard lift

m

3

Length of control at standard lift

m

2

Sound level at full load - lifting

1

dB(A)

73

74

75

74

76

73-77

74

76

Sound level at full load - lowering

1

dB(A)

77

78

77

78

77

78

78-80

77

78