Pfaff Non-standard Special Pallet trucks
This range of pallet trucks from Pfaff offers wide variations on standard pallet trucks to suit non-standard applications such as stainless steel for clean environments; trucks with built in scales to weigh the load, wide forks for lifting larger pallets and many more.
Brand::

PFAFF

Product Code:

Pfaff Non-standard

Availability:

In Stock
Call 01384 76961 for price.
About the Pfaff Non-standard Special Pallet trucks
With a range of lifting capacities on offer, from 1.5t up to 5 t and a range of fork lengths, Pfaff' has a pallet truck to suit the majority of operations. All trucks are designed with ergonomic handles for ease of steering and handling. Quality components are used throughout so you can be assured of longevity. Fork dimensions are greatly important when choosing your ideal pallet truck, some are long, some are short, some are wide and some are narrow so consider how you will be using your hand pump truck and what loads you will be moving before making your choice.
Take a closer look at the range below with images of each model and all the details you will need in the specifications tab.
The models are:
Printer truck
short fork
long fork
weighing scales truck
extra wide
galvanised
stainless steel
low profile
parking brake
quick lift
heavy duty 3 tonne
heavy duty 5 tonne.
More Load Moving Options
When trying to decide on how to move certain loads around the workplace you should consider all the options available. You may think a pallet truck is the easiest option but it may not be the best option for you. Therefore you may like to compare other load moving products such as scissor lift tables or perhaps some load moving skates. If its drum handling equipment you are looking for then browse our range specific to drums and barrels. Lifting gear Direct can also supply a range of attachments for fork lift trucks which enable you to adapt an existing truck into a more specific load moving machine.
Want some help with your choice? no problem! call us on 01384 76961 or drop us an email.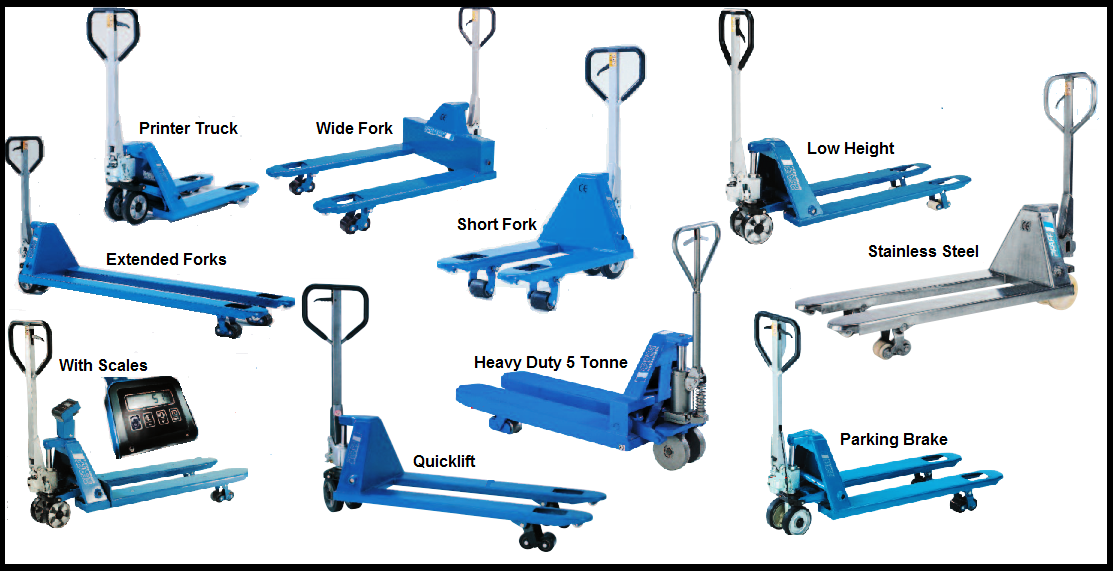 Type

 

 

 

'Printers'

 

'Short fork

'Long fork'

'3 tonne'

'5 tonne'

 

'Weighing'

'Extra wide

'Galvanised'

 

'Stainless steel

'Low profile

'Parking brake

'Quick lift'

Lifting capacity

 

t

 

 

1.5

2.5

2

3

5

2

2

2.5

2

1.5

2.5

2

Steering/load wheels*

 

-

 

 

SR / PUR

 

SR / PUR

SR / PUR

 

PUR / PUR

ST / ST

 

PUR / PUR

SR / PUR

 

PA / PA

 

PA / PA

 

PA / PUR

 

SR / PUR

 

SR / PUR

Wheel size (front)

 

mm

 

 

185 x 50

 

200 x 50

200 x 50

 

200 x 50

 

200 x 50

 

180 x 50

200 x 50

 

200 x 50

 

200 x 50

 

180 x 50

 

200 x 50

 

200 x 50

Load wheel size (rear)

 

mm

 

 

50 x 70

 

80 x 70

 

80 x 70

 

80 x 70

 

82 x 80

 

74 x 70

82 x 70

 

82 x 70

 

82 x 70

 

50 x 70

 

82 x 70

 

82 x 70

No. of wheels front/rear

-

 

 

2/4

2/4

2/4

2/4

2/4

2/4

2/4

2/4

2/4

2/4

2/4

2/4

Lifting height

 

mm

 

h3

115

115

115

115

110

110

115

115

115

115

115

115

Load centre

 

mm

 

c

 

450

500

600

600

600

600

600

600

600

600

600

600

Steering handle height

 

mm

 

h14

1200

1230

1230

1230

1220

1210

1200

1200

1200

1220

1200

1200

Fork height lowered

 

mm

 

h13

85

85

85

85

90

85

85

85

85

51

85

85

Total unit length

 

mm

 

L1

1335

1405

2405

1555

1535

1580

1535

1535

1535

1535

1535

1535

Useable fork length up to

 

mm

 

l

 

950

1000

2000

1150

1150

1150

1150

1150

1150

1150

1150

1150

Fork width

 

mm

 

e

 

120

160

160

160

210

180

160

160

160

160

160

160

Outside fork width

 

mm

 

b1

450

540

540

540

580

570

850

540

540

540

540

540

Floor/ground clearance

 

mm

 

m1

40

37

37

37

40

35

40

40

40

40

16

45

Weight

 

kg

 

 

70

66

97

70

240

129

112

86

86

84

86

86