Single Acting Hydraulic Cylinders
Hydraulic cylinders are a great way to raise heavy loads. These single acting cylinders work by pumping up the piston with the lever to increase the pressure of the hydraulic fluid; it is lowered by releasing a spring return valve. The pressure build up is in one direction only, unlike the double acting variety which uses both push and pull forces.
Single Acting Cylinders Available
There is an extensive range of these cylinders available which range in lifting capacities from 5 tonne up to a staggering 100 tonne. They also have varying stroke lengths depending on the model, this can be anywhere between 50mm and 200mm, you can find out all the relevant technical details in the tables below.
With a 700 bar maximum pressure and a hydraulic coupler (TBC 381F(PT3/8)) these single acting cylinders are fully certified for your peace of mind.
Other Hydraulic solutions
Lifting Gear Direct is able to supply other types of hydraulic lifting equipment at some of the keenest prices around. Take a look at our floor jacks, bottle jacks and pumps as well as a range of accessories such as manifolds and couplers. Other branded hydraulics are also available including Raptor, Yale, Enerpac and Hi-force; you can find the products under the shop by brand respective pages.
Getting In Touch
01384 76961 is our landline phone number should you require some advice or additional information. If you would rather email us you can do so through the rapid form or contact us pages. You can also opt to purchase directly through the add to cart function and complete checkout.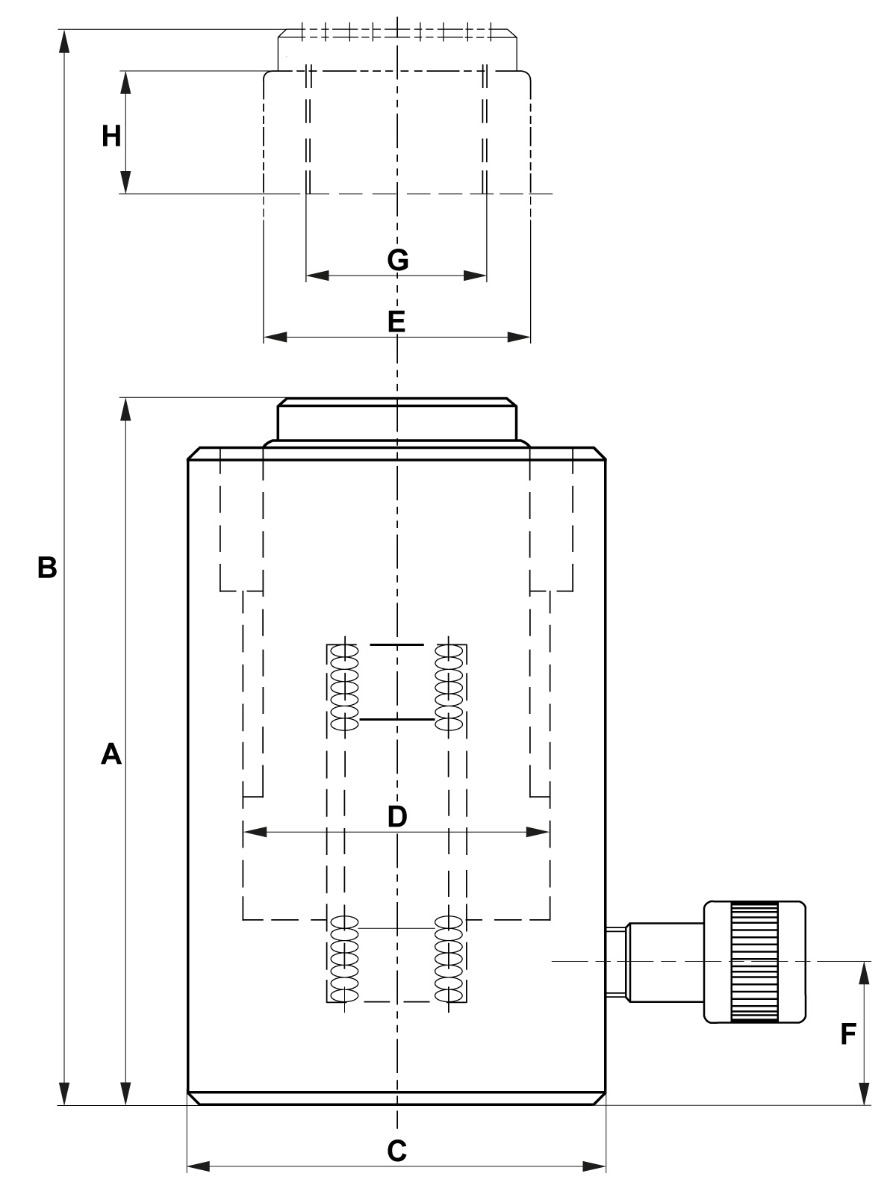 | | | | | | | | | |
| --- | --- | --- | --- | --- | --- | --- | --- | --- |
| Model | Cyl. Cap. | Stroke | Piston Rod Dia | Base to Inlet port | Piston rod internal thread | Piston rod Thread Length | Weight | Pump |
|   | (tonnes) | (mm) | E (mm) | F (mm) | (G) mm |  H (mm) | (kgs) |   |
| TS-55 | 5 | 50 | 25 | 25 | ###### | 16 | 1.1 | 1B |
| TS-510 | 5 | 100 | 25 | 25 | ###### | 16 | 1.4 | 1B |
| TS-515 | 5 | 150 | 25 | 25 | ###### | 16 | 1.4 | 1B |
| TS-520 | 5 | 200 | 25 | 25 | ###### | 16 | 2.2 | 1B |
| TS-105 | 10 | 50 | 38 | 20 | 01-Aug | 19 | 2.1 | 1B |
| TS-1010 | 10 | 100 | 38 | 20 | 01-Aug | 19 | 3.4 | 1B |
| TS-1015 | 10 | 150 | 38 | 20 | 01-Aug | 19 | 4.8 | 1B |
| TS-1020 | 10 | 200 | 38 | 20 | 01-Aug | 19 | 5.6 | 1B |
| TS-205 | 20 | 50 | 57 | 35 | M38x2.0 | 26 | 7 | 1B |
| TS-2010 | 20 | 100 | 57 | 35 | M38x2.0 | 26 | 8.8 | 1B |
| TS-2015 | 20 | 150 | 57 | 35 | M38x2.0 | 26 | 11 | 1B |
| TS-2020 | 20 | 200 | 57 | 35 | M38x2.0 | 26 | 12.7 | 1C |
| TS-305 | 30 | 50 | 65 | 35 | M44x2.0 | 30 |  9.8 | 1B |
| TS-3010 | 30 | 100 | 65 | 35 | M44x2.0 | 30 | 12.5 | 1B |
| TS-3015 | 30 | 150 | 65 | 35 | M44x2.0 | 30 | 16 | 1C |
| TS-3020 | 30 | 200 | 65 | 35 | M44x2.0 | 30 | 17.5 | 1C |
| TS-505 | 50 | 50 | 85 | 35 | - | - | 15.8 | 1C |
| TS-5010 | 50 | 100 | 85 | 35 | - | - | 20 | 1C |
| TS-5015 | 50 | 150 | 85 | 35 | - | - | 23.5 | 1C |
| TS-5020 | 50 | 200 | 85 | 35 | - | - | 27.7 | 1C |
| TS-10010 | 100 | 100 | 110 | 40 | - | - | 3A | 3A |
| TS-10015 | 100 | 150 | 110 | 40 | - | - | 44.5 | 3A |