Double Acting Hydraulic Cylinders
Double acting hydraulic cylinders operate the same as a single acting cylinder but with the additional benefit of having a hydraulic return function. This enables the cylinder to give controlled push & pull or raising & lowering movements of the saddle.
Call 01384 76961 for price.
Double Acting Cylinders Available
We have a huge range of double acting cylinders available from our collection; the lifting capacities range from 5 tonne up to a hefty 1000 tonnes. The double action hydraulic power offers a faster retraction speed with stroke lengths of between 150 and 300mm depending on the model.
Our range has plunger caps to protect from debris ingress and TBC 381F(PT3/8) hydraulic couplers for heavy duty operation. To find out more details such as the retracted and extended height of the units, oil capacity and also collar and piston information you can refer to the specification tables below.
Hydraulic Safety
Safety is extremely important when using all types of lifting equipment, hydraulics are no exception.
You should never exceed the maximum pressure of the cylinder and avoid unconventional loading. You should always ensure the load sits centrally and parallel on the piston/saddle. Ensure all couplers are secure and hoses are not kinked prior to each use. Additionally you should keep hydraulic cylinders away from high heat (e.g. welding).
Contacts
Get in touch with the team at LGD if you need any more help with our hydraulic systems. You can call for advice or place an order if you do not wish to do this online.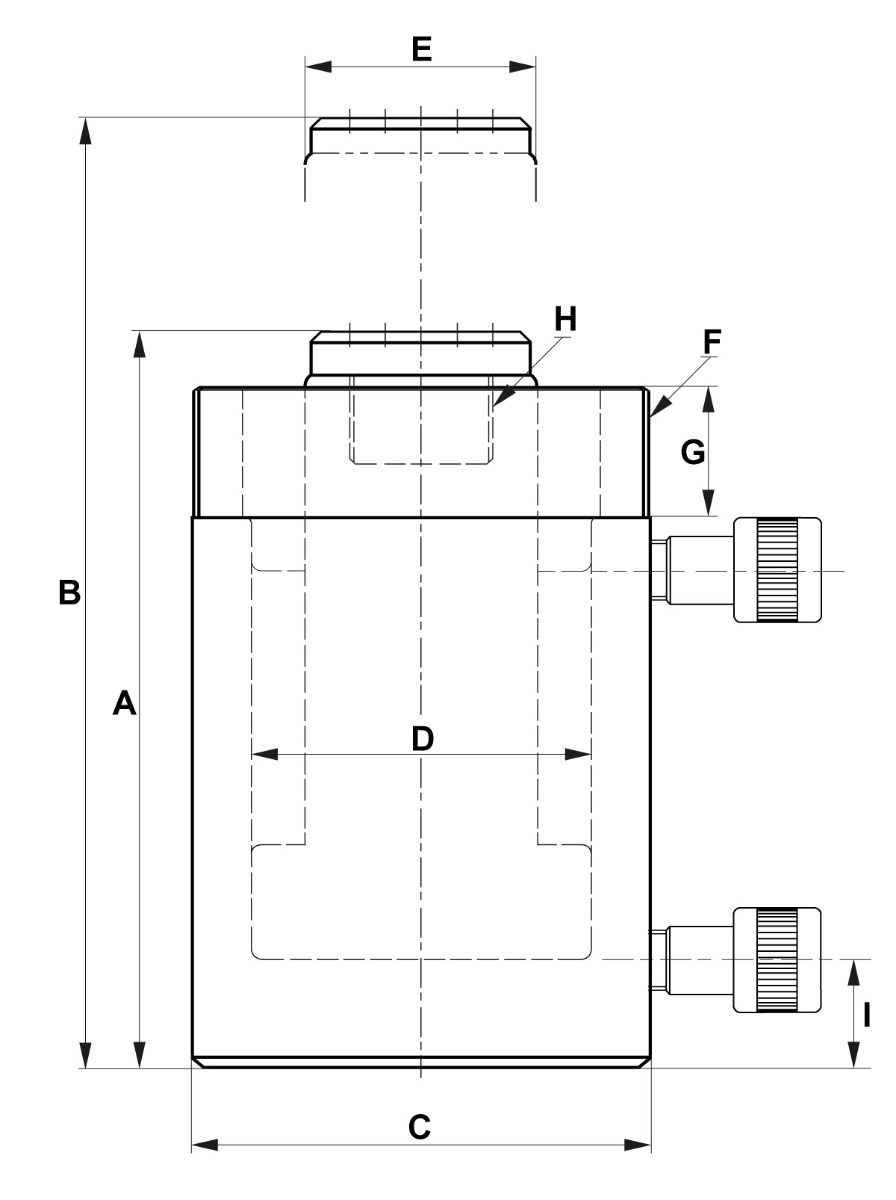 | | | | | | | | | |
| --- | --- | --- | --- | --- | --- | --- | --- | --- |
| Model | Cyl. Cap. | Stroke | Piston Rod Dia. | Collar Thread | Collar Thread length | Piston Thread | Weight | Pump |
|   | (tonne) | (mm) | E (mm) | F (mm) |  G (mm) | H (mm) | (kgs) |   |
| TDC-515 | 5 | 150 | 25 | M45xP1.5 | 25 | M20xP1.5 | 3.3 | 1B Double |
| TDC-530 | 5 | 300 | 25 | M45xP1.5 | 25 | M20xP1.5 | 4.8 | 1B Double |
| TDC-1015 | 10 | 150 | 30 | M60xP2.0 | 30 | M28xP2 | 4.5 | 1B Double |
| TDC-1030 | 10 | 300 | 30 | M60xP2.0 | 30 | M28xP2 | 9 | 1B Double |
| TDC-2015 | 20 | 150 | 45 | M85xP2.5 | 50 | M40xP2 | 13.5 | 1B Double |
| TDC-2030 | 20 | 300 | 45 | M85xP2.5 | 50 | M40xP2 | 20 | 1C Double |
| TDC-3015 | 30 | 150 | 55 | M100xP2.5 | 55 | M50xP2 | 24 | 1C Double |
| TDC-3030 | 30 | 300 | 55 | M100xP2.5 | 55 | M50xP2 | 33 | 3A Double |
| TDC-5015 | 50 | 150 | 65 | M127xP2.5 | 45 | M40xP2 | 30 | 3A Double |
| TDC-5030 | 50 | 300 | 65 | M127xP2.5 | 45 | M40xP2 | 50 | 3A Double |
| TDC-10015 | 100 | 150 | 100 | M175xP3 | 50 | M65xP3 | 64 | 3A Double |
| TDC-10030 | 100 | 300 | 100 | M175xP3 | 50 | M65xP3 | 83 | 3B Double |
| TDC-15015 | 150 | 150 | 120 | M215xP3.5 | 55 | M70xP4 | 95 | 3B Double |
| TDC-15030 | 150 | 300 | 120 | M215xP3.5 | 55 | M70xP4 | 127 | 3B Double |
| TDC-20015 | 200 | 150 | 135 | M24xP4 | 60 | M80xP4 | 129 | 3B Double |
| TDC-20030 | 200 | 300 | 135 | M24xP4 | 60 | M80xP4 | 169 | 3B Double |
| TDC-30015 | 300 | 150 | 170 | M315xP4 | 70 | M90xP4 | 230 | 3B Double |
| TDC-30030 | 300 | 300 | 170 | M315xP4 | 70 | M90xP4 | 298 | 3B Double |
| TDC-50015 | 500 | 150 | 215 | - | - | - | 490 | 3HP Double |
| TDC-50030 | 500 | 300 | 215 | - | - | - | 590 | 3HP Double |
| TDC-80015 | 800 | 150 | - | - | - | - | 782 | 5HP Double |
| TDC-80030 | 800 | 300 | - | - | - | - | 989 | 5HP Double |
| TDC-100015 | 1000 | 150 | - | - | - | - | 1216 | |