Tiger ROV Chain Block
The Tiger ROV chain block system is fully corrosion resistant for subsea use. It is one of
many specialised hoists we sell
, providing class-leading levels of durability in the face of the toughest marine environments.
Brand::

Tiger

Product Code:

Tiger ROV

Availability:

In Stock
Call 01384 76961 for price.
This hoist is ideal for use with remotely operated vehicles (ROV) in deep sea salvage and research operations.
Tiger ROV Chain Block Key Features
Proven subsea brake design with chamber cover.
Marine specification friction discs.
Available with various interfaces, including:
Hydraulic Hot Stab connection type A dual port
Rotary Torque Receptacle Classes 1,2 & 3
Manual D Handle, T-bar or Fishtail Direct Drive
QD Direct Drive Couplings
Benefits of Tiger ROV Chain Block
Like many of our most durable, resilient chain blocks, the ROV is not just built to withstand exposure to environments of all types; it also offers a range of load capacities. The smallest of the bunch can cope with up to three tonnes of equipment safely and stably. There are also models with safe working limits of 10, 15 and 20 tonnes apiece, so operations of all sizes should be easy to accommodate.
Select Chain Hoists to Suit the Job in Hand
Tiger's range of chain blocks includes a spark resistant model to comply with ATEX standards. There are also corrosion resistant hoists from Yale with similarly durable designs as the ROV. The load limit is therefore not the only thing that you need to consider when selecting a product from LGD; you also need to look at its design and decide whether or not it will be apt for the uses that you have in mind.
Get more Tiger ROV Chain Block Info
If you are still uncertain about the ROV chain hoist, or any of Tiger's other products, call the LGD team to find out more. Our lifting gear hotline number is 01384 76961 and you can also email your question via the contact page on our site.
Product Code

Capacity (tonne)

Dimensions (mm)

 

 

A

B

C

D

E

F

F1

G

CB-0300

3

109

84

 

98

157

40

35

550

CB-1000

10

109

84

 

153

263

60

54

660

CB-1500

15

110

84

 

225

374

64

57

840

CB-2000

20

160

90

 

140

347

90

70

1050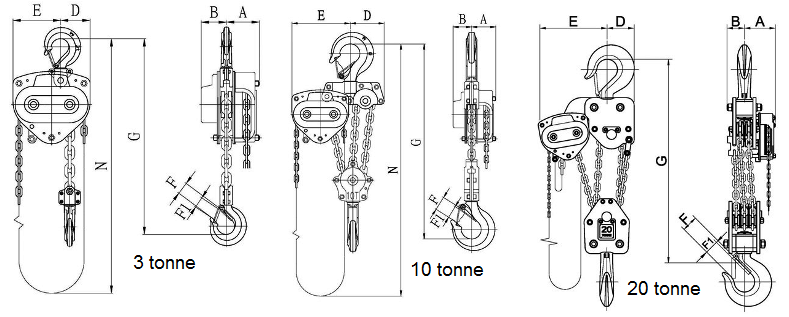 ROV CHAIN BLOCK
Product Code

Capacity (tonne)

Effort (kg)

Load Chain

Standard HOL (m)

Mass Kg @ std HOL

 

 

 

Diameter (mm)

No. of falls

 

 

CB-0300

3

38

Ø10.0

1

3

30.8

CB-1000

10

40

Ø10.0

3

3

65

CB-1500

15

41

Ø10.0

5

3

132

CB-2000

20

43

Ø10.0

6

3

180.5
ROV  BLOCK
Product Code

Capacity (tonne)

Max Torque (Nm)

Revs per 300mm travel

Mass out of Water (Kg) (Includes chain block @ std HOL)

 

 

 

 

Hot Stab

Torque Tool

Fishtail

RCB-0300

3

45

55

60.5

57.5

53.5

RCB-1000

10

50

165

90.3

87.3

83.9

RCB-2000

20

55

340

208

205

201

RCB-1500

15

52

275

160.3

157.3

153.3