Topal RT Round Bar & Pipe Clamps
The RT clamps are ideal for lifting round or square bars, pipes or tube and other small profiles individually or in small bundles.
Brand::

TOPAL

Product Code:

Topal RT

Availability:

In Stock
Call 01384 76961 for price.
About the Topal RT Round Bar & Pipe Clamps
Fitted with an open position locking to allow laying down of the pipes without intervention on the clamp.
For use in pairs (usually with a lifting beam), vertical traction only.
To use, simply position the clamp (locked open) over the load, lift the lever and hold in the raised position whilst starting the lift - this prevents it locking again against the locking screw, when setting down the clamp will lock open automatically.
Model

Opening

 

A

B

C

D

E

F

G

H

I

Weight pair (KG)

 

 

Min

Max

Min

Max

Min

Max

Min

Max

 

 

 

 

 

 

 

RT05 50-100

50

100

314

359

136

170

146

187

100

16

44

69

52

18

4

RT1 100-200

100

200

475

563

241

318

222

296

100

16

44

69

52

18

9

RT2 200-350

200

350

745

872

427

544

355

447

100

20

60

80

64

23

27

RT3 250-450

250

450

839

1010

485

634

546

650

100

20

68

80

64

23

40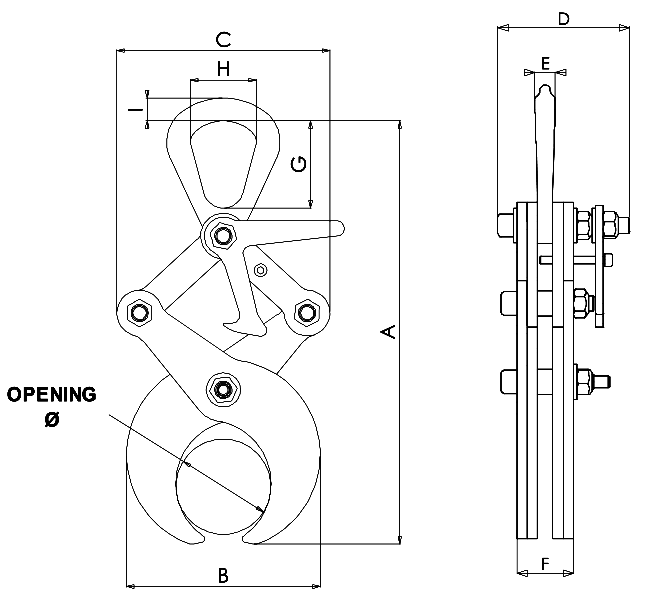 Model

WLL pair (KG)

Weight (KG)

Opening (mm)

 

 

 

Min

Max

RT05 50-100

500

4

50

100

RT1 100-200

1000

9

100

200

RT2 200-350

2000

28

200

350

RT3 250-450

3000

40

250

450