Y16 Yaletrac Cable Puller
The Y16 Yaletrac Cable Puller is a robust wire rope pulling machine which can be adapted to suit many pulling and tensioning operations.
Y16 Yaletrac Cable Puller Features
This 1600kg capacity model is lightweight at just 14kg (without rope) and compact for easier portability.
It possesses a longer and shorter lever for forward and reverse movements; these are in-line like the clamping system to give the slim design and to provide the power transfer in a central line.
This design also helps to protect the rope by evenly distributing the clamping forces and giving a longer rope advance with each pull.
There is a simple clamp release lever to allow easy threading of the rope. Yaletrac's rope is 6 strand with a steel core, tapered for easy threading at one end and the other end possesses an eye sling hook with a safety latch for added protection.
The overload protection system is provided by shear pins, these are easy to replace (even whilst under load) with the spares located in either the lever or carry handle.
The unit possesses a large top opening for easy cleaning and lubricating.
Options available:
Eye sling hook with safety latch
Longer ropes
Drum reel
Storage box

More Cable Pullers & Winches

If this 1600kg cable puller is too heavy then try the Y08 - 800kg model; If it is not quite powerful enough then try the 3200kg model - the Y32. Alternatively we supply economy versions of the same capacities as well as Tirfor winches. If it is not a cable puller of this type you are looking for then check out the collection of wire rope winches we offer, there is something to suit most situations.

Contact the team at LGD if you need extra help.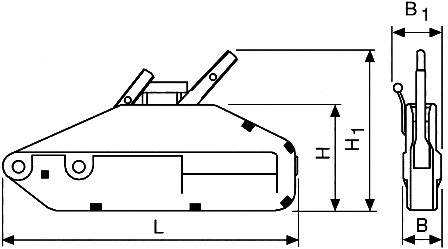 | | |
| --- | --- |
|   |   |
| B mm | 91 |
| B1 mm | 110 |
| H mm | 230 |
| H1 mm | 330 |
| L mm | 680 |
Model

Y16 Yaletrac cable puller

Description

1.6t w.H.lever w/o wire rope BU

Rope Weight (KG/M)

0.53

Weight without rope (KG)

14

Rope diameter (mm)

11.5

Rope advance per double stroke (mm)

60

Lever length (mm)

790/1190

Lever pull at WLL daN

30

Capacity (nominal load) (KG)

 

1600