Y32 Yaletrac cable Puller
Choose the Y32 Yaletrac cable puller for the most powerful wire rope pulling machine from Yale, lift, pull and tension with great strength.
Y32 Yaletrac cable Puller Features
This larger capacity 3200kg cable puller weighs in at 21kg (without the rope) so is fairly lightweight and still compact for easy transportation.
The two tandem levers are 790mm and 1190mm respectively, for ease of use. Because the levers are in-line it not only provides a slim device, but also enables the power to transfer directly along the centre line. It also enables a longer rope pull for each lever movement by evenly distributing the clamping forces; this in turn helps to protect the rope.
Shearing pins provide the overload protection, these can be replaced easily with the spares included, these are stored in the handle or lever.
There is a lever to disengage the clamps in order to re-thread or add new rope easily.
Yaletrac uses a special, flexible rope with 6 strands & a steel core; The rope is tapered at 1 end to facilitate easy threading and possesses an eye sling hook with a safety catch at the other end.
Easy to clean and lubricate via the larger opening on the top of the high tensile, aluminium steel housing.
The large surface area on the bottom of the unit provides extra stability
Options available:
Eye sling hook with safety latch
Longer ropes
Drum reel
Storage box

More winches

There are other Yale cable pullers to choose from at Lifting Gear Direct as well as an economy range and the original Tirfor collection so we have a cable puller to suit every pocket.

Our range of wire rope winches also offers a lifting and pulling means but with a range of mounting capabilities for fixing to different surfaces, there's something suitable for most situations from trailer winches to stage winches.

Need a little help with your choice? no problem, call us on 01384 76961 to discuss your needs.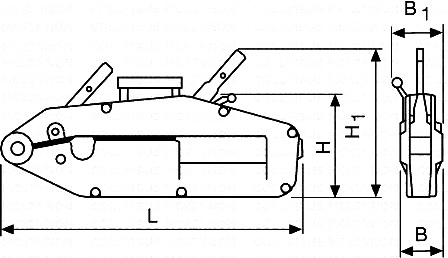 | | |
| --- | --- |
|   |   |
| B mm | 91 |
| B1 mm | 110 |
| H mm | 230 |
| H1 mm | 330 |
| L mm | 680 |
Model

Y32 Yaletrac cable puller

Description

3.2t w.H.lever w/o wire rope BU

Rope Weight (KG/M)

1

Weight without rope (KG)

21

Rope diameter (mm)

16

Rope advance per double stroke (mm)

40

Lever length (mm)

790/1190

Lever pull at WLL daN

50

Capacity (nominal load) (KG)

 

3200