Y08 Yaletrac cable puller
The Yaletrac Y08 cable puller uses powerful jaws around a wire rope to lift, pull and tension loads. Wire rope cable pullers can be used for many types of applications.
Y08 Yaletrac cable puller Features
This 800kg capacity model is compact & lightweight (just 7kg) with a high tensile aluminium alloy housing which has a large flat bottomed surface which provides added stability.
The forward & reverse levers are in an in-line, tandem position assuring power transfer along the centre line whilst providing a slim design.
Shear pins provide the overload protection, which can be easily replaced, even whilst under load; spare pins are provided (stored in the carry handle or lever).
The rope clamp system can be disengaged via a lever to allow easy installation of the wire rope.
The special rope used in the yaletrac models has 6 strands with a steel core, tapered at one end for easier fitting and an eye sling hook with safety latch at the other end.
Due to the parallel clamping system, the rope is protected by evenly distributing the clamping forces, and also allows a longer rope advance with each lever pull to increase the speed.
Easy to clean and re-lubricate due to the large top opening.
Options available:
Eye sling hook with safety latch
Longer ropes
Drum reel
Storage box

Other Wire Rope Winches

We can supply Yale cable pullers in other sizes, the Y16 and Y32 are both heavier options with 1600kg and 3200kg pulling capacities respectively. We also have an economy range with the same lifting capacities as the ale models should you want a cheaper option.

You may prefer one of our original tirfor winches which are also available in the same sizes. We have a great collection of both cable pullers and wire rope winches to suit a wide variety of lifting and pulling tasks.

Get in touch with Lifting Gear Direct if you need any help or more information.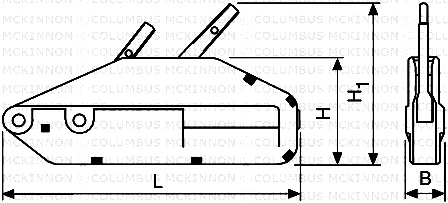 | | |
| --- | --- |
|   |   |
| B mm | 60 |
| H mm | 168 |
| H1 mm | 240 |
| L mm | 430 |
Model

Y08 Yaletrac cable puller

Description

0.8t w.H.lever w/o wire rope BU

Rope Weight (KG/M)

0.29

Weight without rope (KG)

7

Rope diameter (mm)

8.4

Rope advance per double stroke (mm)

60

Lever length (mm)

800

Lever pull at WLL daN

24

Capacity (nominal load) (KG)

 

800