Yaletrac ST Cable Puller
Designed with the construction, power line, ship building and civil engineering industries in mind the Yaletrac ST cable puller is perfect for lifting, pulling and tensioning applications over long distances.
Brand::

YALE

Product Code:

Yaletrac ST Cable Puller

Availability:

In Stock
Call 01384 76961 for price.
Key Features of the Yaletrac ST Cable Puller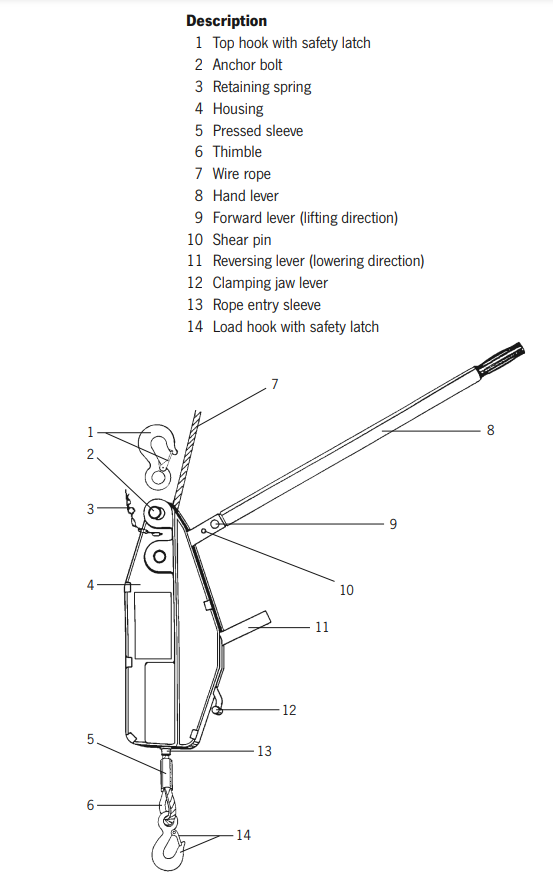 This easy to use cable puller is virtually maintenance free thanks to its robust design. Made with deep drawn steel plates in a dimensionally stable design with a handle and foot, you can use this model in most areas. Its easily portable and comes with a choice of optional extras such as a carry bag (ST 05 only) or steel plate storage box. Other choices for the Y 10 and above models include an eye sling hook with safety catch, longer ropes and a drum reel.
The Y 05 ST comes with a short lever but all the others incorporate a space saving telescopic lever to make both using and storage easier.
Shear pins incorporated into the design provide the overload protection. Spare pins are included and are stored within the carry handle. What's more, sheared pins can be replaced without the need to remove the load.
The 6 strand, steel core wire rope used with the ST cable puller is tapered at one end to enable easy threading/fitting. The other end is completed with an eye sling hook complete with a safety latch.
The clamping jaws have a parallel arrangement to protect the rope with evenly distributed clamping forces.
Each lever stroke will provide a long rope advance and therefore increases the speed but lessens the effort. The levers are in tandem to enable the slim design of the unit. There is also a disengage function for the unhindered installation and removal of the wire rope.
The unit incorporates rubber sleeves to prevent dirt from penetrating into the mechanics. There is also a top opening where you can flush out any debris to clean the puller and also add oil for lubrication for smooth operation and rope protection.
Other Cable Pullers and Winches
We have a great choice of cable pullers available at Lifting Gear Direct, from the original Tirfor machines to our economy range as well as more models from Yale.
Our wire rope winch selection includes an array of models with different features, from different mounting options to manual or powered winch options so there are many choices to consider.
A pull winch is another option you may wish to consider, these can also be used to lift, pull and tension loads in a slightly different format, check them out.
Help
If you would like some help with your choice of winch or pulling machine then give the team a call on 01384 76961, we will be able to offer friendly advice to ensure you get the most suitable product for your operation. Whatever your lifting equipment needs are, Lifting Gear Direct can help.
| | | | | |
| --- | --- | --- | --- | --- |
| MODEL | Y 05 ST | Y 10 ST | Y 16 ST | Y 32 ST |
| L, mm | 285 | 435 | 560 | 664 |
| H, mm | 116 | 178 | 205 | 240 |
| H1, mm | 164 | 235 | 280 | 350 |
| B, mm | 48 | 61 | 86 | 96 |
| B1, mm | 70 | 94 | 125 | 123 |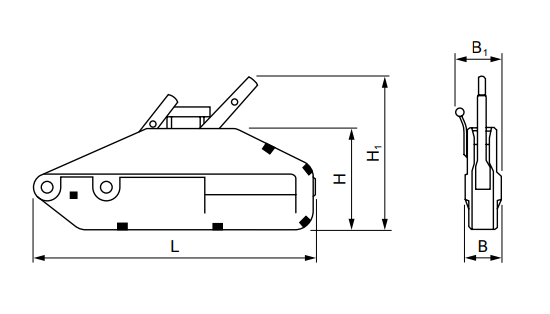 | | | | | | | | |
| --- | --- | --- | --- | --- | --- | --- | --- |
| MODEL | CAPACITY WLL kg | ROPE ADVANCE PER DOUBLE STROKE IN mm | LEVER PULL AT WLL daN | LEVER LENGTH mm | ROPE DIAMETER mm | WEIGHT WITHOUT ROPE kg | ROPE WEIGHT kg/m |
| Y 05 ST | 500 | 20 | 30 | 260 | 6 | 2.8 | 0.1 |
| Y 10 ST | 1000 | 60 | 23 | 800 | 8.4 | 8.5 | 0.29 |
| Y 16 ST | 1600 | 60 | 28 | 790/1190 | 11.5 | 15.8 | 0.53 |
| Y 32 ST | 3200 | 40 | 46 | 790/1190 | 16 | 27.2 | 1 |