Yale RPE Electric Wire Rope Winch
The RPE is a compact, practical and versatils electric wire rope winch with capacities up to 1000kg.
Brand::

YALE

Product Code:

Yale RPE

Availability:

In Stock
Call 01384 76961 for price.
About the Yale RPE Electric Wire Rope Winch
The RPE electric wire rope winch from Yale is one of several electric winch models we stock here at Lifting Gear Direct. It has an excellent feature set, a durable design and lets you lift and pull loads with ease and from most positions due to the universal rope lead-off.
Key Features of the Yale RPE Electric Wire Rope Winch
Voltage = 400v 3 phase 50hz or 1 phase 50hz 3 phase motor protected to IP54, insulation class F
Internal brake motor
adjustable slip clutch (overload protection) as standard on 10-6 model
Spur gear transmission with helical 1st gear
spring pressure disc brake incorporated in the motor (holds load if power fails)
plain rope drum as standard
42v low voltage pendant control with 2m cable as standard.
OPTIONS:
Different drum designs e.g. extended for longer rope; machined grooves for exact reeling; with separation web & 2nd rope outlet for 2 ropes.
geared limit switches to limit rope motion in both directions
adjustable slip clutch on RPE 2-13, 5-6 & 5-12
radio remote control
stainless brake
zinc plated version.
You can find the full specifications of the five distinct Yale RPE models in the table below, along with information on everything from pulling force to the weight of each unit in its own right.
Choosing a winch
To work out whether the Yale RPE is the right wire rope winch for you, it is necessary to also compare it against the other options we supply here at LGD.
As well as electric winches, we stock manual winches which are compact and reliable, as well as pneumatic winches which can provide power and performance in contexts where electric alternatives are not usable.
If you determine that a winch is not exactly what you need for safe lifting, you might consider some of our other products on offer, which includes hoists, material handling equipment and much more besides.
We even make custom gantry systems for clients of all shapes and sizes, with all of our own brand products fully tested to comply with relevant regulations, giving you great value for money as well as peace of mind.
Looking for answers to winch questions?
Let our experts help out by calling our sales hotline on 01384 76961 or emailing us today. We can provide extra info on any of our winches and products, as well as giving helpful, friendly advice where required.
| | | | | | | |
| --- | --- | --- | --- | --- | --- | --- |
| Model |   | RPE 2-13 | RPE 5-6 | RPE 5-12 | RPE 9-6 | RPE 10-6 |
| A, | mm | 405 | 405 | 405 | 525 | 525 |
| B, | mm | 375 | 375 | 375 | 485 | 485 |
| C, | mm | 18 | 18 | 18 | 25 | 25 |
| DTR, | mm | 76 | 76 | 76 | 108 | 108 |
| D max | mm | 104 | 118 | 118 | 148 | 148 |
| DA, | mm | 150 | 150 | 150 | 180 | 180 |
| E, | mm | 338 | 338 | 428 | 450 | 450 |
| F, | mm | 210 | 210 | 300 | 270 | 270 |
| G, | mm | 260 | 260 | 350 | 345 | 345 |
| H, | mm | 290 | 290 | 380 | 380 | 380 |
| I, | mm | 11 | 11 | 11 | 13 | 13 |
| K, | mm | 250 | 250 | 250 | 340 | 340 |
| L, | mm | 125 | 125 | 125 | 170 | 170 |
| M, | mm | 6 | 6 | 6 | 10 | 10 |
| N, | mm | 33 | 33 | 33 | 47.5 | 47.5 |
| O, | mm | 194 | 194 | 284 | 250 | 250 |
| P, | mm | 19 | 19 | 19 | 24 | 24 |
| Q, | mm | 13 | 13 | 13 | 19 | 19 |
| R, | mm | 125 | 125 | 125 | 170 | 170 |
| S, | mm | 4 | 6 | 6 | 8 | 8 |
| α 1,° |   | 130 | 130 | 130 | 145 | 145 |
| α 2,° |   | 110 | 110 | 110 | 125 | 125 |
| α 3,° |   | 40 | 40 | 40 | 50 | 50 |
| β 1,° |   | 150 | 150 | 150 | 155 | 155 |
| β 2,° |   | 90 | 90 | 90 | 100 | 100 |
| β 3,° |   | 80 | 80 | 80 | 83 | 83 |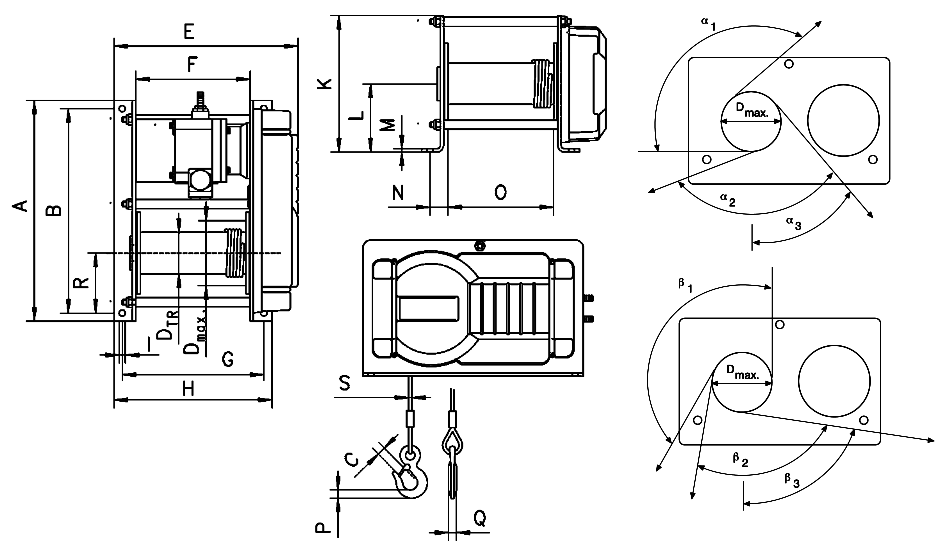 MODEL

Pulling Force

  

Lifting Speed

 

Rope Diameter

  

Motor Perf.

ED at 120 c/h

Useable Rope Length (metre)

Weight

 

daN

m/min

mm

kW

%

1st layer

2nd

3rd

4th

kg

RPE 2-13

250

13

4

0.55

40

11.2

24.4

38.8

54.5

31.5

RPE 5-6

500

6.5

6

0.55

40

7

16.4

27

38.8

32.8

RPE 5-12

500

12

6

1.1

40

11

24.9

39.7

55.4

41

RPE 9-6

990

6

8

1.1

40

10.2

23

37.4

 

76

RPE 10-6**

1000

6

8

1.1

40

10.2

23

37.4

 

76.9