The Complete Car Workshop Equipment Guide 2020
14 October, 2020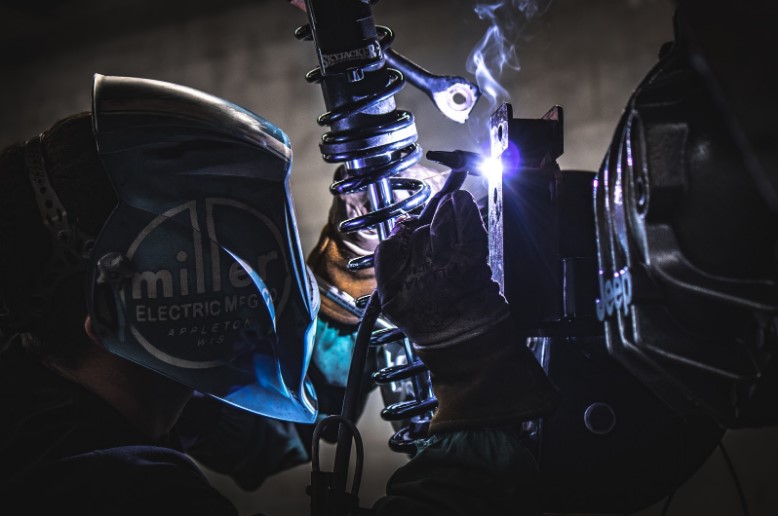 Car workshops and garages are critical in keeping automotives safely operating and to avoid unnecessary breakdowns. In order to MOT vehicles and carry out essential maintenance and repairs, car workshops must have the correct equipment to be able to fully inspect the vehicle.
From hydraulic bottle jacks to engine hoists and floor cranes, mechanics will need to have a wide range of lifting equipment, which we stock directly at Lifting Gear Direct.
In this blog, we provide you with a complete guide to mechanic lifting equipment which is critical in the movement and lifting of automotive vehicles.
Hydraulic Bottle Jacks
Hydraulic bottle jacks have become a lifeline in the motor industry as they are most useful during roadside assistance when changing a wheel. Hydraulic jacks are also used in garages to lift a vehicle so that mechanics can inspect underneath the car.
With that being said, they aren't as useful for lifting cars that have been lowered, i.e. sports cars, however, they are ideal for lifting larger vehicles and trucks. Bottle jacks are a vertical jack that can lift heavy goods very easily, by moving the lever up and down to raise the piston and pad.
Floor Cranes
If you're looking for a lightweight and portable method of lifting and lowering a vehicle, then the floor cranes are best suited for you. Floor cranes (also referred to as workshop cranes, engine hoists and engine cranes) have a smaller lifting load than other lifting cranes, so with a lifting weight of between 500kg and 2000kg, they are able to lift most small to medium-sized vehicles.
Floor cranes are very common in automotive garages in lifting and lowering cars as they can easily slide underneath a car and are easily manoeuvrable and cost-effective, making it easier to carry out physically demanding tasks without much effort needed. Of course, when using floor cranes, it's important to keep the load central and stable in order for safe operation.
They are also useful for the removal and insertion of car engines and with their compact structure and some having the feature of folding and storing away.
Chain Blocks
Chain blocks, also known as block and tackle, is a versatile lifting solution that requires no power and is suitable in a wide range of conditions. With the compact shape and design, chain blocks are ideal for any workplace, but particularly for those with limited headroom. They are lightweight, compact and most of all, easy to transport.
With the ability to lift several tonnes of weight, chain blocks provide smooth operation and longevity and are well suited for the lifting of vehicles. Chain blocks and hoists can be used in a variety of settings and are designed for rigging, construction, maintenance and other applications. Advanced options of chain blocks can include spark and corrosion resistance, with heavy-duty models also available.
Lifting Gantry Systems
Lifting gantry systems can be used in a wide variety of industrial and commercial environments and are manufactured to BS2853/BS2573 safety standards. Lifting gantry cranes can be used in automotive garages to aid in loading vehicles or raising them off the ground for maintenance and repairs. They can also be used in lifting out car engines if the engine has suffered mechanical issues or failure.
Lifting Slings
Lifting slings enable the lifting of heavy and complex loads and are most commonly used in vehicle towing. Providing a safe and reliable method of lifting, lifting slings stand the test of time and are designed to lift expensive items with its soft material.
Lifting slings are easy to move and position in place and as they are strong and reliable, they are generally used with lifting vehicles when they are otherwise unable to be moved.
We Can Help
At Lifting Gear Direct we stock and supply car workshop equipment from big-name brands at competitive prices, with our load cell line up reflecting the variety on offer across the rest of our lifting equipment range.
We offer a truly bespoke service, giving you complete control over your order and ensuring you get the equipment you really need.
Our experts can talk you through the range, explain particular products and also give you a quote to make things simple. Email us or call us on 01384 76961 to get the ball rolling.