Forklift Drum Rotator Contact SDR DS
If you need to rotate drums sideways rather than forwards then this drum rotator could be just what you are looking for. Buy the SDR forklift drum rotator today at keen prices.
Brand::

Contact

Product Code:

Contact SDR DS

Availability:

In Stock
Call 01384 76961 for price.
Easily mountable to a fork lift truck this is a versatile and efficient piece of drum handling equipment, making use of your fork lift truck at the same time.
About the Sideways Drum Rotator SDR-DS
There are two models available in this range which offer two different ways of operation. The SDR-DS 1 is operated by a crank handle whilst the SDR-DS2 is operated via a loop chain. The loop chain model enables easier rotation above head height thanks to the chain length which enables the rotation to be operated whilst still sitting in the driving seat. Both models are easy to operate and facilitate full rotation through 360 degrees.
The high quality gearbox enables the drums to be held at any angle throughout the full rotation whilst reducing the effort required to operate the device.
210 litre steel drums with rolling loops and plastic drums with large or extra large steel top rings can both be handled with this drum rotator. The drums are held firmly in position by means of double ratchet straps.
Using the SDR-DS Drum Rotator on a Fork Lift Truck
Attachment and operation couldn't be much simpler with the SDR drum rotator. To fit the attachment to the tines of a fork lift truck you simply need to place it on the ground and ensure the retaining screws are fully open to allow unhindered access to the fork pockets. The forklift truck can then be driven straight into the pockets; once in position the retaining 'T' screw bolts can be tightened to securely anchor the attachment to the forks.
You are now ready to begin your drum handling task; the forks will need to be raised so that the attachment is centrally positioned under the rolling loop of a steel drum or centrally on a plastic one, then you can drive forwards until the girdle on the attachment fits snug around the drum. There are two ratchet straps which then need to be secured and tightened around the drum to hold it firmly. The drum can now be moved into position and rotated as required by either turning the crank handle of pulling on the loop chain depending on the model chosen.
The SDR-DS drum rotators are CE marked and come with certificates of conformity; they are compliant with the necessary health and safety regulations.
Other Drum Handlers
Lifting Gear Direct can supply a wide range of drum handling equipment to adapt to different drum types and handle them in different ways. From simple drum lifting tongs to drum trucks and many other fork lift truck mounted options available there will be a model to suit your drum handling requirements. Other types of lifting equipment for fork lift trucks are also available from our extensive collection.
If you need some more help or advice on this or any other lifting gear then call on 01384 76961 to speak to a member of staff. Orders can also be placed in this way; the request a quote button can be used to obtain a price which is always highly competitive at Lifting Gear Direct. Other email enquiries can be sent through the rapid enquiry form or contact page form.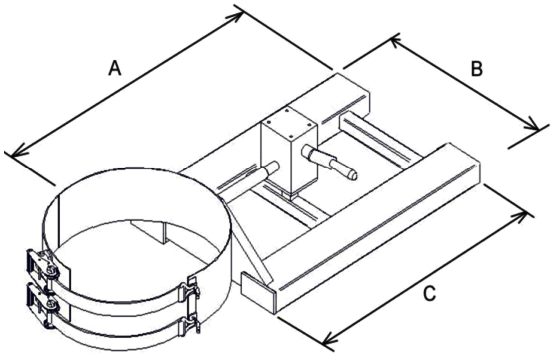 Model

Capacity (KG)

No. Of drums

 

Type of operation

A load centre

B fork spread

C pocket length

 

SDR-1-SC

360

1

Crank handle

1360mm

685mm

1000mm   

SDR-2-SC

360

1

Loop chain

 

1360mm

685mm

1000mm

SDR-1-DS

360

1

Crank handle

1360mm

685mm

1000mm

SDR-2-DS

360

1

Loop chain

 

1360mm

685mm

1000mm
Model

C of G

 

Weight (KG)

SDR-1-SC

695mm

112

SDR-2-SC

695mm

118

SDR-1-DS

695mm

112

SDR-2-DS

695mm

118