Contact FDH/U Fork Mounted Drum Handler
One of the simplest of our fork lift truck attachments for drum handling the FDH drum grab range is perfect for low to medium volumes of drum moving applications.
Brand::

Contact

Product Code:

Contact FDH/U

Availability:

In Stock
Call 01384 76961 for price.
There are a number of model variations in this range, they are;
The FDH-1 and FDH-2 for handling 1 & 2 , 210 litre steel drums respectively; The FDH-110 handles a smaller 110 litre steel drum; The FDH-1HD is a heavy duty option for 1 steel drum and the FDHU-1 & 2 handles 1 & 2 drums respectively of the steel or L & XL ringed plastic variety.
More about the FDH Fork Mounted Drum Grab
Each of the models in this range can handle different capacities with safe working loads ranging from 250 kg up to 1000 kg, you can find out more specifics in the tables below.
The simple design of this drum handling solution means it's easy to fit, use, maintain and store. With long fork pockets the FDH range simply slides over the tines of a fork lift truck, they are secured in place with two heavy duty, zinc plated screw type 'T' clamps.
Whether you choose the single or double drum grab (the double models can also be used to handle a single drum too) they are automatic in operation meaning that the drums do not have to be handled at all. Once securely fitted to the fork lift it can be driven towards the drum, for steel drums the curved arms should be positioned under the top rolling loop and on large or extra large ring plastic drums under the top rim.
The hinged, curved arms will open up automatically as soon as they come into contact with the drum and fall back around the drum when you are as far in as you can go. When the forks are raised the drum will be lifted and the forces applied will ensure the arms will grip the drum tightly.
The FDHU models incorporate a two position, quick sliding adjuster to enable either steel and plastic drums to be lifted. The FDH-HD is a heavy duty drum grab which is perfect for scenarios where the contents of the drum have a higher mass to volume ratio. Stainless steel options may also be available on request and there is also an FDHM version for Mauser drums.
Other Types of Drum Lifting Equipment
Here at Lifting Gear Direct, we like to offer extensive product ranges to suit the majority of common lifting applications; our drum handling solutions is no exception, there are many different types of drum lifters on offer from fork and crane mounted lifters to drum moving trucks; drum tongs and grabs also come in a variety of forms, so browse our range to find the ideal product for your drum handling needs, we are constantly updating the website, adding new products as we go always with cost effectiveness for the customer in mind.
Call the team on 01384 76961 to find out any additional information you may need. You can request a quote from the special button or email us through the contact us page.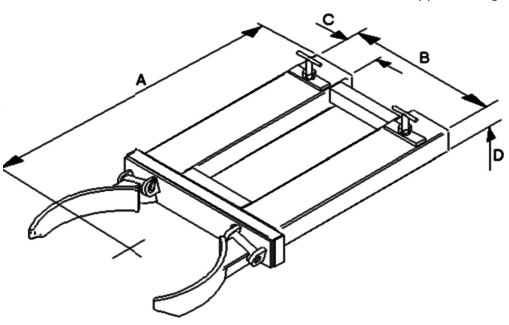 Model

Capacity (KG)

No. Of drums

Drum Types

A load ctr

B fork spread

C fork width

D fork thickness

 

FDH-1

500

1

1

1110mm

560mm

140mm

50mm

FDH-1-HD

1000

1

1

1120mm

560mm

140mm

50mm

FDH-1-110

250

1

1 (110 litre)

1000mm

450mm

140mm

50mm

FDH-2

1000

2

1

1110mm

880mm

140mm

50mm

FDHU-1

500

1

1 & 2

1110mm

560mm

140mm

50mm

FDHU-2

1000

2

1 & 2

1110mm

880mm

140mm

50mm

Model

Weight (KG)

C of G

Lost Load Centre

 

FDH-1

43

554mm

130mm

FDH-1-HD

58

558mm

140mm

FDH-1-110

40

549mm

130mm

FDH-2

60

636mm

130mm

FDHU-1

49

582mm

130mm

FDHU-2

73

669mm

130mm