Forklift Drum Lifter Contact CDH
The CDH is a drum lifter which attaches to the main carriage of a forklift truck and so the forks/tines will need to be removed and replaced with this attachment.
Brand::

Contact

Product Code:

Contact CDH

Availability:

In Stock
Call 01384 76961 for price.
About the CDH Forklift Drum Handler
The CDH is ideal if the forklift is used mainly for drum handling as the forks and drum attachment will not need to be continuously inter-changed.
Due to the fact that this drum lifting attachment is fitted to the main carriage of the forklift truck it is closely mounted to the truck meaning that there is much more room for the truck to manoeuvre which is a bonus in space restricted areas.
The CDH drum handler can be used with 210/220 litre or 45 gallon drums, these should be of the steel variety with rolling hoops. It can be purchased in two models, one for lifting a single drum and one for lifting 2 drums together; they have a maximum lifting capacity of between 500 kg to 1000 kg depending on the model chosen.
How to use the CDH Drum Lifting Attachment
This carriage mounted drum lifter is fully automatic, with the grabs auto engaging under the rolling loops of the drum. It is simple to lift a drum with the CDH, once the attachment is securely fitted to the forks of your truck, ensure the clamp arms are in the horizontal position, and then you simply drive up to the drum to be lifted making sure the positioning of the arms is in-between the two rolling hoops of the drum.
As soon as the arms make contact with the drum they will begin to open up automatically, as you continue forwards the arms will fall in back around the drum. The carriage can then be raised to lift the drum which will be tightly gripped under the rolling hoop. No tightening or handling of the drum is necessary.
Other Drum handling solutions
We are able to offer a diverse range of drum handling products to suit a variety of needs, not only do we supply the forklift truck mounted options, we also sell drum handling trucks and hook slung drum lifters. Supplementary lifting equipment can also be purchased from Lifting Gear Direct so whether you need slings, shackles, hoisting equipment or any of our drum lifting equipment we can supply lifting gear for all your needs.
Call us on 01384 76961 if you need any help in choosing your equipment or contact us by email with your requirements. You can also request a quick quote via the 'request a quote button' on the product pages.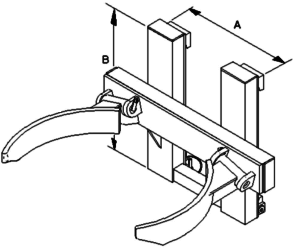 Model

Capacity (KG)

Carriage Cls

No. Of drums

Drum Types

A

 

B

 

CDH-1

500

2

1

1

400mm

500mm

CDH-1-HD

1000

2

1

1

400mm

500mm

CDH-2

1000

2

2

1

400mm

500mm

Model

Weight (KG)

C of G

LLC

 

CDH-1

40

114mm

190mm

CDH-1-HD

49

121mm

200mm

CDH-2

59

122mm

190mm