Forklift Hook Attachment with adjustable reach - Contact FMHA
The FMHA is an adjustable hook attachment to fit to the tines of a forklift truck. This allows you to lift loads
safely
by suspending them below the tines, rather than having to balance them on top. Read on for more information and product details.
Brand::

Contact

Product Code:

Contact FMHA

Availability:

In Stock
Call 01384 76961 for price.
Design & benefits of the Forklift Hook Attachment with Adjustable Reach
These forklift hook attachments from respected brand Contact are simple to fit and secured with 2 large 'T' screws in any position along the forks length to best suit the size of your load.
Each unit is supplied with a quality hook and shackle to enable you to lift and suspend loads under the forks, effectively turning your truck into a mini crane.
There are five different versions of the Contact FMHA forklift hook attachment to choose between, with the smallest sporting a WLL of 1000kg while the largest has a capacity of 5000kg. Select the product which will fit into your intended operations and you will be very happy with the results.
Accessories & alternatives
While a shackle is included along with the hook attachment, the FMHA can be further enhanced through the addition of accessories to help with lifting operations.
At Lifting Gear Direct you will encounter a huge array of different products to help in this context, such as lifting slings and other types of equipment that will prove invaluable when it comes to improving the efficiency and safety of your forklift operations.
You can also find other types of fork lift attachments on our site, such as tipping skips to help move loose materials efficiently and extensions to allow for easier handling of larger objects.
Ask us anything
If you need more details on the Contact FMHA hook attachment range for forklifts, or you simply need advice on the right product to suit your needs, please email our sales team or give them a call on 01384 76961 for a friendly chat.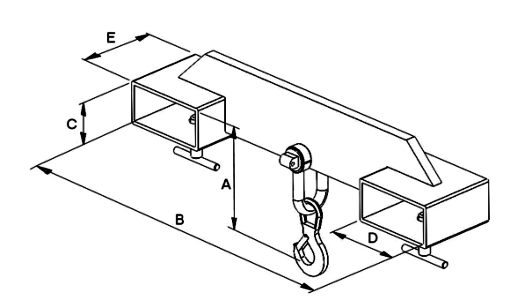 | | | | | | | |
| --- | --- | --- | --- | --- | --- | --- |
| Model | Capacity (KG) | A mm | B mm | C mm | D mm | E mm |
| FMHA-1 | 1000 | 225 | 676 | 50 | 140 | 150 |
| FMHA-2 | 2000 | 275 | 676 | 50 | 140 | 150 |
| FMHA-3 | 3000 | 296 | 676 | 50 | 140 | 150 |
| FMHA-4 | 4000 | 348 | 720 | 50 | 140 | 150 |
| FMHA-5 | 5000 | 348 | 720 | 50 | 140 | 150 |
Model

Capacity (KG)

To suit Max fork size (mm)

Fork spread (mm)

Weight (KG)

Weight (KG)

 

C of G (mm)

Load Ctr (mm)

FMHA-1

1000

140x50

676

14

14

75

75

FMHA-2

2000

140x50

676

20

20

75

75

FMHA-3

3000

140x50

676

30

30

75

75

FMHA-4

4000

150x60

794

40

40

75

75

FMHA-5

5000

150x60

794

48

48

75

75