Forklift Hook Attachment with Fixed Reach - Contact FMH
The FMH is a forklift truck mountable hook; one of several
forklift attachments
we stock and supply at
Lifting Gear Direct
. Find out about why it is appealing and learn what it can do right here.
Brand::

Contact

Product Code:

Contact FMH

Availability:

In Stock
Call 01384 76961 for price.
Facts & figures for the FMH Forklift Hook Attachment
Essentially this hook assembly allows you to use your forklift truck like a crane by lifting loads slung under the forks. This can be helpful in various contexts, especially if you are hoping to move loads which are not palletised without having to rely on a separate crane or gantry system to get the job done.
This attachment is easy to slide onto the forks and the retaining bars hold it firmly in place behind the fork heels.
There are 2 fixed reach sizes available; 600mm or 900mm (depending on model). We also stock the FMHA, again made by Contact, which is an adjustable hook attachment that can be positioned in several places on the forklift's tines to deliver the best results regardless of the load's dimensions.
This product is fitted with a high quality hook and shackle to enable safe and secure lifting. With 12 different examples of the Contact FMH available, you need to look carefully at the load capacity that each provides, as well as its dimensions, to determine the best choice. WLLs start at 1000kg and rise to 5000kg, which should provide enough choice for most potential users.
Additional equipment to consider
Our forklift hook attachment range is a comparatively small category in the wider scope of our full material handling product line up.
You can find load moving equipment including scissor lift tables and pallet trucks, as well as drum handling equipment. Whether you need just one product or several, LGD will be able to supply everything at a competitive price.
Call or email us
Extra product information, quotes and advice on lifting gear orders can be accessed either by giving us a ring on 01384 76961 or by dropping our team an email.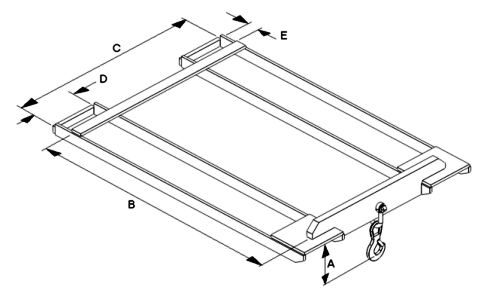 Model

Capacity (KG)

A mm

B mm

C mm

D max width

  mm

E max thickness mm

FMH 600-1

1000

188

600

713

150

50

FMH 900-1

1000

188

90

713

150

50

FMH 600-1.3

1300

209

600

713

150

50

FMH 900-1.3

1300

209

900

713

150

50

FMH 600-2

2000

224

600

713

150

50

FMH 900-2

2000

224

900

713

150

50

FMH 600-2.5

2500

235

600

713

150

50

FMH 900-2.5

2500

235

900

713

150

50
-
Model

Weight (KG)

 

C of G (mm)

FMH 600-1

29

438

FMH 900-1

33

651

FMH 600-1.3

30

438

FMH 900-1.3

33

651

FMH 600-2

31

438

FMH 900-2

34

651

FMH 600-2.5

33

438

FMH 900-2.5

36

651
| | | | | |
| --- | --- | --- | --- | --- |
| Model | Capacity (KG) | Length (mm) | Max fork size (mm) | Fork spread (mm) |
| FMH 600-1 | 1000 | 600 | 150x50 | 713 |
| FMH 900-1 | 1000 | 900 | 150x50 | 713 |
| FMH 600-1.3 | 1300 | 600 | 150x50 | 713 |
| FMH 900-1.3 | 1300 | 900 | 150x50 | 713 |
| FMH 600-2 | 2000 | 600 | 150x50 | 713 |
| FMH 900-2 | 2000 | 900 | 150x50 | 713 |
| FMH 600-2.5 | 2500 | 600 | 150x50 | 713 |
| FMH 900-2.5 | 2500 | 900 | 150x50 | 713 |
| FMH 600-3 | 3000 | 600 | 150x50 | 713 |
| FMH 900-3 | 3000 | 900 | 150x50 | 713 |
| FMH 600-5 | 5000 | 600 | 150x50 | 713 |
| FMH 900-5 | 5000 | 900 | 150x50 | 713 |