Carbon Steel Eye Nuts - Metric Din582
With capacities of between 70kg and 8600kg, these useful eye bolts can act as anchor points for material handling tasks, as well as filling other roles where required.
Important Features of Carbon Steel Eye Nuts - Metric – DIN 582
We have already covered the basics in terms of working load limit for these eye nuts, but there are other facets of the design and specifications that you need to take into account before you buy.
The dimensions of each unit can be found in the table of technical data below. This will help you pair each eye nut with a suitably sized lifting sling. Meanwhile the metric thread form found on this carbon steel eye nut will easily accommodate bolts of a compatible nature. This is the most commonly used screw thread around, so it should meet the needs of most customers.
Lots of Lifting Gear to Choose
Amongst our eye bolts, eye nuts and bow nuts this carbon steel eye nut is a cost-effective, highly popular option. However, that does not mean that you need to stick with this particular product, especially if you are eager to invest in something that can manage angular loads. In that case our swivel eye bolts may be a particularly suitable purchase. They can rotate freely and give you the freedom to adjust the position from which lifting force is being applied to streamline otherwise complex lifting operations.
If eye nuts are still at the top of your wish list but you are going to be using them in outdoor settings where corrosion may be a problem for carbon steel units, our stainless steel eye nuts will be the perfect stand-in.
Talk to the LGD Team
Regardless of what lifting equipment you want to order or what task you need to tackle, a call to our sales team will be a brilliant way to work out what you need. When you ring us on 01384 76961 you can get additional information on any of our products, as well as receiving quick quotes and assistance. Our email form is another simple way to touch base on any topic.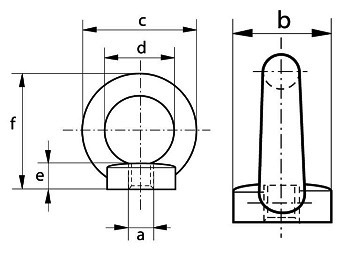 | | | | | | | | |
| --- | --- | --- | --- | --- | --- | --- | --- |
| Working Load Limit | Diameter Thread | Diameter Base | Diameter Eye Outside | Diameter Eye Inside | Thickness Base | Height | Weight Per 100 Pcs |
| tonnes | a mm | b mm | c mm | d mm | e mm | f mm | kg |
| 0.07* | 6 | 20 | 36 | 20 | 8.5 | 36 | 5.2 |
| 0.14 | 8 | 20 | 36 | 20 | 8.5 | 36 | 5.2 |
| 0.23 | 10 | 25 | 45 | 25 | 10 | 45 | 9.4 |
| 0.34 | 12 | 30 | 54 | 30 | 11 | 53 | 16 |
| 0.49* | 14 | 35 | 63 | 35 | 13 | 60 | 22 |
| 0.7 | 16 | 35 | 63 | 35 | 13 | 62 | 24 |
| 1.2 | 20 | 40 | 72 | 40 | 16 | 71 | 35.2 |
| 1.50* | 22 | 45 | 81 | 45 | 18 | 80 | 58.6 |
| 1.8 | 24 | 50 | 90 | 50 | 20 | 90 | 70.6 |
| 2.50* | 27 | 50 | 90 | 50 | 20 | 90 | 102 |
| 3.2 | 30 | 65 | 108 | 60 | 25 | 109 | 132 |
| 4.30* | 33 | 65 | 108 | 60 | 25 | 110 | 170 |
| 4.6 | 36 | 75 | 126 | 70 | 30 | 128 | 208 |
| 6.10* | 39 | 75 | 126 | 70 | 30 | 130 | 260 |
| 6.3 | 42 | 85 | 144 | 80 | 35 | 147 | 311 |
| 8.00* | 45 | 85 | 144 | 80 | 35 | 150 | 407 |
| 8.6 | 48 | 100 | 166 | 90 | 40 | 168 | 502 |