ATEX Yalelift 360 ITP & ITG Chain Block with integrated trolley
Providing basic protection against sparks which may cause explosions in hazardous areas. This is just one of the
ATEX rated
hoists that Yale offers, along with its standard models.
Call 01384 76961 for price.
Yale makes a comprehensive range of lifting gear which goes far beyond manual chain blocks and encompasses everything from pullers and lever hoists to webbing and safety accessories.
Core Features of Yalelift 360 ATEX Chain Blocks
ATEX rated, ll 3 GD c llB T5 (zone 2/22)
Specially coated unit, trolley, top and bottom hooks.
Load chain galvanic, zinc plated and a stainless steel hand chain.
Trolley buffers.
Plain roller special coated.
Cooling element in brake system.
Why Choose Yalelift ATEX Chain Blocks?
With any lifting application, safety should be a concern. This is multiplied further when taking into account potentially explosive atmospheres. A standard manual hoist can create friction in its brakes and sparks in its chains, which is obviously not ideal. The ATEX-compliant range from Yale is protected against this kind of hazard.
A coating applied to the hoist and trolley assembly allows for seamless manoeuvring to take place with lower chance of sparking. The brakes are cooled to address issues caused by overheating. Trolley buffers prevent the hoist from coming to a clattering stop, which improves stability and limits metal-on-metal strikes which also generate sparks.
Nothing has been left to chance, so while basic protection is promised by this range, it should give you peace of mind.
Yalelift 360 ITP & ITG Chain Block Capacities & Other Options
As with many other chain blocks, the entry level units in this range come with safe working load limits of 500kg. This is increased incrementally as the size of each hoist rises, with the largest of the ITP and ITG models both coming with 10 tonnes of load bearing capacity.
The inclusion of the 360 hand control unit gives these hoists added versatility and practicality. Operators can station themselves out of the way of the payload, even handling its movement from overhead. This further ensures safety for everyday use, even before the ATEX rating is taken into account.
Take a look at our chain hoists from Tiger, GT and Kito for other models that are just as sturdy, without the spark-resistant design features.
Get More Info on Yale Lifting Equipment from us
Lifting Gear Direct is here to help you with any hoisting kit conundrum you might encounter. We can walk you through the decision making process, or provide quotes for the products we sell, when you call 01384 76961 or drop us a line online. Our friendly team is eager to assist you in your search.
Model

YLIT ATEX 500

YLIT ATEX 1000

YLIT ATEX 2000

YLIT ATEX 3000

YLIT ATEX 5000

YLIT ATEX 10000

A min,mm

245

272

323

382

550

784

A1,mm

158

178

205.5

252

260.5

380

A2,mm

/

/

/

/

/

/

B,mm

17

22

30

38

45

68

C,mm

24

29

35

40

47

68

D,mm

14

19

22

30

37

50

F (geared), mm

92

92

91

107

149.5

113

H1,mm

24.5

24

23.5

32

30.5

55

I (Pushed),mm

71.5

71.5

95.5

131

142.5

169

I (Geared), mm

76.5

76.5

98

132.5

148.5

169

L,mm

270

310

360

445

525

430

L1,mm

130

130

150

180

209

200

L2,mm

159

175

207

256

283

261

M,mm

M18

M22

M27

M30

M42

M48

O,mm

60

60

80

112

125

150

P (geared),mm

108

110

112

112

117

158

T (area A), mm

280

290

305

320

/

/

T (area B), mm

 

400

410

425

440

484

540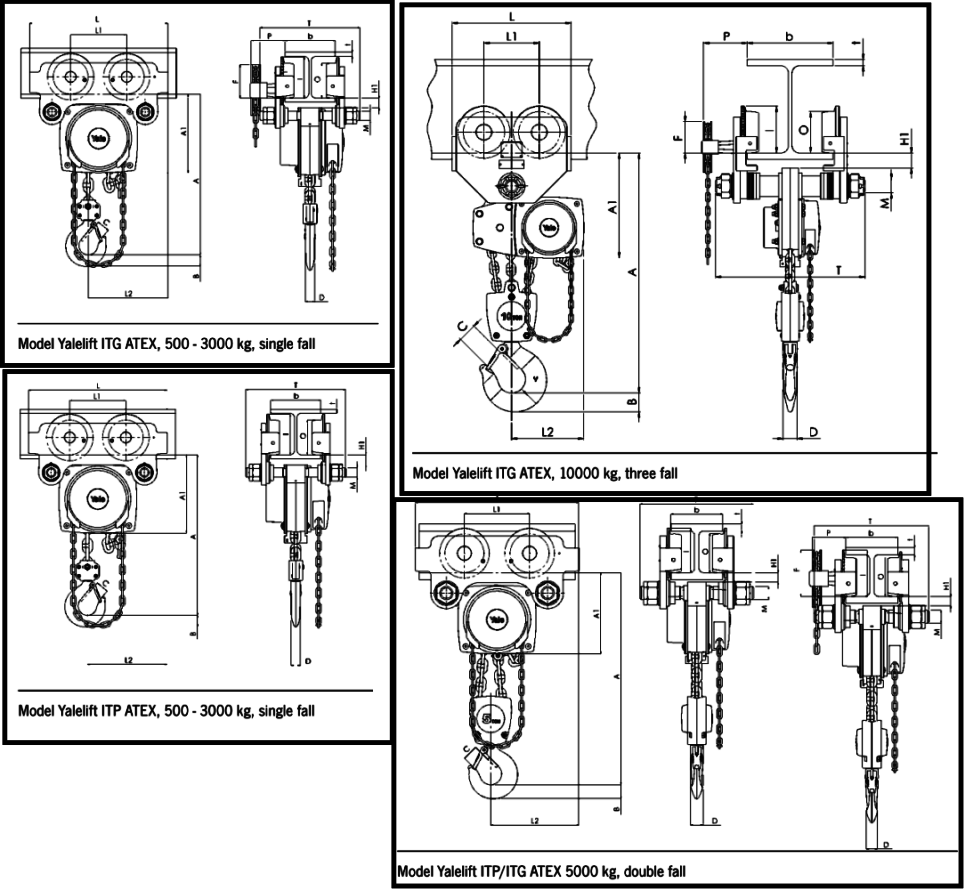 ITP
Model

Capacity in kg/number of chain falls

Size

Beam flange width b mm

 

Beam flange thickness tmax mm

 

Min. Curve radius m

 

Weight* KG

Weight* with beam brake KG

 

YLITP ATEX 500

500/1

A

50-180

19

0.9

20

26

YLITP ATEX 500

500/1

B

180-300

19

0.9

21

27

YLITP ATEX 1000

1000/1

A

50-180

19

0.9

27

35

YLITP ATEX 1000

1000/1

B

180-300

19

0.9

29

37

YLITP ATEX 2000

2000/1

A

58-180

19

1.15

44

52

YLITP ATEX 2000

2000/1

B

180-300

19

1.15

46

54

YLITP ATEX 3000

3000/1

A

74-180

27

1.5

77

86

YLITP ATEX 3000

3000/1

B

180-300

27

1.4

79

88

YLITP ATEX 5000

5000/2

A

98-180

27

2

125

135

YLITP ATEX 5000

5000/2

B

180-300

27

1.8

129

139

YLITP ATEX 10000

10000/3

A

125-310

40

1.8

/

/
ITG
Model

Capacity in kg/number of chain falls

Size

Beam flange width b mm

 

Beam flange thickness tmax mm

 

Min. Curve radius m

 

Weight* KG

Weight* with beam brake KG

 

YLITG ATEX 500

500/1

A

50-180

19

0.9

24

31

YLITG ATEX 500

500/1

B

180-300

19

0.9

25

32

YLITG ATEX 1000

1000/1

A

50-180

19

0.9

32

40

YLITG ATEX 1000

1000/1

B

180-300

19

0.9

33

41

YLITG ATEX 2000

2000/1

A

58-180

19

1.15

49

57

YLITG ATEX 2000

2000/1

B

180-300

19

1.15

50

58

YLITG ATEX 3000

3000/1

A

74-180

27

1.5

82

91

YLITG ATEX 3000

3000/1

B

180-300

27

1.4

84

93

YLITG ATEX 5000

5000/2

A

98-180

27

2

130

140

YLITG ATEX 5000

5000/2

B

180-300

27

1.8

134

144

YLITG ATEX 10000

10000/3

A

125-310

40

1.8

/

/