Yalelift 360 Chain Block with Integrated Trolley
The Yalelift 360 Chain Block with Integrated Trolley provides even more flexibility due to the combination of the Yalelift 360 and a trolley.
Brand::

YALE

Product Code:

Yalelift 360 Chain Block with Integrated Trolley

Availability:

In Stock
The versatility of the controls is complemented by the productivity offered by this integrated trolley system. There are various models in this range, offering different load capacities and beam width compatibilities. If you need more specialised manual chain hoists, browse our full range and use the contact details below to get in touch.
Yalelift 360 Chain Block with Integrated Trolley Vital Statistics
Available with either a push travel trolley or a geared trolley.
The Yalelift ITP comes with a push travel trolley and comes in 5 models ranging from 500kg to 5000kg WLL.
The Yalelift ITG comes with a geared trolley and is available in 7 models with WLL from 500kg up to 20000kg.
Easy trolley assembly.
The majority of models come in 2 sizes to suit the 2 main beam widths.
Trolley wheels suitable for a maximum beam profile incline of 14%.
Pre-lubricated, encased ball bearings guarantee its excellent rolling operation.
Anti-tilt and anti-drop devices fitted as standard.
Yalelift 360 Chain Block with Integrated Trolley Benefits
This all-encompassing assembly is a good investment for anyone who needs a Yalelift 360 chain block and also requires a slick, stable trolley system to add to their order. It combines a safe, efficient hoist with a market-leading trolley that will roll smoothly along compatible beams and make moving heavy loads straightforward. Stop worrying about the slow pace of your lifting and start becoming more productive with the help of this impressive assembly built by Yale.
Yale 360 Chain Block with Integrated Trolley Add-Ons
OPTIONAL EXTRAS Include:
Adjustable overload prevention device; stainless steel load & hand chains; chain container; rubber buffers; beam locking device to secure in a fixed position.
All of these extras bring something new to the table. Lifting safety can be boosted thanks to the overload prevention device, the adjustability of which gives you the freedom to set a limit you think is most suitable. A chain container will keep the chain out of the way and tidy when it is not in use. A beam locking device will set the position of the hoist and ensure that it does not move unnecessarily or unexpectedly. Like the custom lifting gear we sell, this gives you more choice when buying a manual chain block.
Consider All Chain Block Options
The Yalelift 360 chain block is just one of the many high quality pieces of equipment you can find here at Lifting Gear Direct. Our site is also home to products made by Raptor, Kito and a host of other highly respected suppliers. If you need lifting equipment inspection services, we can send an expert out to check that your kit is compliant with regulations.
Ask us about Yale Chain Blocks
Choosing the right chain hoist and trolley combination can be a tricky business, which is why the Lifting Gear Direct team is here to offer up expert advice. To get in-depth guidance, or for a quote, call 01384 76961 or ask a question via email and we will respond with minimum
Model

YLIT 500

YLIT 1000

YLIT 2000

YLIT 3000

YLIT 5000

YLIT 10000

A min,mm

245

272

323

382

550

784

A1,mm

158

178

205.5

252

260.5

380

A2,mm

/

/

/

/

/

/

B,mm

17

22

30

38

45

68

C,mm

24

29

35

40

47

68

D,mm

14

19

22

30

37

50

F (geared), mm

92

92

91

107

149.5

113

H1,mm

24.5

24

23.5

32

30.5

55

I (Pushed),mm

71.5

71.5

95.5

131

142.5

169

I (Geared), mm

76.5

76.5

98

132.5

148.5

169

L,mm

270

310

360

445

525

430

L1,mm

130

130

150

180

209

200

L2,mm

159

175

207

256

283

261

L3,mm

/

/

/

/

/

/

L4,mm

/

/

/

/

/

/

M,mm

M18

M22

M27

M30

M42

M48

O,mm

60

60

80

112

125

150

P (geared),mm

108

110

112

112

117

158

T (area A), mm

280

290

305

320

364

/

T (area B), mm

 

400

410

425

440

484

540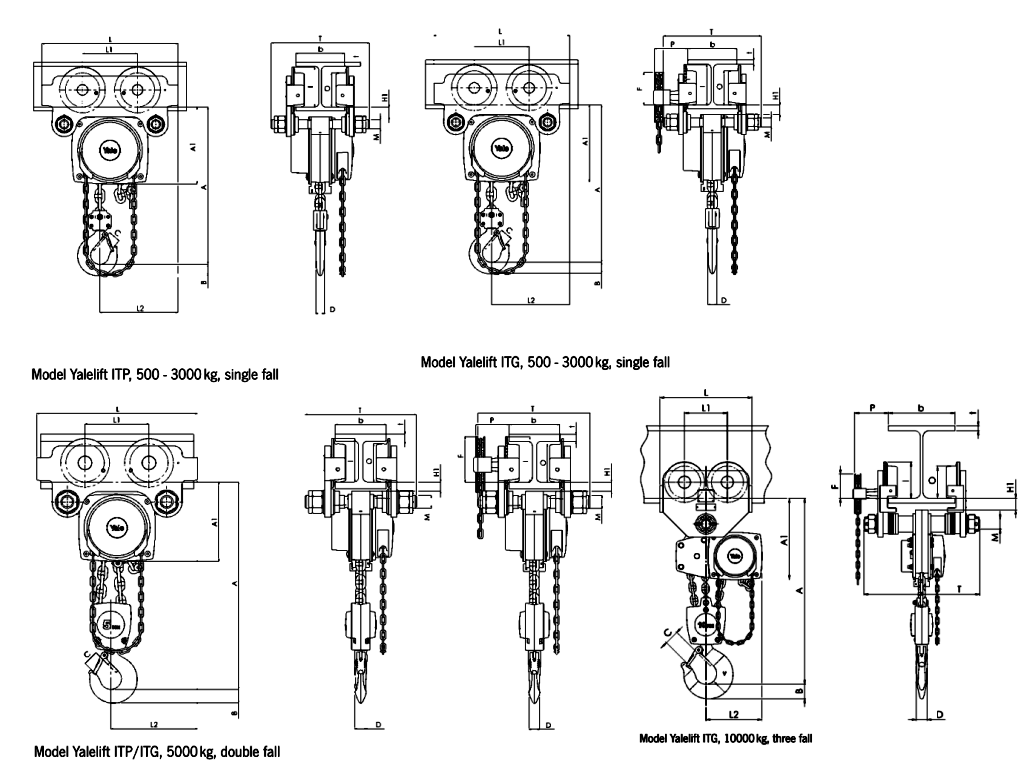 ITP Trolley
Capacity (WLL) KG

Falls of load chain

Lifting height MTR

Beam width

Closed height (mm)

Weight (KG)

Type A (mm)

Type B (mm)

(A)

(B)

500

1

3

50-180

180-300

245

20

21

1000

1

3

58-180

180-300

272

27

29

2000

1

3

58-180

180-300

323

44

46

3000

1

3

74-180

180-300

382

77

79

5000

2

3

98-180

180-300

550

125

129
ITG Trolley
Capacity (WLL) KG

Falls of load chain

Lifting height MTR

Beam width

Closed height (mm)

Weight (KG)

Type A (mm)

Type B (mm)

(A)

(B)

500

1

3

50-180

180-300

245

24

25

1000

1

3

58-180

180-300

272

32

33

2000

1

3

58-180

180-300

323

49

50

3000

1

3

74-180

180-300

382

82

84

5000

2

3

98-180

180-300

550

130

134

10000

3

3

/

125-310

784

/

175

20000

6

3

/

180-310

1084

/

/