Yale D85 Lever Hoist / Pull Lift
The Yale D85 is the original ratchet lever hoist and Yale s founding product. The D85 together with the
C85
are known as pul-lifts which is a registered trademark.
Brand::

YALE

Product Code:

Yale D85 Lever Hoist / Pull Lift

Availability:

In Stock
Call 01384 76961 for price.
About the Yale D85 Pul-lift
With a housing cover, lever and bottom block made from white malleable cast iron which has a high tensile strength so is great at resisting tension. This rugged lever hoist has a load sheave made from graphite cast iron and incorporates chain pockets that have been precision machined to ensure the link chain fits accurately and runs smoothly.
The D85 comes in 5 models with various lifting capacities ranging from 750kg up to 10000kg. The standard height of lift comes in at 1.5 metres though this can be increased to suit your requirements at extra cost per metre.
An overload protection device can be fitted to the lever hoist at additional cost. This protection is a slipping clutch and could be a big benefit it you lift a variety of loads with different capacities which you are not always positive of its exact weight.
A further optional extra which could be added to your lever hoist if required is the Yale YKST adjustable chain end stops; these provide an additional safeguard in case of brake failure.
The Yale D85 lever hoist is commonly used for pipe setting, spotting and securing heavy objects, in fact it's great for most heavy duty lifting tasks in industrial areas such as mining, construction, maintenance, shipbuilding, fabrication and utilities.
Other Lifting Gear
There are many scenarios where some other type of equipment may be needed in order to complete a lifting job. You may need a small crane or perhaps a beam clamp to attach the lever hoist too; you will probably need a lifting sling of some kind too, in order to secure the load to be lifted. We have a vast range of lifting gear to cover most scenarios so browse our site with the confidence that you will find what you are looking for.
Need Help?
If you are having trouble finding exactly what you need, or if indeed you are not sure what would be the best hoisting equipment to choose help is just a phone call away, 01384 76961 is the number you need to reach our friendly team. Emailing us can be completed via the contact page.
Overview
High tensile, white malleable cast iron housing cover, hand lever and lower block.
Robust construction.
Cast iron load sheave with precision machined chain pockets
Ideal for heavy duty applications
Easy to use, maintain and repair.
Optional extras include:
Overload protection/slip clutch and a free chaining device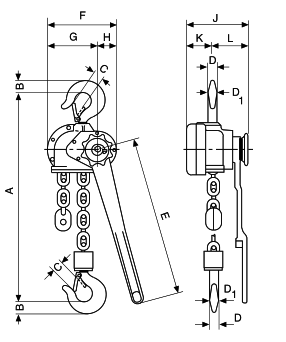 | | | | | | |
| --- | --- | --- | --- | --- | --- |
| Model | PUL-LIFT D85 750 | PUL-LIFT D85 1500 | PUL-LIFT D85 3000 | PUL-LIFT D85 6000 | PUL-LIFT D85 10000 |
| A min, mm | 322 | 389 | 403 | 532 | 805 |
| B mm | 21 | 27 | 35 | 48 | 61 |
| C mm | 27 | 30 | 34 | 46 | 54 |
| D mm | 15 | 20 | 25 | 40 | 40 |
| D1 mm | 17 | 23 | 25 | 40 | 45 |
| E mm | 443 | 443 | 570 | 570 | 570 |
| F mm | 112 | 189 | 197 | 197 | 305 |
| G mm | 56 | 134 | 142 | 142 | 163 |
| H mm | 56 | 55 | 55 | 55 | 142 |
| J mm | 142 | 171 | 179 | 218 | 218 |
| K mm | 39 | 72 | 76 | 76 | 76 |
| L mm | 103 | 99 | 103 | 142 | 142 |
Model

Capacity (KG)

Number of chain falls

Chain dimensions dxp (mm)

Lift with one full lever turn (mm)

Handle pull at WLL (daN)

Weight at standard lift (1.5m) KG

 

PUL-LIFT D85 750

750

1

6x18.5

111

38

8.2

PUL-LIFT D85 1500

1500

1

9x27

45

31

16.3

PUL-LIFT D85 3000

3000

1

11x31

33

40

19.6

PUL-LIFT D85 6000

6000

2

11x31

17

42

32.9

PUL-LIFT D85 10000

10000

3

11x31

11

37

60