Yale ERGO 360 Lever Hoist
With this newly designed hoist, Yale has re-designed the lever principle, taking the operation of a lever hoist to a whole new level that
Archimedes
would be proud of. This hoist was the winner of the LEEA innovation award in 2017.
Brand::

YALE

Product Code:

Yale ERGO 360 Lever Hoist

Availability:

In Stock
About the Yale ERGO 360 Ratchet Lever Hoist
The innovative design of the Ergo 360 lever hoist means that it can be used for lifting and pulling tasks up to 12 times faster than conventional lever hoists and are great for use in confined spaces. This is all thanks to the revolutionary crank handle which incorporates a folding lever. This little lever folds neatly into the handle for transportation. Available in a range of lifting capacities up to 6000kg.
When in use the lever fully rotates enabling the crank handle to be operated with ease. The main crank handle boasts a full 360 degree rotation and allows the operator to use his full arms length and therefore reducing stress on elbows, wrists and shoulders. The handle can be operated from any angle and enables the operator to keep his body aligned with the load chain and therefore reducing twisting effect when a hoist twists around the chain. Up to 30% less effort is required when using the ERGO 360 when compared to a standard lever hoist. This is thanks to the full rotation which can also increase productivity at the same time as reducing skeletal stress on the operator.
The handle incorporates a direction indicator so it is easy to see whether it is in lifting (↑), lowering (↓) or free chaining mode (N). This free chaining mode allows quick and easy take up and positioning of slack chain. This can be done single handedly too. This device will not accidentally free chain when under load. There is a chain end stop that permits the operator to easily position the chain in free mode to prevent it from going into the lift wheel.
Load positioning is pretty precise thanks to the western style brake system. Made with aluminium housing and long lasting bearings for rigorous use; it also has a powder coated finish offering protection in harsh conditions. Zinc plated cast steel is used for the chain guide and chain stripper for high corrosion protection. The crank handle is made from very durable polyamide with a steel core making them perfect for heavy duty use.
The top and bottom hooks are forged with cast safety latches; they bolt on with nyloc nuts in order to simplify the inspection process.
Additional Equipment
Although this ratchet lever hoist is an amazing piece of lifting gear, it may not be quite right for you, if this is the case, check out our vast range of other types of hoisting devices. We can also supply any type of lifting sling to compliment your hoisting needs including custom made web slings, chain slings or wire rope slings to your specifications.
Purchase, test, inspect
Whatever your lifting equipment needs, the team at Lifting Gear Direct can help. We can supply most types of equipment from bespoke jib cranes & mobile gantry systems to lifting clamps and shackles; what's more we can test, repair and offer maintenance to all types of lifting gear as well as thorough examinations completed by our trained team.
Call us on 01384 76961 and let us know what you need. Email us via the contacts page is another option. You can now also use the add to quote or buy it now options.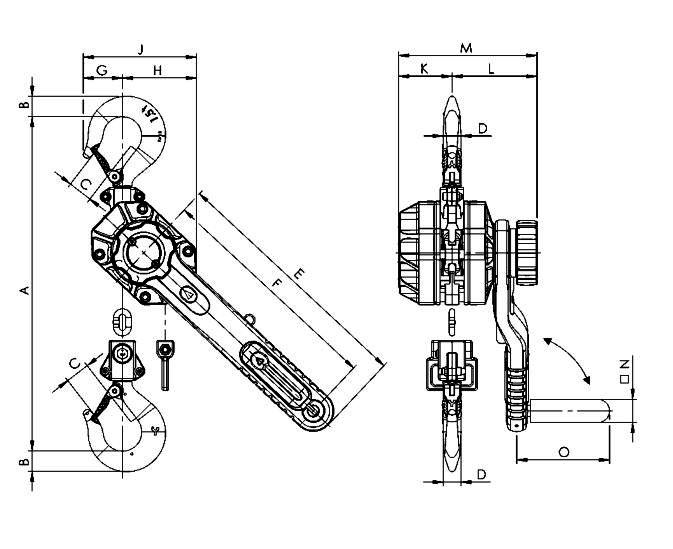 | | | | |
| --- | --- | --- | --- |
| Model | YaleERGO 360 750 | YaleERGO 360 1500 | YaleERGO 360 3000 |
| A min, mm | 320 | 375 | 445 |
| B, mm | 20 | 26 | 37 |
| C, mm | 27 | 31 | 40 |
| D, mm | 18 | 21 | 28 |
| E, mm | 327 | 327 | 377 |
| F, mm | 300 | 300 | 350 |
| G, mm | 40 | 51 | 57 |
| H, mm  | 81 | 96 | 123 |
| J, mm | 121 | 147 | 180 |
| K, mm | 56 | 69 | 86 |
| L, mm  | 105 | 110 | 121 |
| M, mm | 161 | 179 | 207 |
| N, mm | 30 | 30 | 30 |
| O, mm | 120 | 120 | 120 |
| | | | | | | |
| --- | --- | --- | --- | --- | --- | --- |
| Model | Capacity | Number of chain falls | Chain dimensions d x p | Lift with one full lever turn | Handle pull at WLL | Weight at standard lift (1.5m) |
| | KG | | MM | MM | daN | KG |
| YaleERGO 360 750 | 750 | 1 | 5.6 x 17.1 | 27 | 20 | 6.6 |
| YaleERGO 360 1500 | 1500 | 1 | 7.1 x 21 | 21.7 | 26 | 9.5 |
| YaleERGO 360 3000 | 3000 | 1 | 10 x 28 | 20.1 | 40 | 16.8 |