JDN Profi 1.5TI - 3TI/2 Air Hoists
Buy this highly sensitive air hoist from LGD today for the keenest prices.
Brand::

J-D-NEUHAUS

Product Code:

JDN-Profi-1.5TI - 3TI/2-Air-Hoists

Availability:

In Stock
Call 01384 76961 for price.
About the JDN Profi 1.5TI - 3TI/2 Air Hoist
J.D.Neuhaus PROFI Air hoists in SWL from 1.6t - 3.2t and uses 4-6 bar air pressure.
Available with 1 or 2 falls of chain. They have a 100% duty rating and unlimited duty cycles.
Explosion protection as standard so can be used in hazardous areas.
4 different control systems available to suit your requirements (sensitive; single speed; multi function or rope control) Radio control also available.
Both models have decent lifting speeds when loaded with the 1.5ti lifting at 4-6 m/min and the 3ti at 2-3m/min. Speeds when unloaded are significantly quicker. See the specification chart for all the technical details.
These hoists can be run oil free with the use of the high performance grease. A fitted filter silencer reduces the noise output to under 80dB(A). A limit switch is included as standard.
Other options to choose from include chain box or bag; hooks in copper plate, stainless or standard steel; standard paint finish or offshore paint system; trolley choice of manual, motor or reel chain.
Where are the Profi Air Hoists Used?
The Profi series of air hoists by JDN are proven to excel in use in numerous industries, especially where safety is a top priority. They are typically used in aircraft construction, dairies, chemical factories, foundries, pyrotechnics, electro-plating, oil, auto industries, power plants, off-shore & marine and many more.
Getting in touch
Should you have any questions, need a quote for this or multiple items of lifting equipment then give our team a call on 0184 76961. We can supply supplementary equipment to complete your lifting operation, from lifting slings and shackles to cranes, all tailor made to order.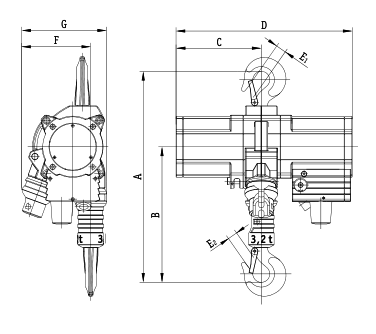 Type

1.5TI

3TI/2

A min. headroom

? mm

480

544

B mm

293

356

C mm

200

200

D mm

412

412

E1 mm

28

28

E2 mm

26

28

F up to hook centre mm

170

140

G maximum width mm

215

215

?chain containers increase the hoist headroom
Type

 

1.5TI

3TI/2

Air pressure

bar

4-6

4-6

Carrying capacity

t

1.6

3.2

Number of chain strands

 

1

2

Engine output

kW

1.3-2

Lifting speed at full load

m/min

4-6

2-3

Lifting speed without load

m/min

8.4-10

4.2-5

Lowering speed at full load

m/min

11-12

5.5-6

Air consumption at full load - lifting

m³/min

1.5-2.6

Air consumption at full load - lowering

m³/min

2.2-3.6

Air connection

 

G 3/4

Hose dimension (Ø inside)

mm

19

Weight at standard, rope control

kg

56

66

Chain dimension

mm

9x27

Weight of 1 m chain

kg

1.8

Standard lift

m

3

Length of control at standard lift

m

2

Sound level at full load - lifting

1

dB(A)

73-77

Sound level at full load - lowering

1

 

78-80