Light Duty Wall Mounted Winch
This manual wire rope winch is for wall mounting and is ideal for use in dirty environments or where no power is available.
Call 01384 76961 for price.
Key Features of the Light Duty Wall Mounted Winch
Quick View
spur gears on roller bearings
rope drum on plain bearings
compact, easy & quick to mount to walls, poles etc.
self-locking, crank handle
auto-load pressure brake for preventing accidental brake release. Holds load safely & allows very sensitive lowering.
suitable for use in temperatures from -20 up to +40 degrees
Detailed View
Ideal for lighter duty applications this compact wire rope winch incorporates an enclosed gear drive to ensure it performs in tough conditions.
The crank handle requires the lowest possible effort for the winding of the rope. The crank it is self locking with anti-kickback features. It is also adjustable which is great for the quicker fitting of smaller loads.
There is a load pressure brake system that is automatically applied incorporated into the design of this winch which not only enables sensitive lowering but also prevents unintentional break release. Load holding is fully secure in all positions.
Call LGD
Have any questions about our wire rope winches? No problem, call our team on 01384 76961 where an advisor will help with your enquiry. Use the contact page or rapid form to email us.
| | | | | | | |
| --- | --- | --- | --- | --- | --- | --- |
| Model |   | MWS 150 | MWS 300 | MWS 600 | MWS 1000 | MWS 1500 |
| A, | mm | 65 | 200 | 200 | 219 | 219 |
| B, | mm | 168 | 300 | 300 | 250 | 250 |
| C, | mm | 128 | 268 | 268 | 212 | 212 |
| D, | mm | 40 | 168 | 168 | 150 | 150 |
| E, | mm | 303 | 318 | 318 | 483.5 | 483.5 |
| F, | mm | - | - | - | 250 | 250 |
| G, | mm | 26 | – | – | 30 | 30 |
| H, | mm | 40.5 | 55 | 55 | 113 | 113 |
| I, | mm | - | - | - | 170 | 170 |
| J, | mm | 35 | 70 | 60 | 102 | 102 |
| K, | mm | 9 | 12 | 12 | 17 | 17 |
| L, | mm | 102 | 145 | 145 | 212 | 212 |
| M, | mm | 168 | 182 | 182 | 130 | 130 |
| N, | mm | 89 | 199 | 199 | 338 | 338 |
| O, | mm | 92 | 96 | 96 | 44 | 44 |
| P, | mm | - | - | - | 104 | 104 |
| Q, | mm | - | - | - | 190 | 190 |
| S, | mm | 128.5 | 128.5 | 128.5 | 128.5 | 128.5 |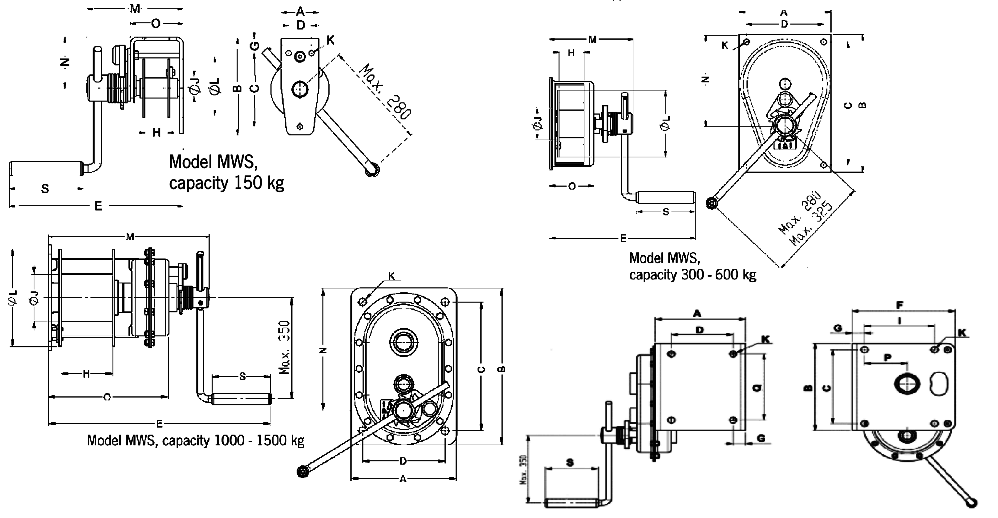 | | | | | | | | | | |
| --- | --- | --- | --- | --- | --- | --- | --- | --- | --- |
| MODEL | Lifting capacity 1st layer | Lifting capacity last layer | Crank effort 1st layer | Ratio | Recomm. Rope diameter | Minimum breaking load of rope | Useable rope length max. | Number of rope layers max. | Weight without rope |
|   | kg | kg | daN |   | mm | kN | mtr |   | kg |
| MWS 150 | 150 | 68 | 11 | 01:01 | 4 | 5.7 | 13 | 8 | 4 |
| MWS 300 | 300 | 166 | 6 | 01:07.4 | 5 | 15.9 | 21 | 7 | 10 |
| MWS 600 | 600 | 308 | 10 | 01:07.4 | 6 | 22.9 | 12 | 6 | 11 |
| MWS 1000 | 1000 | 587 | 11 | 01:17 | 9 | 51 | 25 | 5 | 27 |
| MWS 1500 | 1500 | 844 | 12 | 01:25.7 | 10 | 63 | 21 | 5 | 28 |