Ratchet Straps & Lashings
Ratchet Straps
Ratchet Straps and Lashings are a type of load restraint which comes in a vast array of sizes and strengths; they are used predominantly for tying down cargo and securing items together. Whether you need lorry ratchet straps, small ratchet straps or heavy duty ratchet straps you can get them all here at great prices. 25mm, 35mm, 50mm & 75mm straps are readily available.
A ratchet lashing is quite a simple piece of apparatus which essentially consist of a couple of lengths of flat webbing material with anchor fittings at one end and a ratchet buckle mechanism which is fixed to one strap.
Showing 1 to 4 of 4 (1 Pages)

How to use a Ratchet Strap
Using a ratchet lashing is a relatively easy process and can take just a few minutes to secure a load once you have the hang of it. The two ends of the strap will have a special fitting attached which will enable you to anchor it onto a secure point, this is often a particular cargo anchor point on a vehicle, perhaps anchor points in a boot or rear of a van or maybe a roof rack.
Once the 2 webbing straps are anchored they can be passed over/wrapped around the load to be secured, making sure the straps do not become twisted. The strap with the free end can then be passed through the take-up spool /drum on the ratchet handle, from here you need to pull the webbing through until there is just enough slack to get your hand under easily. Next you can begin to crank the ratchet handle which will tighten the strap to the necessary tension required to ensure the load cannot move.

Why use a Ratchet Lashing?
Load security
is of paramount importance, when you are out driving you will have probably seen vehicles with precariously balanced loads and/or loads which have not been secured correctly and are loose and moving around.
This can be extremely dangerous; particularly for other drivers and pedestrians should the load be shed. A lorry which sheds its load over the road has many implications, most importantly it puts other drivers in extreme danger, firstly because it will cause the vehicle/s directly behind to swerve and brake suddenly, vehicles to the side and indeed rear can be crushed or seriously damaged if the load falls on them, and again causing that vehicle to swerve and brake quickly, it is these actions which often cause the pile-ups we see on our motorways, and can cause serious injuries, damage and even road closures which will also have a knock-on effect to other people's lives, businesses and deliveries etc. These scenarios can easily be averted by tying down loads correctly, ratchet straps or other type of cargo restraints are a key piece of equipment when it comes to load safety.


Types of Ratchet Straps Available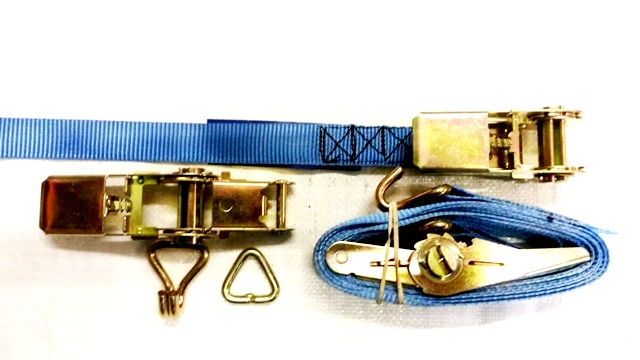 Available from our
range of lifting equipment
our ratchet tie down straps are produced from high quality polyester webbing; polyester is used because of its excellent properties which include UV resistance, water resistance, low stretch qualities and great durability, polyester also has good resistance to oils and chemicals, mould and mildew which makes them perfect for use outdoors and for keeping in your work vehicle.
We have a wide range of ratchet lashings to choose from small ratchet straps to heavy duty ratchet straps including mini,
25mm
wide ratchets,
35mm
,
50mm
and
75mm
wide ratchet straps; there is also the endless ratchet straps where there is just one piece of webbing and are ideal for roof rack load securing and securing loads to pallets as well as simply securing multiple objects together.
We have our own facilities where bespoke ratchet straps and other webbing products such as web slings can be custom made to your requirements. Our industrial sewing machines and experienced machinists will ensure your ratchet lashing is made to high standards and can be tailored to whatever length, width and fitting you need.
Ratchet Strap Accessories/Fittings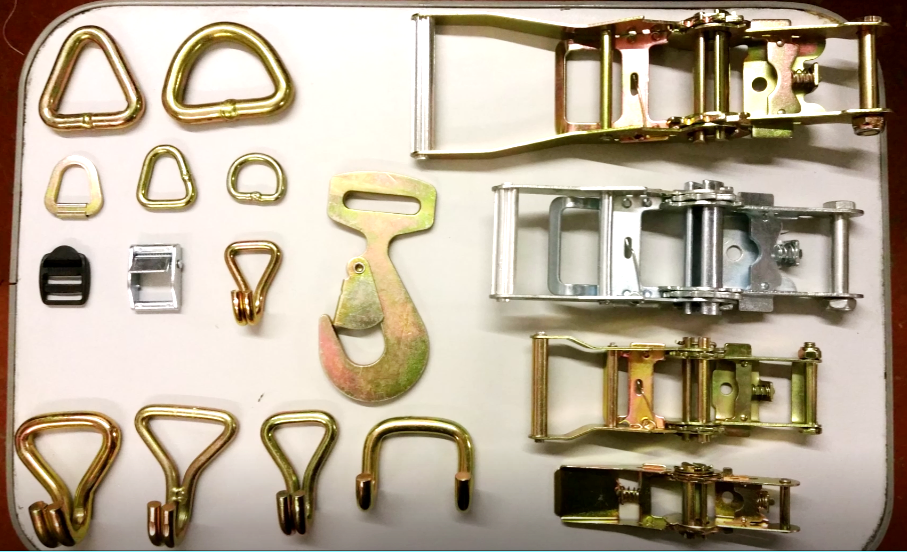 There is a really good range of fittings to pick from for the ends of your ratchet lashing; the range includes a variety of hooks such as rave hooks, claw hooks, snap hooks, chassis hooks and delta links. These can all be stitched into the ratchet strap during manufacture to ensure a strong and secure anchor point. We also have a range of different ratchet handles/buckles which you can choose from including long and short handle varieties and wide or narrow versions. The majority will incorporate locking mechanisms though there is a non-locking model which has a pull release device instead. We can also supply stainless steel ratchet handles which can be of great benefit in marine applications.

Ordering Lashing straps with Lifting Gear Direct
Whatever your cargo restraint needs are, whether you need ratchet straps,
load binders
,
cam buckles
,
rope
or
chain
,
Lifting Gear Direct
can help. To talk through your needs with a member of our team you can call 01384 76961. If you know exactly what you want you can call us to place an order or you can
email your requirements
via our contact page here, where an order can also be placed.