Long Shank Collared Eye Bolt with Reevable Egg Link - Metric Thread
The addition of a reevable egg link to our metric thread long shank collared eye bolt is a convenience that can enable it to accommodate loads that are applied at an angle.

A standard metric collared eyebolt is already fairly well equipped for this type of task, but the additional link is the icing on the cake in terms of its practicality and performance potential. Meanwhile the extended shank gives you even more options in terms of how it is used.
What you need to know about the Long Shank Collared Eye Bolt with Reevable Egg Link - Metric Thread
So that there is no confusion about what kinds of loads this lifting accessory can handle, we have included a full table of data for each of the units within the range. You will find a similarly comprehensive rundown of information for each of the other collared eyebolts we stock, meaning you will never be in the dark about the options that are on offer.
In this case the longer shank is combined with a reevable egg link which sits within the eye of the bolt itself, letting you attach it to whatever rope or line you have in mind with ease. Made with market-leading materials and available in a number of SWLs and diameters, this metric thread bolt should open up a range of load-bearing opportunities.
Choosing the right lifting accessories
The main challenge when choosing lifting equipment is deciding on the most suitable product for your purposes. If you already know exactly what you need, our site is sure to play host to it. From lifting shackles made from all manner of materials to single sheave blocks with a hook attachment, there are options for generic use or a specific situation, all priced competitively and available to order today.
Call or email our experts
You can take advantage of our contact form to send an email with any questions or queries to our sales team. You can also talk to them by calling 01384 76961. Quotes are available on request and there is never any obligation to make a purchase when you get in touch; Lifting Gear Direct are happy to provide advice and guide you, rather than push you into a sale without a good reason.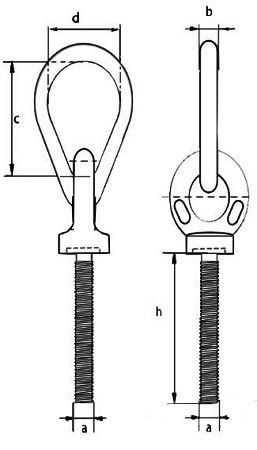 | | | | | | | |
| --- | --- | --- | --- | --- | --- | --- |
| Safe Working Load | Diameter Thread | Diameter Link | Length Link Inside | Width Link Inside | Thread Length | Weight |
| tonnes | a mm | b mm | c mm | d mm | h mm | kg |
| 0.25 | 10 | 11 | 70 | 35 | 178 | 0.47 |
| 0.4 | 12 | 11 | 70 | 35 | 178 | 0.48 |
| 0.8 | 16 | 16 | 100 | 50 | 178 | 1.06 |
| 1.6 | 20 | 19 | 120 | 55 | 178 | 1.87 |
| 2.5 | 24 | 25 | 152 | 76 | 178 | 4.16 |
| 4 | 30 | 32 | 203 | 98 | 178 | 6.45 |