Pfaff Beta Silverline Electric Winch
The Pfaff Silverline electric wire rope winch has capacities up to 3200kg.
Brand::

PFAFF

Product Code:

Pfaff Beta Silverline

Availability:

In Stock
Call 01384 76961 for price.
Ideal for all standard applications for lifting, pulling and positioning loads.
Key Features of the Pfaff Beta Silverline Electric Winch
electric released spring pressure disc brake (holds load even if power fails)
electronic overload protection from 1000kg lifting load as standard
zinc plated rope drum
grooved rope drum as standard
large rope capacity
variable rope lead-in - 2 rope attachment points
savailable with contactor control and gear limit switch.
oil lubricated gearbox with milled & ground gears with helical teeth for quiet operation.
maintenance free worm gear pairs or low maintenance spur gear in oil bath.
three phase motor for multi-range voltage, protection to IP55
Control pendants and frequency converter options.
More Winches
We have a vast selection of manual wire rope winches to choose from with some ideal for specific tasks such as the stage winch or trailer winch. There are different mounting options available across the range as well as cast iron, aluminium and heavy duty models. Pneumatic winches are another option to consider if you need a powered winch, but an electric one is not ideal for your task.
Cable pullers and Tirfors are other types of wire rope winches that are portable, can be used to pull in any direction and use unlimited lengths of wire rope. Check them all out to make sure your choice is the right one for you.
Size

Capacity
1st layer
kg

A

B

C

F

G

H

L

M

SL0

250

185

170

12

389

432

241

180

64

SL0

250

185

170

12

389

432

241

180

64

SL0

250

185

170

12

389

432

241

180

64

SL1

500

215

300

13.5

740

340

340

200

86

SL1

630

215

300

13.5

750

340

345

200

86

SL2

980

270

400

18

920

465

475

250

175

SL2

1250

270

400

18

930

465

480

250

175

SL3

2000

320

510

22

1070

570

614

300

175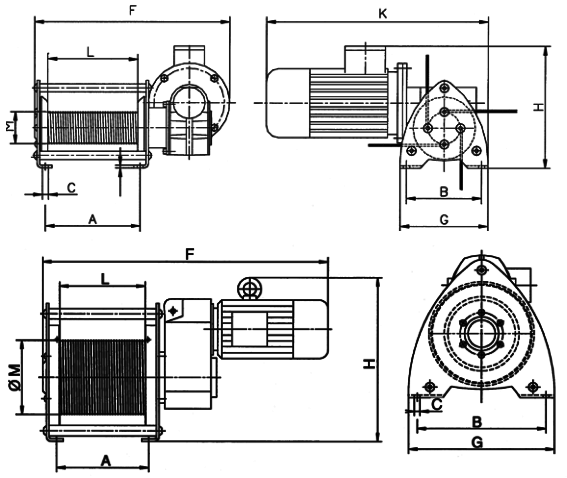 Size

Capacity
1st layer
kg
Lifting
speed
1st layer
m/min
Classifica-
tion
FEM/ISO

V

Motor


kW

Rope
diameter*
mm
Useable
rope length
1st layer
m
Useable
rope length
top layer
m

SL0

250

2.5

1Bm

400v

0.25

4

7

46.7

SL0

250

4.7

1Bm

400v

0.37

4

7

46.7

SL0

250

3.7

1Bm

230v*

0.55

4

7

46.7

SL1

500

6.8

1Am

400v

0.75

6

6.7

48.9

SL1

630

6.8

1 Bm

400v

0.75

6

6.7

48.9

SL2

980

6

1 Am

400v

1.1

9

11

77.5

SL2

1250

6

1 Am

400v

1.1

9

11

77.5

SL3

2000

6.8

1 Bm

400v

2.2

12

10

74.5