Small D Shackle
Our range of small D shackles incorporate a standard type A collar screw pin and is completely manufactured from high tensile steel; (EN14 or equal) generally to BS3032 standards.
These small d shackles come in a self coloured finish. If you would prefer a shackle of this kind which is galvanised, then this can be requested for our small dee shackles with safety bolts included, which conform with British Standards for quality and safety.
Features & Specifications of Small D Shackles
Our wide range of small d shackles come in an extensive range of sizes and safe working load limits. Pin diameters range from 3/8 inch up to 2 ¼ inches and the internal length ranges from 3/8 up to 7 ¼ inches; inside widths range from 3/8 inch up to 3 inches.
Working load limits for the small d shackle range from 0.3 tonne up to 19 tonne. Please refer to the technical data tables below for the full breakdown. This will let you establish which shackle you should choose for the load-bearing duties you have in mind.
If you are in need of a shackle that is larger and stronger, our large dee shackles may be worth considering. They have the same basic construction and material makeup as their small counterparts, but provide increased internal diameters and load capacities of up to 20 tonnes, which might make them more suitable in certain cases.
Safety of Small Dee Shackles
Our range of small dee shackles have a good safety factor rating which is MBL = 5 x WLL which means the minimum breaking load is equal to five times the working load limit.
EC declarations of conformity are issued with each small dee shackle.
Considerations when buying Shackles
Remember – dee shackles are designed for inline loading only, we do however also have a large range of small bow shackles which may be loaded from an angle.
The angle of the load is unlikely to be the only thing you need to think about when selecting from our full shackle range. We stock special shackles that offer industry-specific designs, high quality green pin dee shackles that are safer than many other models, budget-friendly yellow pin dee shackles and lots of other products besides.
Looking for Advice on Lifting Gear?
We can provide it when you get in touch with our team. Fill out our contact form to get a reply by email, or dial 01384 76961 and we will talk through your questions today. This is also the best was to get a quote for lifting kit of all kinds. Our experts are ready to speak to you, so there is no point delaying.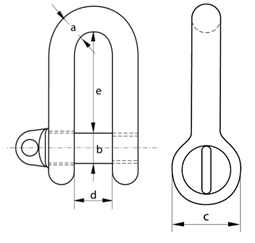 | | | | | | | |
| --- | --- | --- | --- | --- | --- | --- |
| Working Load Limit | Diameter Bow | Diameter Pin | Diameter Eye | Inside Width | Inside Length | Weight Each |
| tons | a inch | b inch | c inch | d inch | e inch | kg |
| 0.3 | 1/4 | 3/8 | 3/4 | 3/8 | 7/8 | 0.06 |
| 0.6 | 3/8 | 1/2 | 1 | 5/8 | 1.3/8 | 0.15 |
| 1 | 1/2 | 5/8 | 1.1/4 | 7/8 | 1.7/8 | 0.33 |
| 1.75 | 5/8 | 3/4 | 1.1/2 | 1 | 2.1/4 | 0.61 |
| 2.5 | 3/4 | 7/8 | 1.3/4 | 1.1/4 | 2.3/4 | 0.93 |
| 3.5 | 7/8 | 1 | 2 | 1.3/8 | 3.1/4 | 1.5 |
| 4.5 | 1 | 1.1/8 | 2.1/4 | 1.1/2 | 3.5/8 | 2.15 |
| 5.5 | 1.1/8 | 1.1/4 | 2.1/2 | 1.3/4 | 4.1/8 | 3.02 |
| 7 | 1.1/4 | 1.3/8 | 2.3/4 | 1.7/8 | 4.1/2 | 4.2 |
| 8 | 1.3/8 | 1.1/2 | 3 | 2.1/8 | 5 | 5.34 |
| 10.75 | 1.1/2 | 1.3/4 | 3.1/2 | 2.3/8 | 5.1/2 | 8.36 |
| | 1.5/8 | 1.7/8 | 3.3/4 | 2.1/2 | 5.7/8 | 9.35 |
| 14.75 | 1.3/4 | 2 | 4 | 2.3/4 | 6.3/8 | 12.39 |
| 16.75 | 1.7/8 | 2.1/8 | 4.1/4 | 2.7/8 | 6.3/4 | 15.3 |
| 19 | 2 | 2.1/4 | 4.1/2 | 3 | 7.1/4 | 18.4 |