Yale Lodestar Electric Hoist Model RR2
The Lodestar RR2 is a Yale hoist with lots to offer operators in terms of durability, power and convenience. A pair of lifting speeds and a 2000kg load limit enable it to tackle challenging duties without any problem.

Brand::

YALE

Product Code:

Yale Lodestar Electric Hoist Model RR2

Availability:

In Stock
Call 01384 76961 for price.
Things you need to know
Like other models in the Lodestar range, the design of this 2 tonne capacity electric hoist is carefully formulated to ensure it enjoys a long lifespan and is safe and stable at all times, even when under heavy load.
The alloy enclosure is not only hardy and light, but also stops harsh environments from compromising the integrity of the internal components. The control pendant is IP 65 rated, allowing it to operate reliably even if dirt, dust and moisture come in contact with it.
Also worth noting is the Lodestar RR2's dual lifting speeds. The lower speed 1.3 metres per minute setting will help with situations that call for more exact levels of control. The speedier 4 metres per minute standard mode is idea for everyday use.
Lots of lifting gear options
We have a huge array of lifting equipment on our site, a lot of which can be combined with the Lodestar RR2. From hoists and gantry cranes to plenty of accessories, order with us to get the best possible choice.
Asking for help
Call us on 01384 76961 to learn more about our equipment, get a quote or chat about your lifting gear needs. Our email form is also a convenient way of getting in touch.
| | |
| --- | --- |
| Model | Lodestar 2000 |
| Frame type | R, RR |
| A, mm | 613 |
| B, mm | 194 |
| C, mm | 28 |
| D, mm | 241 |
| F, mm | 271 |
| H, mm | 38 |
| J, mm | 165 |
| L, mm | 157 |
| M, mm | 33 |
| P, mm | 198 |
| AP, mm | 284 |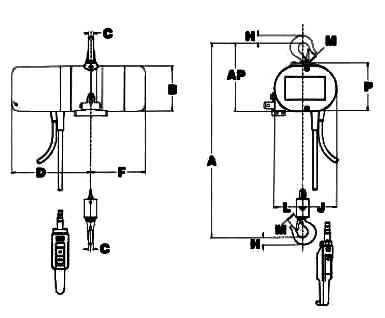 | | | | | | | |
| --- | --- | --- | --- | --- | --- | --- |
| Model | Operating voltage | Capacity (WLL) kg | Falls of load chain  | Lifting speed(s) m/min | Load chain depth x pitch (mm) | Hoist motor (kW) |
| RR2 | 400V 3 Ph 50Hz  | 2000 | 2 | 4/1.3 | 7.9 x 21.7 | 0.75 |