Stainless Steel 3 Leg Chain Sling
The Stainless Steel 3 Leg Chain Sling comes in at a great price from Lifting Gear Direct, enquire now.
Call 01384 76961 for price.
About the Stainless steel Chain Sling
Lift larger loads without worrying whether your chain sling will succumb to rust by choosing this 3 leg stainless steel product; just one of many lifting slings we can supply.
Prioritising durability
In some environments, stainless steel is really the only option if you want to enjoy extended life spans for the equipment you are using for safe lifting.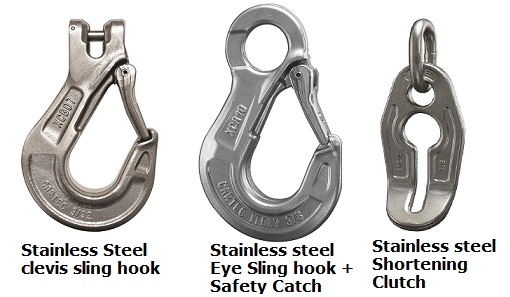 Corrosion can come calling at any time, but our 3 leg stainless steel chain sling will resist its arrival for as long as possible and also provide you with lots of adaptability thanks to its configurations and load capacity, all of which are detailed below.
Here are the stainless steel fittings you can choose for your chain sling. Find the Specifications in the specifications tab below.
Broadening your horizons
If you need a lot more than just a 3 leg stainless steel chain sling to start lifting and lowering large loads efficiently, Lifting Gear Direct can provide you all the necessary kit to put a smile on your face.
Our web slings offer an alternative to chain slings, while our custom crane and gantry systems can deliver the framework on which you can base your subsequent lifting duties, with complete confidence in the quality available.
Contact us now
Enjoy the best that LGD has to provide by getting in touch online or calling 01384 76961 to talk to one of our sales team about any question or query you might have.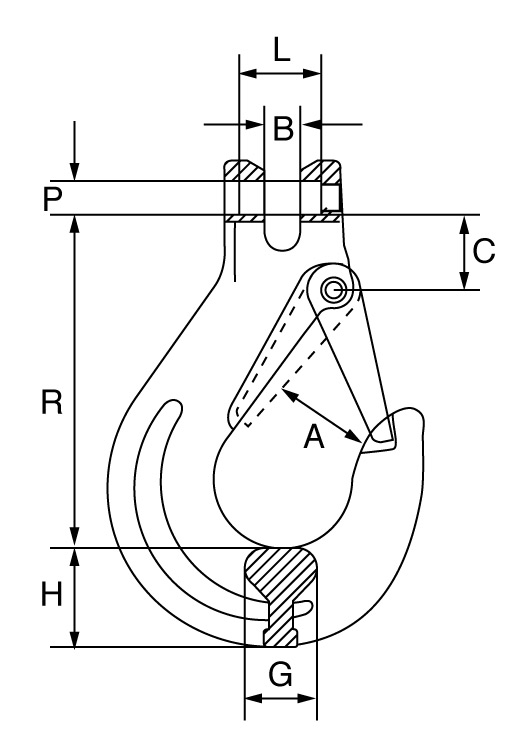 | | | | | | | | | | | | | |
| --- | --- | --- | --- | --- | --- | --- | --- | --- | --- | --- | --- | --- |
| Product Code | Chain Dia | A | B | C | G | H | R | P x L | W.L.L. | P.F. | M.B.F. | Weight |
|   | mm | mm | mm | mm | mm | mm | mm | mm | t | kN | kN | kgs |
|  G6SSCSH6 | 6 | 23 | 7.2 | 8.5 | 13.5 | 21 | 81 | 8 x 19.5 | 0.9 | 18 | 36 | 0.33 |
|  G6SSCSH7 | 7 | 32 | 9.5 | 12 | 19.5 | 29 | 112 | 8 x 22.5 | 1.25 | 25 | 50 | 0.79 |
|  G6SSCSH8 | 8 | 32 | 9.5 | 11 | 19.5 | 29 | 111 | 10 x 22.5 | 1.6 | 32 | 63 | 0.84 |
|  G6SSCSH10 | 10 | 39 | 12 | 15 | 27 | 33 | 122 | 13 x 13.5 | 2.5 | 50 | 99 | 1.43 |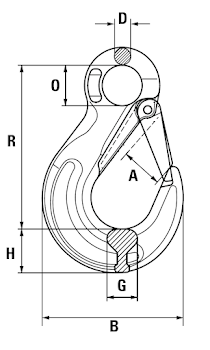 | | | | | | | | | | | | | |
| --- | --- | --- | --- | --- | --- | --- | --- | --- | --- | --- | --- | --- |
| Product Code | Chain Dia | A | B | D | G | H | O | R | W.L.L. | P.F. | M.B.F. | Weight |
|   | mm | mm | mm | mm | mm | mm | mm | mm | t | kN | kN | kgs |
| G6SSESH6 | 5/6 | 23 | 72 | 8 | 13.5 | 21 | 21 | 90 | 0.9 | 25 | 50 | 0.3 |
| G6SSESH8 | 7/8 | 32 | 103 | 13 | 19.5 | 29 | 27 | 118 | 1.6 | 32 | 63 | 0.62 |
| G6SSESH10 | 10 | 39 | 120 | 15 | 27 | 33 | 37 | 140 | 2.5 | 50 | 99 | 1.14 |
| G6SSESH13 | 13 | 51 | 155 | 18 | 35 | 46 | 48 | 182 | 4.25 | 84 | 167 | 1.99 |
| G6SSESH16 | 16 | 66 | 183 | 24 | 44 | 51 | 55 | 213 | 6.3 | 124 | 248 | 3.2 |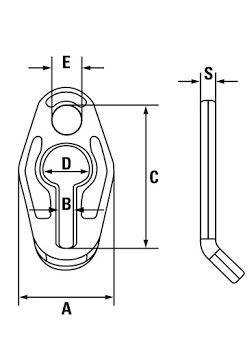 | | | | | | | | | | | | |
| --- | --- | --- | --- | --- | --- | --- | --- | --- | --- | --- | --- |
| Product Code | Chain Dia | A | B | C | D | E | S | W.L.L. | P.F. | M.B.F. | Weight |
|   | mm | mm | mm | mm | mm | mm | mm | t | kN | kN | kgs |
| G6SSSC6 | 5/6 | 55 | 8 | 81 | 26 | 16 | 8.5 | 0.9 | 18 | 36 | 0.3 |
| G6SSSC8 | 7/8 | 71 | 11 | 110 | 34 | 22 | 10.5 | 1.6 | 32 | 63 | 0.38 |
| G6SSSC10 | 10 | 90 | 12 | 135 | 40 | 26 | 13 | 2.5 | 50 | 99 | 0.6 |
| G6SSSC13 | 13 | 112 | 17 | 170 | 52 | 32 | 16.5 | 4.25 | 84 | 167 | 0.9 |
| G6SSSC16 | 16 | 135 | 20.5 | 202 | 64 | 38 | 20 | 6.3 | 124 | 248 | 1.4 |