Stainless Steel Single Leg Chain Sling
Our range of chain slings also includes these stainless steel versions, this is the single leg option.
Call 01384 76961 for price.
About the Stainless Steel Single Leg Chain Sling
For a chain sling that will not corrode in moist environments, choose this single leg product from Lifting Gear Direct which is well positioned to provide a sturdy, stable solution for raising and lowering heavy loads.
Why choose a stainless steel chain sling?
With many stainless steel chain slings and components to consider on our site, alongside other products which do not use this type of material, you might wonder which is the best choice for your circumstances.
Certainly it is the rust-resistant nature of stainless steel which gives this single leg chain sling the edge over alternatives with similar WLLs. For use in maritime settings and other scenarios where corrosion is likely, this product makes the most sense.
Here are the stainless steel fittings you can choose for your chain sling. Find the Specifications in the specifications tab below.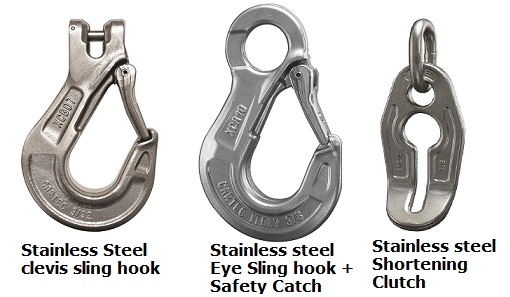 Are there other options?
Of course you do not need to rely on metal-based slings if you would rather avoid all risks of rust forming on the surface. At LGD we can supply web slings and round slings made with artificial fibres which are tough and durable in equal measure.
We also offer wear sleeves which can be applied to lots of different lifting slings, upping the protection levels for materials of all types.
How can I contact LGD?
A quick call to 01384 76961 or an email sent from our site will let you get quotes, ask for more product info or grill us on lifting gear-related topics.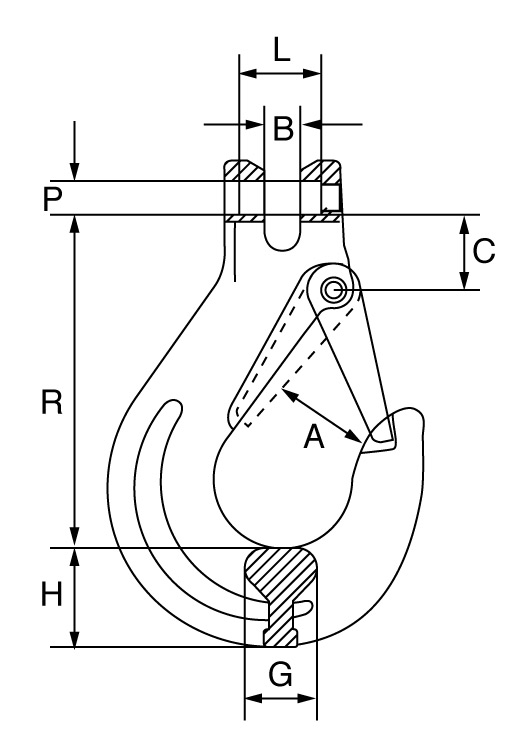 | | | | | | | | | | | | | |
| --- | --- | --- | --- | --- | --- | --- | --- | --- | --- | --- | --- | --- |
| Product Code | Chain Dia | A | B | C | G | H | R | P x L | W.L.L. | P.F. | M.B.F. | Weight |
|   | mm | mm | mm | mm | mm | mm | mm | mm | t | kN | kN | kgs |
|  G6SSCSH6 | 6 | 23 | 7.2 | 8.5 | 13.5 | 21 | 81 | 8 x 19.5 | 0.9 | 18 | 36 | 0.33 |
|  G6SSCSH7 | 7 | 32 | 9.5 | 12 | 19.5 | 29 | 112 | 8 x 22.5 | 1.25 | 25 | 50 | 0.79 |
|  G6SSCSH8 | 8 | 32 | 9.5 | 11 | 19.5 | 29 | 111 | 10 x 22.5 | 1.6 | 32 | 63 | 0.84 |
|  G6SSCSH10 | 10 | 39 | 12 | 15 | 27 | 33 | 122 | 13 x 13.5 | 2.5 | 50 | 99 | 1.43 |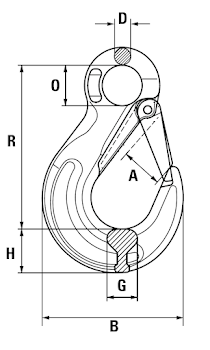 | | | | | | | | | | | | | |
| --- | --- | --- | --- | --- | --- | --- | --- | --- | --- | --- | --- | --- |
| Product Code | Chain Dia | A | B | D | G | H | O | R | W.L.L. | P.F. | M.B.F. | Weight |
|   | mm | mm | mm | mm | mm | mm | mm | mm | t | kN | kN | kgs |
| G6SSESH6 | 5/6 | 23 | 72 | 8 | 13.5 | 21 | 21 | 90 | 0.9 | 25 | 50 | 0.3 |
| G6SSESH8 | 7/8 | 32 | 103 | 13 | 19.5 | 29 | 27 | 118 | 1.6 | 32 | 63 | 0.62 |
| G6SSESH10 | 10 | 39 | 120 | 15 | 27 | 33 | 37 | 140 | 2.5 | 50 | 99 | 1.14 |
| G6SSESH13 | 13 | 51 | 155 | 18 | 35 | 46 | 48 | 182 | 4.25 | 84 | 167 | 1.99 |
| G6SSESH16 | 16 | 66 | 183 | 24 | 44 | 51 | 55 | 213 | 6.3 | 124 | 248 | 3.2 |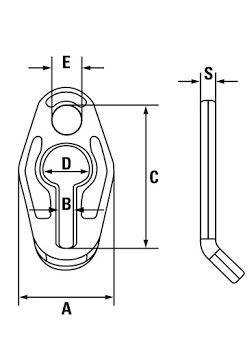 | | | | | | | | | | | | |
| --- | --- | --- | --- | --- | --- | --- | --- | --- | --- | --- | --- |
| Product Code | Chain Dia | A | B | C | D | E | S | W.L.L. | P.F. | M.B.F. | Weight |
|   | mm | mm | mm | mm | mm | mm | mm | t | kN | kN | kgs |
| G6SSSC6 | 5/6 | 55 | 8 | 81 | 26 | 16 | 8.5 | 0.9 | 18 | 36 | 0.3 |
| G6SSSC8 | 7/8 | 71 | 11 | 110 | 34 | 22 | 10.5 | 1.6 | 32 | 63 | 0.38 |
| G6SSSC10 | 10 | 90 | 12 | 135 | 40 | 26 | 13 | 2.5 | 50 | 99 | 0.6 |
| G6SSSC13 | 13 | 112 | 17 | 170 | 52 | 32 | 16.5 | 4.25 | 84 | 167 | 0.9 |
| G6SSSC16 | 16 | 135 | 20.5 | 202 | 64 | 38 | 20 | 6.3 | 124 | 248 | 1.4 |