Stainless Steel Double Leg Chain Sling
Buy the double leg chain sling in quality stainless steel from Lifting Gear Direct now.
Call 01384 76961 for price.
About the Stainless Steel Double Leg Chain Sling
Give yourself more attachment options for safe lifting operations with our double leg chain stainless steel chain sling, which can be ordered from Lifting Gear Direct along with lots of other equipment and accessories.
Design features
With a pair of legs, this stainless steel chain sling is capable of coupling with two different points of attachment on a given payload at the same time. This allows for improved capacity as well as better stability than if a single leg solution is being used, so if this is a good fit for your intended lifting application then this will be a welcome investment.
Here are the stainless steel fittings you can choose for your chain sling. Find the Specifications in the specifications tab below.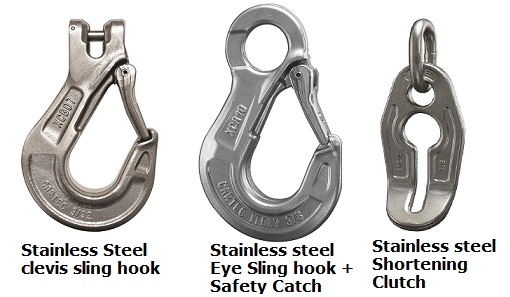 Because stainless steel is made us of in this product, it is innately corrosion resistant and should have a longer useable lifespan in settings where contact with moisture on a regular basis cannot be avoided.
Lots of lifting slings available
We specialise in supplying kit of all kinds, including lifting slings made with many different materials so that they can tackle whatever challenges you might want to throw at them.
Round slings and web slings are available in addition to our chain slings, so scout out our range to find what you need.
Give us a call or email our team
Our sales hotline is reachable by dialling 01384 76961 or you can harness our response form to ask questions and get quotes via email.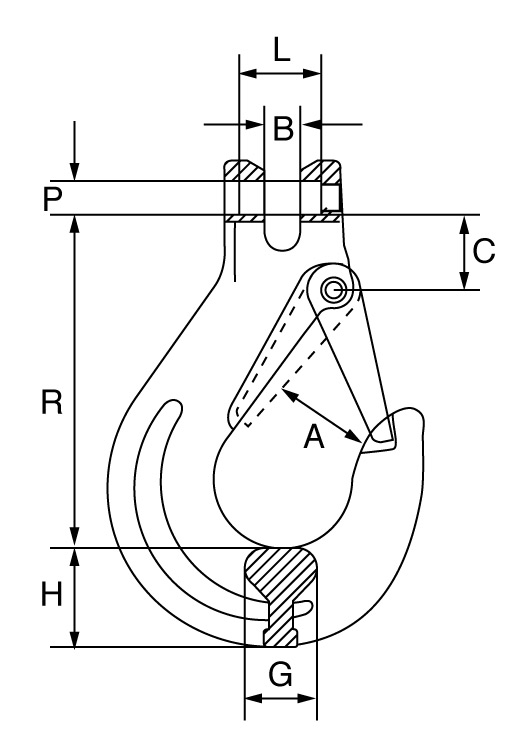 | | | | | | | | | | | | | |
| --- | --- | --- | --- | --- | --- | --- | --- | --- | --- | --- | --- | --- |
| Product Code | Chain Dia | A | B | C | G | H | R | P x L | W.L.L. | P.F. | M.B.F. | Weight |
|   | mm | mm | mm | mm | mm | mm | mm | mm | t | kN | kN | kgs |
|  G6SSCSH6 | 6 | 23 | 7.2 | 8.5 | 13.5 | 21 | 81 | 8 x 19.5 | 0.9 | 18 | 36 | 0.33 |
|  G6SSCSH7 | 7 | 32 | 9.5 | 12 | 19.5 | 29 | 112 | 8 x 22.5 | 1.25 | 25 | 50 | 0.79 |
|  G6SSCSH8 | 8 | 32 | 9.5 | 11 | 19.5 | 29 | 111 | 10 x 22.5 | 1.6 | 32 | 63 | 0.84 |
|  G6SSCSH10 | 10 | 39 | 12 | 15 | 27 | 33 | 122 | 13 x 13.5 | 2.5 | 50 | 99 | 1.43 |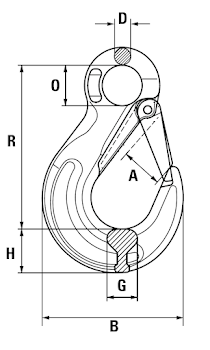 | | | | | | | | | | | | | |
| --- | --- | --- | --- | --- | --- | --- | --- | --- | --- | --- | --- | --- |
| Product Code | Chain Dia | A | B | D | G | H | O | R | W.L.L. | P.F. | M.B.F. | Weight |
|   | mm | mm | mm | mm | mm | mm | mm | mm | t | kN | kN | kgs |
| G6SSESH6 | 5/6 | 23 | 72 | 8 | 13.5 | 21 | 21 | 90 | 0.9 | 25 | 50 | 0.3 |
| G6SSESH8 | 7/8 | 32 | 103 | 13 | 19.5 | 29 | 27 | 118 | 1.6 | 32 | 63 | 0.62 |
| G6SSESH10 | 10 | 39 | 120 | 15 | 27 | 33 | 37 | 140 | 2.5 | 50 | 99 | 1.14 |
| G6SSESH13 | 13 | 51 | 155 | 18 | 35 | 46 | 48 | 182 | 4.25 | 84 | 167 | 1.99 |
| G6SSESH16 | 16 | 66 | 183 | 24 | 44 | 51 | 55 | 213 | 6.3 | 124 | 248 | 3.2 |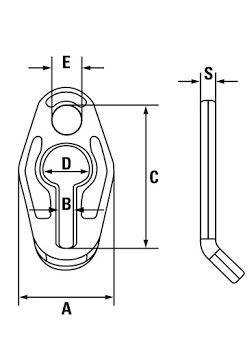 | | | | | | | | | | | | |
| --- | --- | --- | --- | --- | --- | --- | --- | --- | --- | --- | --- |
| Product Code | Chain Dia | A | B | C | D | E | S | W.L.L. | P.F. | M.B.F. | Weight |
|   | mm | mm | mm | mm | mm | mm | mm | t | kN | kN | kgs |
| G6SSSC6 | 5/6 | 55 | 8 | 81 | 26 | 16 | 8.5 | 0.9 | 18 | 36 | 0.3 |
| G6SSSC8 | 7/8 | 71 | 11 | 110 | 34 | 22 | 10.5 | 1.6 | 32 | 63 | 0.38 |
| G6SSSC10 | 10 | 90 | 12 | 135 | 40 | 26 | 13 | 2.5 | 50 | 99 | 0.6 |
| G6SSSC13 | 13 | 112 | 17 | 170 | 52 | 32 | 16.5 | 4.25 | 84 | 167 | 0.9 |
| G6SSSC16 | 16 | 135 | 20.5 | 202 | 64 | 38 | 20 | 6.3 | 124 | 248 | 1.4 |