Stainless Steel 4 Leg Chain Sling
Buy your clean, corrosion resistant Stainless Steel 4 Leg Chain Sling from Lifting gear Direct today at great prices.
Call 01384 76961 for price.
About the Stainless Steel 4 Leg Chain Sling
Combining corrosion resistance with excellent stability and capacity levels, our 4 leg stainless steel chain sling can solve a variety of load-lugging problems that lie in your way.
Biggest benefits
Aside from being less susceptible to rust than some other materials, this stainless steel chain sling has the added advantage of being more aesthetically pleasing than most of its contemporaries thanks to the sheen and shimmer that its surface delivers. This may not be important for every customer but it is still worth taking into account when choosing between chain slings.
If you are less interested in the anti-corrosion properties on offer, a chain sling from our grade 8 and grade 10 steel ranges may be more fitting.
Here are the stainless steel fittings you can choose for your chain sling. Find the Specifications in the specifications tab below.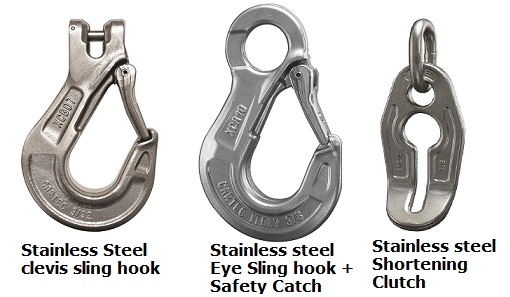 Equipment for all occasions
Lifting Gear Direct should be able to serve your every equipment need, whether you are aiming to acquire a high quality, fully customisable gantry system or you simply need a few accessories to augment an existing setup.
We also sell high quality hoists which you can pair with our lifting slings and other kit to speed up some of the tougher duties you face.
Our experts are here to help
Call 01384 76961 if you would like to get advice on chain slings and our other products over the phone, or contact us using our web form.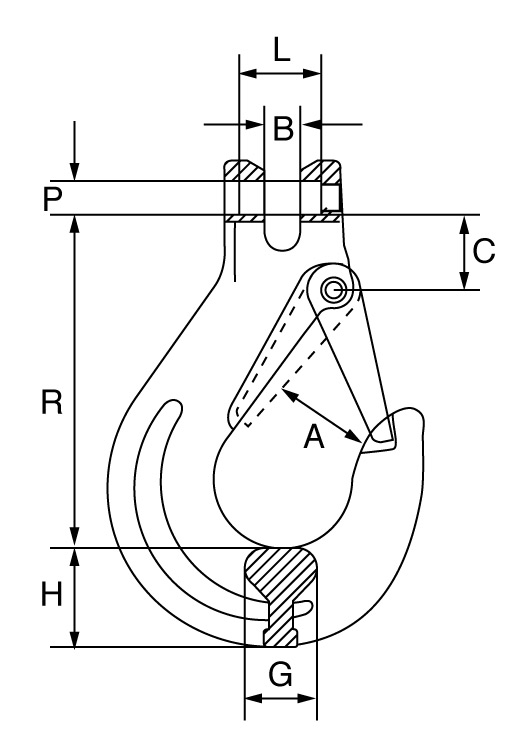 | | | | | | | | | | | | | |
| --- | --- | --- | --- | --- | --- | --- | --- | --- | --- | --- | --- | --- |
| Product Code | Chain Dia | A | B | C | G | H | R | P x L | W.L.L. | P.F. | M.B.F. | Weight |
|   | mm | mm | mm | mm | mm | mm | mm | mm | t | kN | kN | kgs |
|  G6SSCSH6 | 6 | 23 | 7.2 | 8.5 | 13.5 | 21 | 81 | 8 x 19.5 | 0.9 | 18 | 36 | 0.33 |
|  G6SSCSH7 | 7 | 32 | 9.5 | 12 | 19.5 | 29 | 112 | 8 x 22.5 | 1.25 | 25 | 50 | 0.79 |
|  G6SSCSH8 | 8 | 32 | 9.5 | 11 | 19.5 | 29 | 111 | 10 x 22.5 | 1.6 | 32 | 63 | 0.84 |
|  G6SSCSH10 | 10 | 39 | 12 | 15 | 27 | 33 | 122 | 13 x 13.5 | 2.5 | 50 | 99 | 1.43 |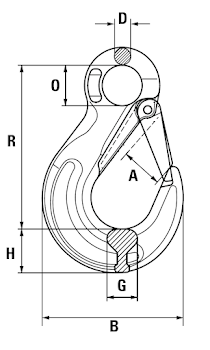 | | | | | | | | | | | | | |
| --- | --- | --- | --- | --- | --- | --- | --- | --- | --- | --- | --- | --- |
| Product Code | Chain Dia | A | B | D | G | H | O | R | W.L.L. | P.F. | M.B.F. | Weight |
|   | mm | mm | mm | mm | mm | mm | mm | mm | t | kN | kN | kgs |
| G6SSESH6 | 5/6 | 23 | 72 | 8 | 13.5 | 21 | 21 | 90 | 0.9 | 25 | 50 | 0.3 |
| G6SSESH8 | 7/8 | 32 | 103 | 13 | 19.5 | 29 | 27 | 118 | 1.6 | 32 | 63 | 0.62 |
| G6SSESH10 | 10 | 39 | 120 | 15 | 27 | 33 | 37 | 140 | 2.5 | 50 | 99 | 1.14 |
| G6SSESH13 | 13 | 51 | 155 | 18 | 35 | 46 | 48 | 182 | 4.25 | 84 | 167 | 1.99 |
| G6SSESH16 | 16 | 66 | 183 | 24 | 44 | 51 | 55 | 213 | 6.3 | 124 | 248 | 3.2 |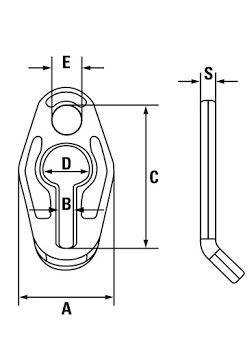 | | | | | | | | | | | | |
| --- | --- | --- | --- | --- | --- | --- | --- | --- | --- | --- | --- |
| Product Code | Chain Dia | A | B | C | D | E | S | W.L.L. | P.F. | M.B.F. | Weight |
|   | mm | mm | mm | mm | mm | mm | mm | t | kN | kN | kgs |
| G6SSSC6 | 5/6 | 55 | 8 | 81 | 26 | 16 | 8.5 | 0.9 | 18 | 36 | 0.3 |
| G6SSSC8 | 7/8 | 71 | 11 | 110 | 34 | 22 | 10.5 | 1.6 | 32 | 63 | 0.38 |
| G6SSSC10 | 10 | 90 | 12 | 135 | 40 | 26 | 13 | 2.5 | 50 | 99 | 0.6 |
| G6SSSC13 | 13 | 112 | 17 | 170 | 52 | 32 | 16.5 | 4.25 | 84 | 167 | 0.9 |
| G6SSSC16 | 16 | 135 | 20.5 | 202 | 64 | 38 | 20 | 6.3 | 124 | 248 | 1.4 |