TKG VHS Crane Forks
The TKG VHS crane forks incorporate an automatic balancing system for optimum safety when lifting loaded pallets. Available in a range of models with lifting capacities up to 5000 kg.
Product Code:

TKG VHS Crane Forks - Tigrip

Availability:

In Stock
Call 01384 76961 for price.
Key Features of the TKG VHS Crane Forks
Just like the TKG VH version the VHS boasts adjustable tines as well as height. This means they are suitable for large and small palleted loads as well as coils (when the tines are positioned closer together)
The suspension eye on the VHS differs from the VH as it is located within a movable track along the top thus enabling the auto-balancing system to correctly balance the load. The balancing system needs a minimum load of 20% of the forks working load limit in order to balance correctly. When loaded a pressurised gas spring engages the auto-balancing feature.
This system ensures the load is constantly within the centre of gravity of the forks to maximise safe lifting and moving.
With a safety factor of 4:1 and complying with the latest standards and CE directive you can be assured of a safe and quality product.
Please bear in mind, the load must not exceed the fork length.
More Load Moving Options
Lifting Gear Direct has many more products available to enable easier load moving. Our material handling collection includes pallet trucks which are the most popular method of moving palletized goods around. Load moving skates are another option as well as scissor lift and hydraulic tables. We have a vast range of drum handling equipment as well as fork lift truck attachments for those more diverse lifting operations.
Whatever you lifting and moving requirements are the chances are Lifting Gear Direct will have the ideal piece of lifting equipment to suit your needs. Get in touch on 01384 76961 for quotes, help, advice or more information, we are always happy to help!
| | | | | | |
| --- | --- | --- | --- | --- | --- |
| Model | VHS 1 | VHS 1.5 | VHS 2 | VHS 3 | VHS 5 |
| Tine Adjustment A, mm | 350 – 900 | 350 – 900 | 400 – 900 | 450 – 900 | 500 – 1000 |
| Usable Height B, mm | 1100 – 1600 | 1300 – 2000 | 1300 – 2000 | 1300 – 2000 | 1300 – 2000 |
| Tine Length C, mm | 1000-5000 | 1000 | 1000 | 1000 | 1000 |
| Tine Section D, mm | 100 x 30 | 100 x 40 | 120 x 40 | 120 x 50 | 150 x 60 |
| Overall Height E, mm | 1420 – 1920 | 1650 – 2350 | 1655 – 2355 | 1720 – 2420 | 1710 – 2410 |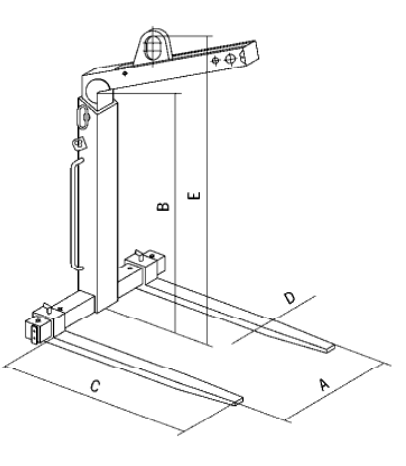 | | | | | | |
| --- | --- | --- | --- | --- | --- |
| Model | Capacity kg | Weight kg | Length of Tines mm | Usable Height mm | Distance of the load centre of gravity mm |
| TKG vhs 1 | 200-1000 | 128 | 1.0 | 1.1 – 1.6 | 400 – 500 |
| TKG vhs 1.5 | 300-1500 | 158 | 1.0 | 1.3 – 2.0 | 400 – 500 |
| TKG vhs 2 | 400-2000 | 203 | 1.0 | 1.3 – 2.0 | 400 – 500 |
| TKG vhs 3 | 600-3000 | 260 | 1.0 | 1.3 – 2.0 | 400 – 500 |
| TKG vhs 5 | 1000-5000 | 413 | 1.0 | 1.3 – 2.0 | 500 |